How To Make Money on Upwork: Step-by-Step Guide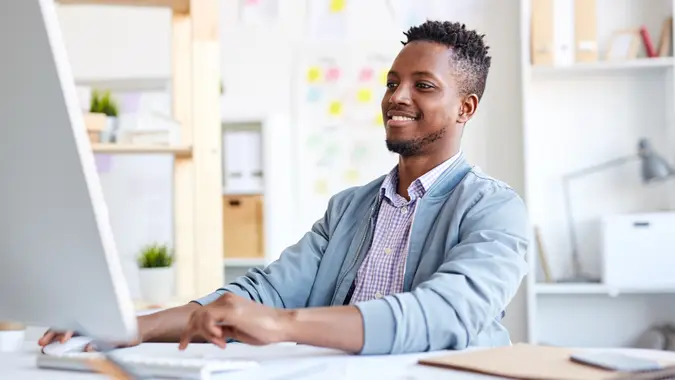 mediaphotos / Getty Images
Finding jobs in a freelance market can feel like full-time work. Whatever your short-term or long-term financial goals, choosing the right platform for your skill set can be crucial to making passive income or even making a livable wage per month.
What Is Upwork?
Upwork is a marketplace that connects freelancer contractors to potential clients based on varying skill sets. Clients post jobs they need to be completed, and the freelancers can bid on the jobs they're interested in. Jobs can include graphic design, editing, writing cover letters, blog posts or other virtual assistance. Here are some key takeaways:
Upwork is currently one of the largest freelance platforms in the world. One of the advantages of using Upwork is that it's a non-vetted freelance marketplace, making it easier for beginners to get started.
Upwork does require new freelancers to get their profile approved to ensure there's a need for the service they offer for fixed-price projects. Unlike other platforms, it accepts freelancers in many specialties for both full-time and part-time gigs.
It's easy for freelancers to get started on Upwork. But make sure you're thoughtful about the clients and jobs you take on, so you aren't taken advantage of. Make sure you raise your rates as your experience level grows.
How To Make Money on Upwork: Step-by-Step
Instead of just hoping for the best by promoting your writing skills on social media, try setting up an account on Upwork to get more work. Here are the steps you can take to start making money on Upwork today:
Step 1: Set up your Upwork profile
Step 2: Verify your identity
Step 3: Choose your pricing
Step 4: Start applying for jobs
Step 1: Set Up Your Upwork Profile
The first step to making money on Upwork is setting up your freelancer profile. To get started, you'll click the "Sign Up" button and use a Gmail account, work email address or an Apple ID to create your account.
From there, you'll add your personal information and work history. Make sure you highlight the services you plan to offer. Follow along with the prompts and Upwork will let you when your profile is 100% complete.
Make Your Money Work Better for You
Step 2: Verify Your Identity
One of the changes Upwork has implemented in recent years is that it requires freelancers to verify their identity before they can apply for work. Once you're verified, you'll have a badge on your profile that potential clients can see. This helps you build trust and credibility with potential clients.
The first step to verifying your identity is to use a government-issued ID, like a driver's license or passport. From there, you'll go through a video verification process where an Upwork employee will ask you a few questions about your profile.
Step 3: Choose Your Pricing
The next step is to choose your pricing. You can either set up hourly or fixed-rate projects with clients. There are pros and cons to both options.
If you use the hourly pricing option, you'll log your time on the Upwork app. The advantage of hourly pricing is that Upwork guarantees you'll get paid for the work you've already completed. However, as you get faster and more efficient at your work, an hourly price could cause you to lose money.
With fixed-rate pricing, you and the client will agree to a set amount for the entire project. This ensures you aren't just trading time for money, but it can be easy to undercharge for big projects if you're new to freelancing.
Step 4: Start Applying for Jobs
Next, it's time to start applying for jobs so you can find your first client. Fortunately, you can never run out of jobs to apply for on Upwork.
For your first couple of jobs, you may have to accept a lower rate until you have some social proof. But once you have a few clients under your belt and some good reviews, you can begin raising your prices.
Types of Memberships
When you create your Upwork account, there are two different plans you can choose between: the Freelancer Basic and Freelancer Plus plans. The Basic plan is free and comes with 10 Connects each month, which you'll use to apply for jobs. Here are some other things to consider:
Most jobs require up to six Connects each to apply, depending on the size of the job. For instance, small jobs of $49 or less will cost two Connects. Medium jobs of $50 to $599 cost four Connects, and large projects over $600 will cost six Connects.
If you're regularly applying for jobs, the free Connects you receive may not be enough. You can buy additional Connects at 15 cents each, and you can also sign up for the Plus membership.
A Plus membership is $14.99 per month and comes with 70 Connects. Plus, you will receive additional perks, like the ability to see the bidding range on jobs you're applying for.
Make Your Money Work Better for You
Upwork Fees

Once you start making money on Upwork, the company will take a percentage of everything you earn. You'll pay a 10% fee on every project you do. This fee is the same for fixed-rate projects and hourly projects.
Final Take To GO: Is Upwork Worth It?
If you're looking for ways to make money as a freelancer Upwork can be a good option for you. Freelancing on Upwork is one of the few side hustles where you can start earning money almost immediately, and it has a large selection of jobs for which you can apply.
However, it will take some work to get your profile set up, and you may have to accept lower rates in the beginning. But if you're consistent about looking for jobs and doing good work for clients, Upwork can be another tool to help you grow your freelancing business.
Upwork FAQ
Here are the answers to some commonly asked questions about Upwork.
Can you actually make money on Upwork?

Yes, though there are no financial guarantees with freelancing, Upwork is a legitimate freelancing platform that can connect you with companies that will pay you for your work. Make sure to set rates that make sense for your skill set and the time it will take you to complete tasks.

Is Upwork hard for beginners?

Beginning anywhere can seem like a daunting task, and Upwork is no different. However, you can start slowly on Upwork and grow your skills and experience level as you steadily increase your rates. As with anything, what you get out of the Upwork platform is equal to the amount of work you put into it.
Make Your Money Work Better for You
Caitlyn Moorhead contributed to the reporting for this article.
Data is accurate as of Aug. 29, 2023, and is subject to change.
Editorial Note: This content is not provided by any entity covered in this article. Any opinions, analyses, reviews, ratings or recommendations expressed in this article are those of the author alone and have not been reviewed, approved or otherwise endorsed by any entity named in this article.