Can You Make Money With Audible?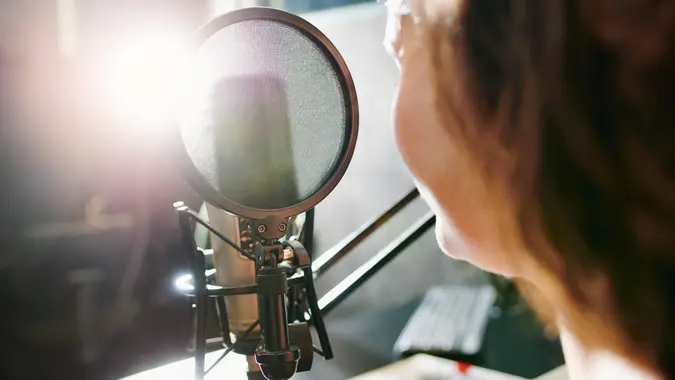 Nicola Katie / Getty Images
When looking for a new side hustle, Audible probably isn't the first idea that comes to mind. As the world's leading producer and retailer for audiobooks, Audible mostly attracts bookworms who'd rather spend their commute listening to a New York Time's Bestseller than their local radio station.
Check Out: 10 Most Expensive Vinyl Records
Learn: Should You Still Buy a Home in Today's Market?
But if you know how to use it, you can make money with Audible and it can become a really lucrative side gig.
Affiliate Marketing
While listening to a podcast, has your favorite podcaster given you a specific link to access subscription services like HelloFresh or Squarespace? That's affiliate marketing in a nutshell.
As an Audible affiliate, you promote their services by sharing a specific link to your social media, website, podcast, etc. When people follow the link, they'll be able to sign up for a 30-day free trial of Audible. From there, it's as easy as promoting the free trial link and getting as many people to sign up as you can. It's even easier if you already have a following. You'll earn $15 for each successful signup, and that can add up quick. Start by signing up with Audible as an affiliate and get your link.
Make Your Money Work Better for You
Create Audiobooks
Those with a creative eye may be interested in producing their own audiobooks. There is a lot more work involved as books don't tend to write or narrate themselves, but the potential earnings may just be worth it.
Through Audible's self-publishing platform, Audiobook Creation Exchange (ACX), creators simply make an account, upload their audiobook and start making money with every sale made. The books appear on Audible, Amazon and iTunes, and they typically sell for $15 to $25.
Take Our Poll: What's the First Thing You Would Do if You Won a Big Lottery Jackpot?
Sell Audible Products and Services
Not interested in creating your own product? Help Audible sell theirs!
You can sell audio versions of books, e-books or any of their products and services you want. Simply create your own account, record the product or service in your own voice and upload it to the platform. For each sale, you earn commission, no promotion necessary.
Make Your Money Work Better for You
Become a Narrator
Hundreds of authors are looking for someone to narrate their audiobooks, and if you've got the right equipment, you can put yourself in the running. Through ACX, narrators can create a profile and upload samples of your voice work. You'll need a quality microphone in order to ensure the best possible recording.
Once your profile is complete, you can start searching for books you're interested in narrating. For each project you're interested in, you'll audition by recording yourself reading from the manuscript. If you're chosen, then you'll record/produce the entire audiobook and upload it.
There are three ways to make money as a narrator:
On average, you can expect to make between $500 to $5,000 per month narrating books depending on the topic, length of the audiobook and your performance.
More From GOBankingRates
Make Your Money Work Better for You