How To Make Money on Audible: 5 Simple Ways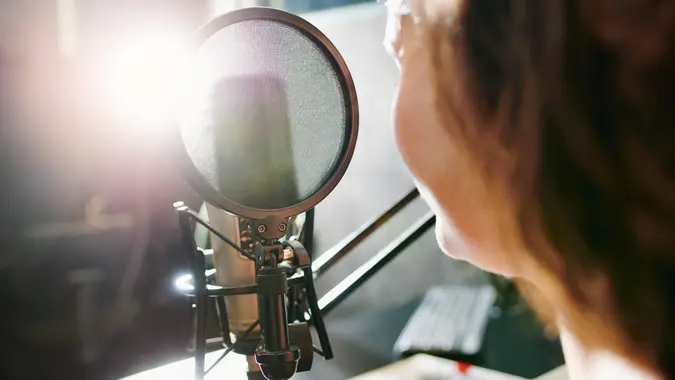 Nicola Katie / Getty Images
Audible probably isn't the first idea that comes to mind when you're looking for a new side hustle. However, as the world's leading provider of digital audiobooks, Audible offers several money-making opportunities that can add up to a lucrative side gig. Read on to find out how to make money on Audible and what you can expect to earn.
How To Make Money on Audible
You'll find more than 180,000 titles on the platform, but Audible's only primary offerings are audiobooks and subscription memberships. So how can you make money just from audiobooks? Here are four ways to make money on Audible:
Sell Audible products as an Amazon Associate.
Sign up for the Audible Creator Program.
Write your own Audible audiobooks.
Narrate and produce Audible audiobooks.
Apply for the Audible Podcast Development Program.
1. Sell Audible Products as an Amazon Associate
The easiest way to start making money on Audible is to promote and sell Audible products on Amazon. As an Amazon Associate, you can generate unique affiliate links for any Audible title sold through Amazon. With these links, you can earn a commission when someone buys an audiobook or signs up for an Audible membership through them. You simply promote your affiliate link and collect your commission. 
As an Amazon Associate, you can earn the following on Audible audiobooks and memberships:
Audible audiobook: $0.50
Audible free-trial digital membership: $5
Audible Gold digital membership: $10
2. Sign Up for the Audible Creator Program
The Audible Creator Program provides another way to earn money as an affiliate, but it's for content creators with an online presence. If you are a podcaster, blogger or social media influencer, this may be right for you.
Make Your Money Work Better for You
You can apply to the Audible Creator Program to earn $15 each time a new listener signs up for a 30-day free trial using your unique affiliate link. This is three times what you would earn as an Amazon Associate selling trial memberships.
3. Write Your Own Audible Audiobooks
If you like to write, you could earn money by creating your own Audible audiobooks. There is much more work involved in creating digital audiobooks than selling them as an affiliate, but the potential earnings may be worth it.
You must first have an electronic version of your book on Amazon before you can upload the audiobook to Audible. Then you can use Audible's self-publishing platform, Audiobook Creation Exchange (ACX), to upload your finished audiobook. You can also use the platform to find a narrator to record and produce it. 
Audible titles are available on Audible, Amazon and iTunes, making your audiobooks accessible to a vast audience of potential listeners. How much can you make per book on Audible? Your royalties will depend on several contractual factors, but you can expect to earn 20% to 40% of each sale.
As an audiobook creator, you may also be eligible to join the ACX Bounty Program, another Audible affiliate program. You could earn a $50 to $75 Bounty each time someone follows your affiliate link and signs up for an Audible membership to get your audiobook.
4. Narrate and Produce Audible Audiobooks
Perhaps you don't have the interest or skill to write a new audiobook. Can you get paid to read books for Audible instead? Yes, you can earn money as an Audible narrator, although Audible itself won't be the one paying you. There is no shortage of authors looking to hire someone to narrate their audiobooks. You can put yourself in the running by creating a profile on ACX and uploading samples of your voice work. 
Make Your Money Work Better for You
You audition for available projects by uploading recordings of yourself reading from the various manuscripts you're interested in. If chosen as a project's narrator, you'll record, produce and upload the entire audiobook. Narrators working through ACX are responsible for editing their own recordings. Make sure you have the software and skills to do this or you'll have to hire someone. Your final submission must receive approval from Audible's quality assurance engineers before you get paid.
You get paid in one of three ways as a narrator on ACX:
Per finished hour: Set your own PFH rate and receive payment upon completion of the project.
Royalty share: Share a 50/50 split of royalties with the author or rights holder for seven years.
Royalty share plus: Receive a combination of a PFH rate and a royalty share.
ACX narrators can also get a cut of the bounties paid out through the ACX Bounty Program — $25 for each new eligible membership — as part of a royalty share deal.
You may also find paid audiobook narration gigs on the following sites:
Voice123
Backstage
Upwork
According to Backstage, new audiobook narrators can expect to receive $10 to $100 PFH. Experienced narrators typically earn $100 to $350 PFH. Royalty share earnings will depend on audiobook sales.
5. Apply for the Audible Podcast Development Program
People listen to more than audiobooks on Audible. The platform also provides access to podcasts. Are you a podcaster, or do you have a fantastic idea for a podcast? Audible might pay you a $10,000 commissioning fee to develop your podcast through the Audible Podcast Development Program.
Make Your Money Work Better for You
Your idea may have to fit the criteria for a specific type of podcast, such as an episodic narrative. You'll also have to wait until Audible makes a call for submissions to apply. But if Audible chooses your podcast, it will cover the production costs and provide access to the equipment and expertise to produce the podcast before releasing it on the platform. 
Takeaway
So can you actually make money from Audible? Yes, you have several opportunities for making money on Audible, from earning commissions promoting and selling audiobooks and memberships to creating your own audiobooks as a writer or narrator. Any of these options could provide you with an extra income stream. Regardless of how you make money on Audible, be sure to account for all of your earnings. Even if Audible serves only as a side gig, you'll need accurate income records come tax time.
Ashleigh Ray contributed to the reporting for this article.
Information is accurate as of Aug. 28, 2023. 
Editorial Note: This content is not provided by any entity covered in this article. Any opinions, analyses, reviews, ratings or recommendations expressed in this article are those of the author alone and have not been reviewed, approved or otherwise endorsed by any entity named in this article.