How To Get Spotify for Free: 5 Easy Ways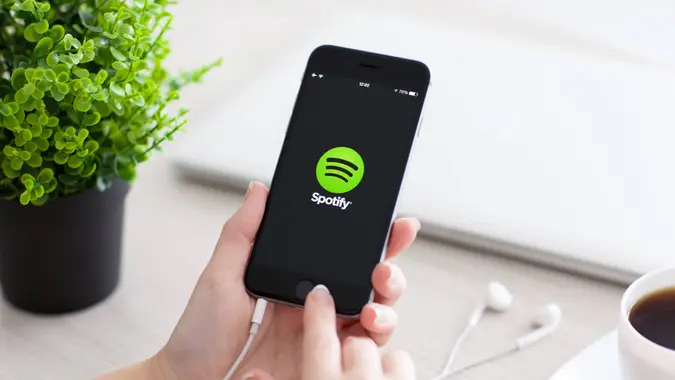 Denys Prykhodov / Shutterstock.com
Spotify is a music streaming service with over 80 million tracks on offer, with more and more added every single day. While that amount of music is well worth the standard price of $9.99 per month, it's possible to listen for free.
See: 3 Easy Tips To Turn Your Credit Woes Into Wows
There are several ways to get Spotify without paying a subscription fee, at least for a limited amount of time. Spotify offers a free version of its service as well as free trials for each type of paid subscription plan. It also teams up with companies like Walmart and Microsoft to provide several months of free Premium subscriptions.
For more details on how to get Spotify for free, see the tips below.
1. Use Spotify's Free Ad-Supported Service
It's always worth pointing out that Spotify does offer a free but limited version of its service. With a free account, users still have access to the entire Spotify library of songs and podcasts, but they have to deal with advertisements and limited skips. 
Make Your Money Work for You
This means ads will play between some songs, and users can only skip the tracks they don't want to hear a limited amount of times. The free version also does not include the option to download music, so free users can't listen to tracks offline. 
These limits are a no-go for some people, but others are content with playing through a whole album from start to finish and sitting through a few ads. Spotify's free service is a decent compromise for those who don't want to add another subscription service to their monthly expenses.
2. Get a 3-Month Free Trial of Spotify Premium's Individual Plan 
Spotify has teamed up with PayPal to offer a free trial of Spotify Premium's Individual plan for three months. By signing up for Spotify through this offer, anyone is eligible for the deal as long as they haven't tried Spotify Premium before. 
This limitation is common among Spotify deals — they rarely allow current or former subscribers to take part in their free trials or deals. However, it does happen occasionally, so it's always best to read offers carefully. 
Make Your Money Work for You
This deal is available until Sept. 15, 2023, and it's not yet known if another deal will be offered after this one ends. 
3. Get a 1-Month Free Trial of Spotify Premium's Duo, Family or Student Plan
Each of Spotify's other subscription plans also offers a free trial for one month. The plans available are:
Spotify Premium Duo: Aimed at couples living under one roof, this plan includes two accounts and costs $12.99 per month.
Spotify Premium Student: To subscribe to this discount Spotify plan, users need to be enrolled at an eligible higher education institution. At $4.99 per month, it's 50% off the standard individual plan.
The Premium Student plan currently also includes access to ad-supported Hulu and Showtime for no extra charge. This plan is the cheapest way to get Spotify Premium, but nonstudents will have to look for other deals.
4. Get 6 Months of Free Spotify Premium With Walmart+
Spotify has partnered with Walmart+ to offer six months of free Spotify Premium. The deal is available until March 6, 2023, and any Walmart+ member is eligible, as long as they haven't tried Spotify Premium before.
Make Your Money Work for You
Walmart+ is a paid membership service that helps users save money with free delivery for groceries, plus other perks like member prices on fuel, free shipping, and rewards on eligible in-store and online purchases. Those who are already members of the service may want to try Spotify as well for free. But for those who are not Walmart+ members, this may end up being a more expensive route to a Spotify subscription.
5. Get 3 Months of Free Spotify Premium With Microsoft Rewards
Microsoft Rewards is a free rewards program where users can earn points by purchasing and interacting with Microsoft services.
This deal gives new Microsoft Rewards members three months of free Spotify Premium just for signing up, but the deal is also available for existing members of the Microsoft Rewards program. However, like the PayPal and Walmart+ offers, it is only available for users who haven't tried Spotify Premium before.
Final Take
While it's not possible to get a lifetime subscription to Spotify Premium for free, there are a number of ways to listen without paying a cent. By keeping an eye out for current deals and offers, savvy consumers can earn themselves up to several free months of streaming music on Spotify Premium. 
Editorial Note: This content is not provided by any entity covered in this article. Any opinions, analyses, reviews, ratings or recommendations expressed in this article are those of the author alone and have not been reviewed, approved or otherwise endorsed by any entity named in this article.
Make Your Money Work for You