The Best Cheap Cell Phone Plans for 2022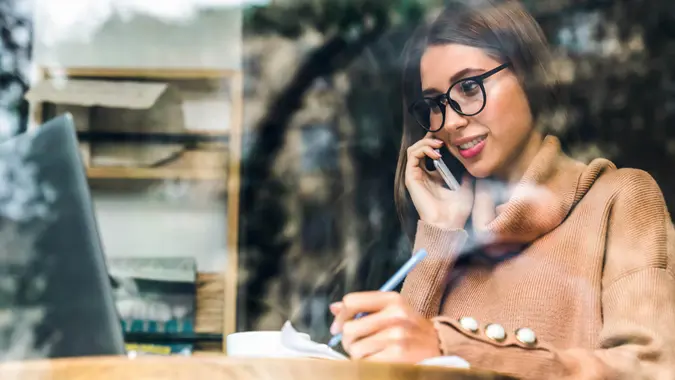 Inside Creative House / Getty Images/iStockphoto
Saving money by not splurging on a daily iced coffee is one thing, but it becomes harder to cut fiscal corners when the money you are spending is on something essential. Cell phones are no longer just something cool kids have in 90s sitcoms, but are a vital part of everyday life. Just because you have to pay for it, shouldn't mean you have to pay a lot for it. There are some ways to save money on your cell phone bill or you may just want to get a new cheap cell phone plan altogether.
Read: If Your Credit Score is Under 740, Make These 4 Moves Now
The Cheapest Cell Phone Plans of 2022
People need cell phones for varying reasons and different levels of use. Depending on what you need from your cell phone, there are now many options for a cheap cell phone plan that will still cover your bases. Here are some of the best and cheapest phone plans out there now:
Tello 1GB
Mint Mobile 4GB
AT&T Value Plus
Verizon 15GB
T-Mobile 3GB
Google Fi
Boost Mobile
Visible Unlimited
Make Your Money Work for You
1. Tello 1G
Monthly cost: $10
When it comes to being economical, the Tello 1GB plan is hard to beat. They do offer more expensive and data-heavy plans, but the 1GB plan is great for those simply looking for the cheapest cell phone plan available. There is a data cap of 1GB, which some people may find limiting. This plan also includes unlimited calls and texts. If you're someone who cannot work within that data cap, Tello also offers an affordable 2G plan for $14 per month. Their unlimited data plan would be at their highest price point of $29 per month which is still quite reasonable.
2. Mint Mobile 4GB
Monthly cost: $15
As the name would suggest this cheap cell phone plan comes with 4GB of data per month. 4GB may not seem like a lot but it's sufficient for those who just need internet access, social media access and other common ways to use their phone. This affordable plan comes in at $15 a month. Be aware though that this is only the price for the first three months, after which point you would have to sign a one-year contract to lock in the $15 monthly cost.
Make Your Money Work for You
3. AT&T Value Plus
Monthly cost: $50
The AT&T Value Plus plan is the cheapest plan AT&T offers for unlimited data. This plan includes 5G access and costs $50 per month. They also have AT&T Unlimited & More which is $55 per month for one line, and $100 per month per line for four lines.
Either of these options would be the gold standard of cellphone plans and one of the best-unlimited cellphone plans in terms of features. You get unlimited talk, text and data throughout the U.S., Canada and Mexico; high-definition streaming at 1080p quality; over 35 channels of live TV plus on-demand; and your choice of HBO, Cinemax, Showtime, Starz, VRV, Amazon Music Unlimited or Pandora Premium.
To get the prices shown, you need to sign up for autopay and paperless billing. If you want the best of everything and don't want to have to worry about how much data you're using, this is the plan for you.
4. Verizon 15GB
Monthly cost: $45
This plan stretches your money further with unlimited talk and texting, but also with the added perk of unlimited international texting to over 200 countries and territories worldwide. Verizon also offers 5G nationwide coverage making it one of the fastest carriers with the most coverage. The price drops to $35 per month if you enlist in the autopay option. If unlimited data is all you can cope with, there is also Verizon Welcome Unlimited for $65 per month for one line or $120 per month for four lines. 
Make Your Money Work for You
If you need high-quality streaming and other high-end features, but your kids don't, this may be the best cellphone family plan for you. Each line can have a different level of service, but everybody gets unlimited talk, text and data. You can get DVD-quality streaming; unlimited mobile hotspot at 600 kbps; talk, text and data in the U.S., Mexico and Canada; and free Apple Music for six months. Upgrade to streaming to 4K quality, Apple Music and up to 600 GB of Verizon Cloud.
5. T-Mobile 3GB
Monthly Cost: $15
This cheaper cell phone plan is part of the new Connect by T-Mobile plans. Where this T-Mobile connect plan is affordable, once you use up your allotted data, no matter where you are in the billing cycle, you simply will be out of data for the rest of that billing cycle. They also offer a $10 per month 1GB prepaid plan with the same restrictions so this plan would only be the right choice for those who aren't on their phone too much. However, the Connect by T-Mobile plans also come with a .5GB annual increase in data. 
If this seems too limited there is also T-Mobile Essentials unlimited plan for $60 per month. Switching cellphone carriers can be a pain, which is why some carriers will give you a really good deal if you do. But they're counting on the likelihood that you won't want to switch again soon, so the good deal is often limited in duration. T-Mobile will give you Unlimited Basic for $140 for four lines. That means unlimited talk, text and data in the U.S., DVD-quality streaming, Hulu streaming and more.
This is one of the cheapest unlimited data plans on this list — for the period that it's available. Best of all, Sprint and T-Mobile merged, creating the largest mobile network in the country, and reducing issues with limited connectivity.
6. Cricket Wireless Unlimited
Monthly Cost: $25
Cricket started as a simple phone and text service company for senior citizens and others. But it's evolved into providing unlimited 4G and 5G with options for multiple lines and personal hotspots. The Cricket Wireless Unlimited plan gives you unlimited data, talk, texts and photo messaging between the U.S., Canada and Mexico. Video streaming is available in SD 480p quality. Texting is free to 37 countries. If you have a big family, Cricket's plan may be the cheapest of the best cellphone plans around.
7. Google Fi Unlimited Plus
Monthly Cost: $40
Google Fi works differently. It uses service from the most convenient provider, depending on where you may be. This means your service could be from AT&T one minute, T-Mobile the next or whatever country's carrier is strongest. For $40 per month, you get unlimited data in the U.S., Canada, Mexico and 200 other countries and unlimited calls to 50 nations without fears of roaming charges. Best of all, Google Fi's plans are month-to-month. You can also opt for the Google Fi Simply Unlimited plan for $20 per month which is very economical, but with fewer perks.
8. Boost Mobile Go Unlimited
Monthly Cost: $25
Boost Mobile offers some of the best prepaid plans that look like postpaid plans, without the contract. You get unlimited streaming, mobile hotspot and 99 percent coverage on the country's largest network. Boost's basic rates are not bad, but the limited-time promos could really lower your overall bill. You can get three lines for $30 after your first $100 of payments. If you bring your own phone, take $10 off the monthly fee for six months. That drops the monthly down to $40 for one and $20 for additional cellphones for six months, savings you at least $60.
9. Visible Unlimited
Monthly Cost: $30
To round out the list comes one of the cheapest unlimited plans for calls, texts and data. Visible is produced by Verizon and taxes and fees are included in the pricing which alleviates any surprises when the bill is due.  
How To Choose From the Best Cellphone Plans
The right plan depends on three things: how you use your phone, how many lines you want and whether you want prepaid or postpaid. If you use a lot of data, choose a plan with unlimited data and watch out for data deprioritization — the point at which the carrier can slow down your data if the network is busy.
If you're mostly looking for talk and text, a low-data option or pay-as-you-go data plan may be best. Be sure to compare prices for the number of lines you will use and factor in the number of new phones you want, if any. Finally, decide if you want a contract, which usually includes a penalty for terminating early, or if you want to pay as you go. If you pay as you go — prepaid — you'll probably have to pay for any new phones upfront.
What About the Network?

There's a lot of debate about the best cellphone network. There are three major networks: AT&T, Verizon and T-Mobile. All the other carriers are either owned by or lease capacity from these networks. So if you're considering moving to Cricket because you don't like AT&Ts coverage, then you might want to think twice. They're on the same network. Likewise, T-Mobile owns Boost Mobile.
Final Take
Choosing an unlimited plan may not be the cheapest plan the carrier offers, but it's the most value-packed. Besides, they're still pretty affordable and you don't have to worry about billing overages. As with all plans, you want the best network for you. So ask your friends, neighbors and co-workers which network they use and whether they have trouble with dropped calls. Then you can narrow your search by the network to find the best cellphone plans for your specific needs.
Cell Phone Plan FAQ
Here are the answers to some of the most frequently asked questions about cell phone plans.
Are the best cellphone plans really unlimited?

Carriers may throttle your speed after a certain amount of data usage, but you should still be able to surf the web and make unlimited phone calls and texts.

What are the best cellphone plans right now?

If you're in search of a single line, AT&T and Verizon both have solid unlimited plans. If you travel internationally often, Google Fi may be a good match. Families should look at Cricket Mobile for the cheapest prices for multiple lines. And if you have issues with your calls dropping off or low connectivity, T-Mobile has the largest and fastest 5G network.

Which phone service is the cheapest?

The current cheapest cell phone plans are Tello 1GB, Mint Mobile 4GB and T-Mobile 3GB, but also double check what new deals are coming out as well as if the carrier has changed any details within the plan.

Does Straight Talk have a $10 plan?

Straight Talk does have a Data Add On plan for $10 per month. This comes with 2GB of data, but this can only be used with an active Straight Talk plan.

What's the lowest cost plan for Verizon?

Verizon's cheapest cell phone plan is the Verizon 15GB. This plan is $45 per month, but that drops to $35 per month if you enroll in autopay.

What is AT&T's cheapest unlimited plan?

AT&T's cheapest plan with unlimited data is the AT&T Value Plus plan which is $50 per month.
Karen Doyle contributed to the reporting for this article.
Information is accurate as of Nov. 10, 2022. 
Our in-house research team and on-site financial experts work together to create content that's accurate, impartial, and up to date. We fact-check every single statistic, quote and fact using trusted primary resources to make sure the information we provide is correct. You can learn more about GOBankingRates' processes and standards in our editorial policy.
Make Your Money Work for You