15 College Student Discounts for 2022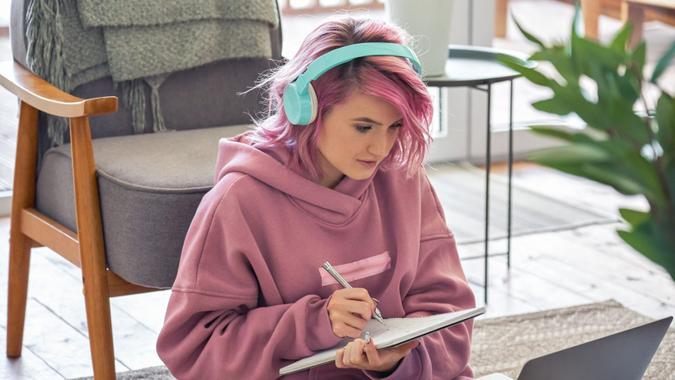 insta_photos / Getty Images/iStockphoto
Your student ID not only identifies you as a college student but also makes you eligible for a host of discounts, including school supplies, groceries and clothing. Whether you took out loans to pay your tuition and housing, or you're working full time to make tuition payments, you'll need to take advantage of every opportunity to save in order to stick to your budget.
Look: 22 Side Gigs That Can Make You Richer Than a Full-Time Job
SNAP 2022: Is My State Giving Out Extra EBT Food Stamp Money in June?
While some retailers offer their own discount programs — don't forget to ask at the cash register — a range of discounts are available to those students who sign up for the Student Advantage or UniDAYS programs. A Student Advantage membership is $30 per year, while UniDAYS is free. See what other discounts you may be eligible for as a student.
College Student Discounts for Food
College students can get various discounts at national chain eateries and food-related stores. Get these student discounts on food by showing a valid student ID:
Make Your Money Work for You
1. Costco
Signing up for a Costco membership gets you a $30 shop card to the warehouse club. The membership fee is $60 per year.
2. Chipotle
Ordering a meal purchase such as a burrito or quesadilla will get you a free drink.
3. Chick-fil-A
Buy any item at Chick-fil-A and get a free small drink.
College Student Discounts for Clothing
No matter if you're looking for dressy or casual clothes, avoid paying full price. Here are some discounted clothing store offers for students:
4. Levi's
You can get 15% off anything from Levi's. Verify your college or university with a few simple questions to unlock the discount.
6. H&M
Enjoy all the trendy clothing, shoes and accessories your closet can hold at 15% off.
College Student Discounts for Travel
As a student, travel is inevitable — whether you're on a study or work abroad program or taking time to let loose. Check out these discounts:
Make Your Money Work for You
7. Greyhound
With the Student Advantage card, you can reduce your Greyhound ticket prices by 10%.
8. Expedia
Through the Student Advantage card, college kids can score up to 40% off airfare, hotel stays and car rentals.
College Student Discounts for Technology
Whether you need a new computer or some different software, save money on your purchase by getting a discount when you use your student ID.
9. Microsoft
For a student software discount, check out Microsoft, which offers a 10% price reduction on select products. Students, as well as teachers from eligible schools, can also get Office 365 for free. All you need is a valid school email address.
10. Adobe
Enjoy savings of up to 60% on Adobe's Creative Cloud apps.
College Student Discounts for Arts and Entertainment
Read, listen to music or watch movies for less with these student arts and entertainment discounts.
11. The Washington Post
Get The Washington Post's academic rate of $5 for every four weeks. You can try this out for one month for $1.
12. Spotify
For just $4.99 a month, students can triple-up on entertainment by getting a Spotify, Hulu and Showtime membership.
Make Your Money Work for You
13. AMC Theaters
With a Student Advantage card, get up to 40% off your prepaid student movie tickets.
College Student Discounts for Miscellaneous Goods and Services
Enjoy these other discounted goods and services that don't fit into the other categories.
14. TurboTax
College kids who hold summer or year-round jobs can purchase TurboTax for $39.99 instead of the regular price of $59.99. Additionally, some qualifying students can receive education credits or deductions when they are claimed.
15. State Farm
Students who receive good grades can save as much as 25% off their State Farm insurance policy.
More From GOBankingRates
Make Your Money Work for You