50 College Student Discounts for 2021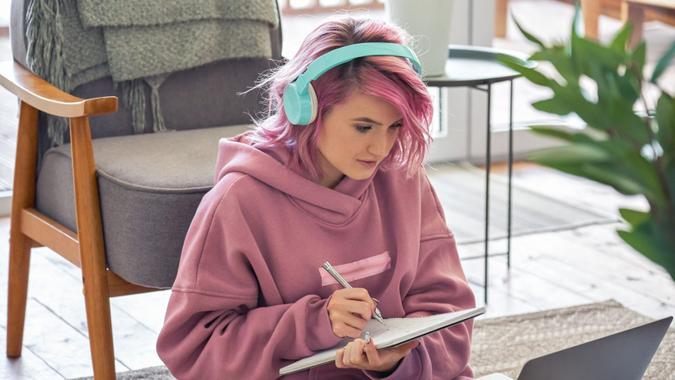 insta_photos / Getty Images/iStockphoto
Your student ID not only identifies you as a college student but also makes you eligible for a host of discounts, including school supplies, groceries and clothing. Whether you took out loans to pay your tuition and housing, or you're working full time to make tuition payments, you'll need to take advantage of every opportunity to save in order to stick to your budget.
While some retailers offer their own discount programs — don't forget to ask at the cash register — a range of discounts are available to those students who sign up for the Student Advantage or UniDAYS programs. A Student Advantage membership is $30 per year, while UniDAYS is free.
50 College Student Discounts You Can Get
GOBankingRates has compiled a list of 50 stores that give student discounts in various categories. Locate the retailers in your area that drop prices for a full-time student and start enjoying the additional perks of getting an education. Here are the 50 best college student discounts:
College Student Discounts for Food
College students can get various discounts at these national chain eateries and food-related stores. Get these student discounts on food by showing a valid student ID:
Make Your Money Work for You
1. Costco
Signing up for a Costco membership gets you a $30 shop card to the warehouse club. The membership fee is $60 per year.
2. Dunkin' Donuts
The place for donuts and coffee offers a 10% discount at participating locations.
3. Chipotle
Ordering a meal purchase such as a burrito or quesadilla will get you a free drink.
4. Chick-fil-A
Buy any item at Chick-fil-A and get a free small drink.
5. Buffalo Wild Wings
The wild place with wings, burgers and baskets of fries offers a discount of 10% with a valid student ID.
6. Waffle House
Order breakfast, lunch or dinner and receive 10% off your entire order.
College Student Discounts for Clothing
No matter if you're looking for dressy or casual clothes, avoid paying full price. Here are discounted clothing store offers for students:
7. Banana Republic
Get 15% off on a full-priced purchase from Banana Republic when you signup to receive emails.
8. Forever 21
Download the Forever 21 app and get 21% off your purchase with code APP21 and an even extra 30% off on sale items with the code APPEXTRA30.
Make Your Money Work for You
9. Levi's
You can get 25% off anything from Levi's. Verify your college or university with a few simple questions to unlock the discount.
10. Dockers
Verify your student status by submitting your first and last name, college or university name, date of birth and your email address to get 25% off on all Dockers apparel.
11. J.Crew
For a limited time, college students get 15% off their purchase with a valid college ID.
12. Boohoo
Students can benefit from 60% site wide sale plus an extra 5% off.
13. Club Monaco
Whether you shop in-store or online, Club Monaco will discount your full-price or sale-price purchase by 15 percent with a valid student ID.
14. H&M
Enjoy all the trendy clothing, shoes and accessories your closet can hold at 15% off.
15. Kate Spade
Score a 15% discount on full-priced items when you sign up for their email list.
16. Madewell
Both students and teachers can take advantage of 15% off in-store purchases.
College Student Discounts for Travel
As a student, travel is inevitable — whether you're on a study or work abroad program or taking time to let loose. Check out these discounts.
Make Your Money Work for You
17. Coach USA
Coach USA has a free VIP Student Travel Club that comes with discounts and opportunities to win prizes.
18. Greyhound
With the Student Advantage card, you can reduce your Greyhound ticket prices by 10%.
19. Alamo Rent A Car
Rent a car from Alamo and save big with a 25% student discount.
20. Zipcar
Take advantage of the low student membership fee and receive a $25 free driving credit when you join Zipcar.
21. Lyft
When attending a school or just needing to get around, you can receive a free first ride up to $20 when booking a ride through Lyft.
22. Choice Hotels International
Choice Hotels International provides a 15% off student hotel discount if you have a Student Advantage card.
23. Genius Pack
Travel in style and upgrade your luggage; enjoy a 10% discount off of any student order from Genius Pack.
24. Expedia
Through the Student Advantage card, college kids can score up to 40% off airfare, hotel stays and car rentals.
25. Honk Roadside Services
Get 15 percent off all roadside assistance through Honk Roadside Services with the Student Advantage card.
College Student Discounts for Technology
Whether you need a new computer or some different software, save money on your purchase by getting a discount when you use your student ID.
26. Apple
College students can get 20 percent off AppleCare+ and save on Mac computers, iPad, AirPods or a great selection of other software and accessories.
27. Best Buy
Best Buy offers a Student Deals program. After signing up, you'll receive coupon codes you can use either online or in-store for big savings.
28. Microsoft
For a student software discount, check out Microsoft, which offers a 10% price reduction on select products. Students, as well as teachers from eligible schools, can also get Office 365 for free. All you need is a valid school email address.
29. Lenovo
Get up to 25% off the retail price on student computers with a Student Advantage card.
30. Adobe
Enjoy savings of up to 60% on Adobe's Creative Cloud apps.
31. Squarespace
Students get 50% off their first year's subscription at Squarespace, a website-building platform.
32. T-Mobile
Save up to $60 on smartphones and tablets through T-Mobile. Call in to take advantage of the offer.
33. Dell
Students can save $200 on select PCs with a coupon at checkout as part of a Back to School promotion.
34. Panasonic
Take 10% off your final order when you make an online purchase from Panasonic.
College Student Discounts for Arts and Entertainment
Read, listen to music or watch TV or movies for less with these student arts and entertainment discounts.
35. Apple Music
The student music membership includes Apple TV+ for $4.99 per month and allows you to listen to tunes on your Apple device.
36. The Washington Post
Get The Washington Post's academic rate of $5 for every four weeks. You can try this out for one month for $1.
37. Spotify
For just $4.99 a month, students can triple-up on entertainment by getting a Spotify, Hulu and Showtime membership.
38. Barron's
Barron's newspaper, published by Dow Jones & Company, is just $4 per month when you join Barron's online.
39. AMC Theaters
With a Student Advantage card, get up to 40% off your prepaid student movie tickets.
40. People magazine
Get a 30% student discount on a People magazine subscription with the Student Advantage card.
41. MLB.TV
MLB.TV is currently offering the service to college students for free until Feb. 28, 2022. You'll need to verify your college or university credentials to sign up.
42. The Wall Street Journal
Students can choose to get a subscription to The Wall Street Journal for $4 a month or $24 for one year.
College Student Discounts for Miscellaneous Goods and Services
Here's a list of goods and services that don't fit into the other categories. Enjoy student discounts for services such as Amazon Prime or FedEx.
43. TurboTax
College kids who hold summer or year-round jobs can purchase TurboTax for $39.99 instead of the regular price of $59.99. Additionally, some qualifying students can receive education credits or deductions when they are claimed.
44. State Farm
Students who receive good grades can save as much as 25% off their State Farm insurance policy.
45. Amazon Prime
New members receive a free six-month trial through Prime Student and then pay $6.49 per month.
46. PBteen
Save 25% on dorm room furniture and essentials when you use your .edu email address or student ID.
47. Overstock
Teachers and students can sign up for a Club O Classroom Membership for free. Get free shipping, 5% in reward dollars and exclusive email deals.
48. FedEx
FedEx discounts document shipping by 30% and packages by 20% when you show your student ID.
49. Sunglass Warehouse
With a Student Advantage card, college kids can buy stylish sunglasses at 30% off.
50. Groupon
Join the Groupon Select Student Program and get an extra 25% off locals deals for six months and then an extra 15% off for the remainder of the time you are a student.
Jami Farkas contributed to the reporting for this article.