20 Best College Student Discounts and Deals for 2023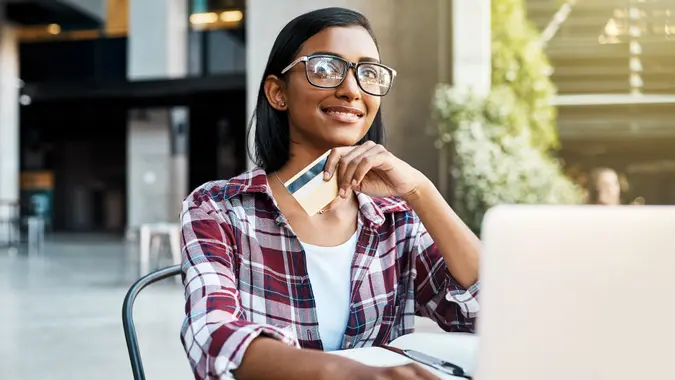 PeopleImages / Getty Images
Your student ID not only identifies you as a college student but also makes you eligible for a host of discounts, including school supplies, groceries and clothing. Whether you took out loans to pay your tuition and housing or you're working full time to make tuition payments, you'll need to take advantage of every opportunity to save in order to stick to your budget.
See: How To Get Cash Back on Your Everyday Purchases
While some retailers offer their own discount programs — don't forget to ask at the cash register — a range of discounts are available to those students who sign up for the Student Advantage or Unidays programs. Read on to see what other discounts you may be eligible for as a student.
How To Get College Student Discounts Online
The best ways to get college student discounts online are to register at sites like Unidays or Student Beans for free, which will point you in the direction of online student discounts. You can also register for the Student Advantage program, but the membership is $30 per year, so you'll want to preview the potential discounts you can get with the membership to decide if it's worth it.
You can also check with online food delivery services to see if they offer a student discount. For example, Grubhub+ Student Membership is a membership program for college students at certain universities via Grubhub Campus Dining. One of the benefits is getting free delivery on food orders of $18 or more from select off-campus restaurants.
Make Your Money Work for You
Also, when buying things online, search the site or contact its customer service for information on student discounts.
College Student Discounts on Food
College students can get various discounts at food-related stores. It never hurts to inquire about a student discount before you place your order. Get these student discounts on food by using a valid student ID:
1. Costco
Signing up for a Costco membership and enrolling in auto renewal gets you a $30 Costco Shop Card. The membership fee is $60 per year.
2. Thrive Market
When you have a membership with Student Beans, you can unlock a free membership at Thrive Market and also up to a 50% student discount.
College Student Discounts on Clothing
No matter if you're looking for dressy or casual clothes, avoid paying full price. Here are some discounted clothing offers for students:
3. Levi's
You can get 15% off anything from Levi's. Verify your college or university with a few simple questions to unlock the discount.
4. H&M
Enjoy all the trendy clothing, shoes and accessories your closet can hold at 20% off.
College Student Discounts on Travel
As a student, travel is inevitable — whether you're on a study or work abroad program or taking time to let loose. Check out these discounts:
5. Greyhound
With the Student Advantage card, you can reduce your Greyhound ticket prices by 10%.
6. Expedia
Through the Student Advantage card, college students can score up to 40% off airfare, hotel stays and car rentals.
College Student Discounts on Apps, Software and Technology
Whether you need a new computer or some different software, save money on your purchase by getting a discount when you use your student ID.
Make Your Money Work for You
7. Microsoft
For a student software discount, check out Microsoft, which offers a 10% price reduction on select products. Students can also get Microsoft 365 Personal for 50% off, at $2.99 per month. All you need is a valid college email address.
8. Adobe
Enjoy savings of over 60% on Adobe's Creative Cloud apps.
9. Lenovo
Save 25%-50% or more on select Lenovo technology with the Student Advantage card.
10. Office Depot and OfficeMax
Save up to 80% in-store or online with the Student Advantage card.
11. Best Buy
Use online coupon codes when shopping at BestBuy.com to get special student discounts on some of the store's tech items.
12. Dell
Receive a special student coupon code as long as you have a valid student email address that includes your school's domain.
13. Evernote
Register for Unidays and get the Evernote Professional annual plan for 40% off.
14. HP
Join the HP Education Store Program through the HP website and get up to 40% off.
College Student Discounts on Arts and Entertainment
Read, listen to music or watch movies for less with these student arts and entertainment discounts.
15. Hulu
Eligible college students can sign up for Hulu's ad-supported streaming plan for $1.99 per month.
16. The Washington Post
Get The Washington Post's academic rate of $1 for every four weeks — a huge discount off the regular rate of $12 — as long as you are a full- or part-time U.S. college student.
17. Spotify
Students can double up on entertainment by getting a subscription to Spotify Premium Student and Hulu for just $4.99 per month. As a bonus, the first month for both is free.
Make Your Money Work for You
18. AMC Theatres
With a Student Advantage card, get up to 40% off your prepaid student movie tickets.
College Student Discounts on Miscellaneous Goods and Services
Enjoy these other discounted goods and services that don't fit into the other categories.
19. State Farm
Students who receive good grades can save up to 25% off their State Farm insurance policy.
20. Amazon Prime Student
Get six months of Amazon Prime Student for free and then pay just $7.49 per month after.
Alicia Bodine contributed to the reporting for this article.
Information is accurate as of July 17, 2023.