10 Restaurant Chains That Offer Free or Cheap Food Delivery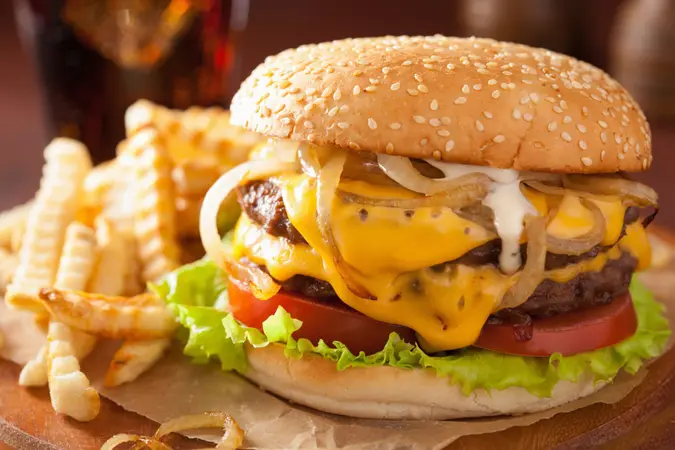 OlgaMiltsova / Getty Images/iStockphoto
Sometimes you just don't feel like cooking — or leaving the house. Thankfully, some restaurants offer free food delivery, so you don't have to change out of your comfy sweatpants to satisfy a craving.
See: How To Build Your Savings From Scratch
You might be wondering, "How can I avoid food delivery fees?" In some cases, this might be easier than you realize.
Many chain restaurants offer free delivery on a promotional basis or after you spend a certain amount. Therefore, it's probably best to have an open mind when searching for a restaurant to order from, so you can take advantage of any free or deeply discounted delivery deals.
10 Restaurant Chains That Offer Free — or Cheap — Delivery
If you want free or cheap food delivery, these restaurants are serving it up.
1. Burger King
It's not quite free food delivery, but it's arguably economical.
Burger King charges a $1 delivery fee, plus a 15% service fee and a $2.50 small cart fee for orders $5-$9.99. Orders over $10 also have a $1 delivery fee and a 15% service fee.
Do note, California orders also have a $2 geographical fee charged by the delivery aggregator.
2. Cinnabon
First-time orders over $15 on DoorDash get free delivery — but with an added convenience fee — at Cinnabon. Additionally, free delivery is offered through the Cinnabon app and cinnabon.com periodically, so check to see if there are any offers before ordering.
3. McAlister's Deli
Coming soon, rewards members will receive free delivery on the McAlister's Deli app or online from July 2-4. Do note, both a convenience fee and a service fee will apply.
Make Your Money Work for You
4. McDonald's
When you download the My McDonald's app, you'll get an offer for free delivery on one order delivered with McDelivery — as long as you're at least 16 years old. You'll receive an email inviting you to the offer, which will be in the "Deals" section of the app for you to use within five days of receipt.
5. O'Charley's
Get free delivery on orders of $40 or more, ordered directly from ocharleys.com.
6. Panera
It's not quite free, but Panera offers $1 delivery when you order online or through the app. There's a minimum $5 order requirement, along with an additional convenience fee.
Do note, select California cafes also have a $2 supplemental delivery charge.
7. Shake Shack
If your order totals $40 or more and is placed through the Shake Shack app or website, the delivery fee is waived.
8. TGI Fridays
For a limited time, order directly from TGI Fridays and get free delivery. Do note that service fees may still apply.
9. Tropical Smoothie Cafe
Get free delivery on orders over $25 placed on the Tropical Smoothie Cafe app or website. This offer is subject to an applicable delivery radius and may not be valid with certain rewards, offers or discounts.
10. Wendy's
When you spend at least $20 on a Wendy's in-app order, you'll get $4 off. This might not equate to completely free delivery, but it should come close.
Free Trials on Delivery Apps
Food delivery apps have become such a big deal that many chain restaurants now partner with them. This means you can use apps like DoorDash, Grubhub, Postmates and Uber Eats to order deliveries from your nearest location.
Make Your Money Work for You
You might not realize it, but many of these apps offer promotions that can allow you to score free food delivery. Here are a few ideas to get you started.
DoorDash
You might be eligible for three free months of DashPass— i.e., free delivery, plus additional benefits — through your credit card. DoorDash currently offers this benefit to Chase Freedomcardmembers as well as World and World Elite Mastercard cardholders.
Grubhub
Amazon Prime members can unlock two years of Grubhub+ for free through July 5. This will get you free delivery and members-only offers.
Postmates Unlimited
Get a free seven-day trial of Postmates Unlimited. You'll enjoy free delivery with no blitz pricing or small cart fees.
Uber One
If you frequently use Uber, it might be worth your while to sign up for Uber One. You'll pay $9.99 per month for unlimited delivery on Uber Eats, up to 10% off eligible Uber Eats deliveries and pickup orders, member pricing and top-rated Uber drivers, and special offers and promotions.
Why Are Delivery Apps So Expensive?
There's no shortage of available delivery apps. These are great in theory, but ordering from them can be monumentally more expensive than getting your food directly from the restaurant.
This is because delivery apps tend to tack on a lot of added charges. Some of these commonly include a delivery fee, service fee, small order fee, expanded range fee and regulatory response fee.
Make Your Money Work for You
Additionally, it's not uncommon for restaurants to charge higher prices for menu items on delivery apps. This helps them cover the often sky-high costs associated with partnering with these companies.
Finding Free Food Delivery
Since chain restaurants frequently offer free delivery on a limited basis, it can quite literally pay to search around for these deals on a regular basis. You might find a restaurant has a free delivery promotion on a certain holiday weekend or surrounding the rollout of a new menu item.
It can be a good idea to download the app of your favorite chains on your smartphone. As you can see in the deals listed above, many restaurants offer free delivery exclusively through their app as a way to reward their most loyal customers.
If you don't want to download a certain restaurant's app, consider signing up for the company's email list. This is another way to stay in the know on promotions that may involve free delivery.
In the moment, scoring free food delivery might not seem like a huge deal, as the charge might only be a few dollars. However, this cost can add up fast if you order delivery often.
You might be surprised to learn that a few delivery fees could actually add up to the cost of an entire meal. Therefore, spending a few extra minutes to find these discounts can help you save a lot of money over time.
Information is accurate as of June 21, 2023.
Make Your Money Work for You
The information related to Chase Freedom credit cards was collected by GOBankingRates and has not been reviewed or provided by the issuer of these cards. Product details may vary. Please see the issuer's website for current information. GOBankingRates does not receive commission for these products.