6 Best Apps for Free Food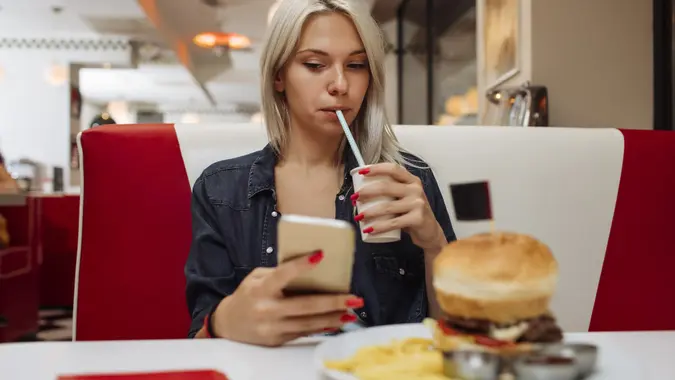 mihailomilovanovic / iStock.com
Who says there's no such thing as a free lunch? As grocery prices continue to rise, it's nice to know that there are some places where you can get food for free. Here are some fast food and quick service restaurants that have rewards programs that give you free food when you use their app.
See: How To Build Your Savings From Scratch
1. Chipotle
The Chipotle rewards program gives you 10 points for every dollar you spend in the app, online or in a store. When you first sign up, you get a free order of guacamole. Plus, Chipotle will send you a gift on your birthday. If you redeem your points for food, you can get chips and guacamole for 825 points or a burrito for 1,250 points. You can also use your rewards points for Chipotle swag or donate them to the National Young Farmers Coalition.
2. Chili's
Chili's rewards program members get a free nonalcoholic beverage and chips on every visit, as long as you have visited within the last 45 days — so you can't be a once-a-year customer. You can also get free kids' meals, appetizers or desserts, but they decide what you get. Plus, these are limited-time offers, so keep an eye on your expiration dates.
3. Starbucks
When you use the Starbucks app or purchase in the store, you earn stars for each purchase. If you're using a Starbucks gift card, you get 2 stars per dollar, and with a credit card purchase, you get 1 star per dollar. (Pro tip: Give yourself a gift card and get double the stars.) With your Starbucks stars, you can get a brewed coffee, bakery item or snack for 100 stars, a latte for 200 stars, or a sandwich, protein box or at-home coffee for 300 stars.
Make Your Money Work for You
4. Dunkin'
When you join the Dunkin' rewards program, you get 10 points for every dollar you spend. If you're a regular, you get Boosted Status, which means that once you've visited a Dunkin' 12 times in one calendar month, you earn 12 points per dollar for the next three months. You can get a donut for 250 points, a hot or iced coffee for 500 points or a breakfast sandwich for 800 points.
5. Burger King
At Burger King, Royal Perk members earn "crowns" for each purchase on the app or at BK.com (including delivery) and in a store. You get 10 crowns for every dollar you spend. Then you can redeem your crowns for certain menu items, including "upsizing" a drink or French fries. You also get double the crowns during the month of your birthday. Keep an eye on those crowns, though — Burger King just announced that as of July 1, crowns will expire six months after they are earned.
6. McDonald's
When you sign up for the McDonald's rewards program, you get a free large order of fries with your first purchase. Then, you earn 100 points for every dollar you spend (excluding taxes, delivery fees and gift cards). For 1,500 points, you can get a free cheeseburger, McChicken, hash browns or a vanilla ice cream cone. If you're still hungry, 6,000 points gets you a Big Mac, Quarter Pounder With Cheese or a Happy Meal.
Restaurants update their rewards programs all the time, so be sure to keep an eye on your rewards and know when they expire. You don't want to give up the opportunity to get free food!
Information is accurate as of June 19, 2023.
Make Your Money Work for You