10 Best Coffee Rewards Programs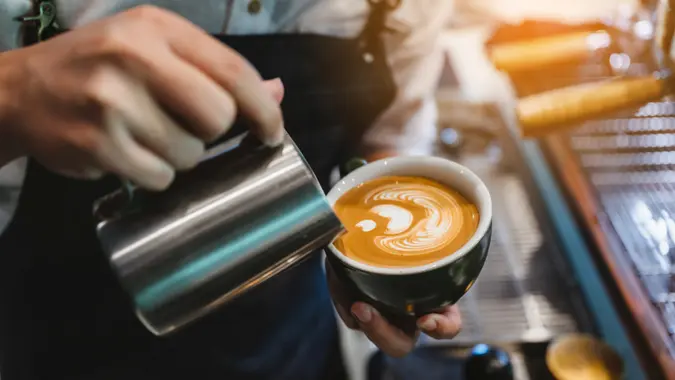 greenleaf123 / Getty Images/iStockphoto
If you feel like store-bought coffee tastes better than home brew, you're not alone. Chances are that you own at least one coffee maker but still enjoy treating yourself to coffee from your favorite local chains.
See: How To Build Your Savings From Scratch
Joining at least one coffee rewards program is the best way to enjoy this guilty pleasure while sticking to a budget. Most coffee chains have a loyalty program that allows repeat customers to save money and enjoy a series of perks.
You have likely heard of these programs and probably even belong to a few. However, if you're wondering, "What is a coffee loyalty card?" it's time to get in the know.
10 Coffee Rewards Programs To Sign Up For
Here's a look at the coffee rewards programs of several major chains in the U.S. Chances are that you're located near at least a few, so keep reading to learn more about them.
1. Starbucks
Starbucks' loyalty program is called Starbucks Rewards, and if you're not already signed up, now is the time to do so. The chain is pretty much everywhere, with more than 17,000 licensed stores throughout the world, including 6,500 in the U.S.
As a Rewards member, you'll earn stars — 1 star per dollar when you pay as you go and 2 stars per dollar when you add funds in the app — with every purchase, and you can redeem them for free food, drinks and more. You'll also get a free birthday treat, coffee and tea refills and the ability to place your order and pay for it ahead of time.
Make Your Money Work for You
2. Dunkin'
Once primarily an East Coast chain, Dunkin' now has more than 11,300 restaurants worldwide, including 8,500 in 41 states across the U.S. Dunkin' Rewards members enjoy a slew of perks, such as earning 10 points for every dollar spent — and the ability to score Boosted Status after visiting 12 times in a calendar month, which earns 12 points per $1 spent for three months — on qualifying purchases. Plus, members get a birthday bonus and access to regular members-only exclusive offers.
3. Peet's Coffee
A U.S. specialty coffee shop, Peet's Coffee has more than 370 locations in the U.S. and China. The company's Peetnik Rewards offers a variety of benefits, including earning 1 point for every dollar spent — and a bonus of 125 points after your first order. The program also offers birthday and anniversary surprises, an order ahead feature and special offers just for members.
4. The Coffee Bean & Tea Leaf
Primarily a West Coast chain, there are 139 Coffee Bean locations in the U.S., with 129 stores in California, seven in Arizona and one each in Alabama, New York and Oregon. So, how do you get Coffee Bean rewards?
When you download the Coffee Bean app, you'll receive 50% off your first drink. As a member, you'll earn a point for every dollar spent, receive a birthday gift and enjoy surprise promotions.
5. Krispy Kreme
Nothing pairs better with coffee than a doughnut. Therefore, you can't go wrong by joining the Krispy Kreme loyalty program, where you can earn rewards at the company's 375 U.S. locations.
As a welcome gift, you'll receive a free doughnut just for signing up. You'll earn points with every purchase, receive a birthday gift and enjoy members-only offers, freebies and other rewards.
Make Your Money Work for You
6. Panera Bread
A fast-casual restaurant with a coffee rewards program, Panera Bread has 2,121 U.S. locations across 49 states. When you join the MyPanera rewards program, you'll get a free treat and free delivery for 30 days. You'll also earn rewards with every order, receive a birthday treat, get special offers and gain access to the Unlimited Sip Club.
7. Caribou Coffee
A coffee chain with more than 470 locations — largely concentrated in Minnesota, where there are 302 stores — Caribou Coffee has a rewards program you need to know about.
Named Caribou Perks, you'll get a free medium beverage after joining, and you'll earn points — 1 point for every dollar spent at the register or drive-thru using cash, credit or debit and 2 points when you order ahead with the app or add funds to your account. You'll also get a free birthday drink, a 5% discount on coffee and K-Cup pods, new app exclusives and sneak peeks.
8. Wawa
Nestled on the East Coast, Wawa is a chain of more than 950 convenience retail stores — 750 offering gasoline — located in Pennsylvania, New Jersey, Delaware, Maryland, Virginia, Florida and Washington, D.C.
After joining Wawa Rewards, you'll get a free drink, as well as a free birthday treat, a new reward for every $50 spent and money-savings opportunities all year — i.e., discounts on Wawa favorites, special fuel savings, freebies and more.
9. Sheetz
A Mid-Atlantic restaurant and convenience chain, Sheetz has nearly 670 stores located in Pennsylvania, North Carolina, Virginia, West Virginia, Ohio and Maryland. Recently revamped, the My Sheetz Rewardz loyalty program allows you to earn points for most in-store purchases.
You'll score 5 points for every dollar spent, and the program features different levels, allowing you to climb the ranks as your spend increases. Quite possibly the biggest perk, members get 3 cents off fuel, as well as birthday deals and other offers and freebies.
Make Your Money Work for You
10. Tim Hortons
It's based in Canada, but Tim Hortons has locations in Indiana, Michigan, Ohio, Kentucky, New Jersey, Pennsylvania, West Virginia, Maine, New York and Texas.
When you join Tims Rewards, you'll get a free medium cold drink in your first week of membership, earn points when you purchase eligible items, receive exclusive offers, get a 10-pack of Timbits for $1 every Tuesday, skip the line when ordering on the app, enjoy a free birthday treat and access sweepstakes and games that can earn you extra rewards.
What Coffee Chain Has the Best Rewards Program?
Now that you know more about the coffee rewards program at several major U.S. chains, you can decide which one(s) work best for you. Most of these loyalty programs offer relatively similar benefits, so the best ones are those you'll use the most.
Are rewards programs worth it? This is a resounding yes.
These programs are all free to sign up for, so you're able to earn discounts and perks without spending any extra money. In fact, not signing up for coffee rewards programs at chains you visit even sometimes would likely be a mistake.
Information is accurate as of June 12, 2023.