DoorDash vs. Grubhub: Which Is Better for Drivers To Earn More Cash?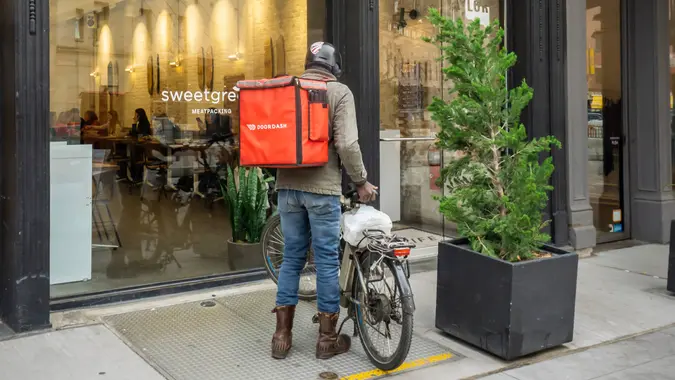 rblfmr / Shutterstock.com
Many food delivery companies have emerged to satisfy a crescent demand for this type of service in recent years. Grubhub and DoorDash are only some of the most popular in the United States. If you're interested in driving for one of them, here's a thorough comparison of both companies.
DoorDash vs. Grubhub at a Glance
Before we dive deeper into the advantages and downsides of driving for DoorDash vs. Grubhub, let's take a general look at their most relevant characteristics. 
| | DoorDash | Grubhub |
| --- | --- | --- |
| Average base pay per delivery  | $2-$10 | N/A  |
| Hourly before tips | $15 | $12-$15 |
| Tips | Drivers keep 100% | Drivers keep 100% |
| Advanced scheduling | Available | Available |
| Driver requirements | Over 18 years old. Own a reliable vehicle. Have a valid driver's license. Own a smartphone that's compatible with the app. | Over 19 years old. Own a smartphone that's compatible with the app. Have a valid driver's license. Have a reliable vehicle. |
| Incentives | Peak Pay Challenges | Bonuses, Challenges, Sweepstakes |
| Payment frequency | Weekly | Weekly |
| Allowed vehicles | Car, Bike (in select cities), Scooter, Motorcycle | Car, Motorcycle, Bike (in select areas) |
Make Your Money Work Better for You
DoorDash vs. Grubhub: Who Pays Drivers More?
Numerous factors are taken into account to calculate how much each platform pays its drivers.
Grubhub
Mileage per order: Distance traveled per order
Time driving: Time spent on the road per order
Time waiting: Time waiting for pickup
Special offers: Rewards for completing "Missions" or completing deliveries in a certain amount of time, participating in sweepstakes and receiving bonuses
Tips: Additional earnings provided by customers
When drivers receive an offer with multiple orders, the mileage is calculated for all orders together. Additionally, if a new order comes in before the driver has completed the current delivery, the estimated time will start running when the current delivery has been finalized. 
The variables may change by market depending on diver demand, location and ease of pick up and delivery. Grubhub doesn't offer a base pay and the hourly minimum depends on the market as well. However, drivers get to keep 100% of the tips they earn. This way, Grubhub ensures all drivers get paid fairly and competitively.
DoorDash
DoorDash has its own payment scheme: The Dasher Pay Model. This sums base pay with promotions and tips. Dashers also keep their tips in full. 
Make Your Money Work Better for You
With DoorDash, base pay ranges from $2 to $10 and is calculated by time and distance. In addition, earnings with this courier may be increased with special promotions, such as:
Peak Pay: Offers drivers $1 to $4 extra per delivery during peak hours
Challenges: Give Dashers rewards when completing a certain number of orders in a specific amount of time; challenges may be combined with Peak Pay incentives
Drive: Pays drivers more when completing more extensive hours
Guaranteed Earnings: A pay incentive for select Dashers to earn at least a specific amount within a set number of days. These variables depend on the offer Dashers were sent via email or SMS. Guaranteed earnings don't include tips, challenge payments or referral payments.
Dashers and Grubhub drivers are considered independent contractors. Therefore, partners are responsible for their own tax withholdings when driving with either company. Before adding tips, Dashers are set to make over $15 per hour, while Grubhub pays drivers around $12 to $15 per hour. 
About DoorDash
DoorDash has come a long way since its early days. This company now delivers for thousands of restaurants across the United States and in all corners of Canada, Japan, Germany and Australia. Today, DoorDash is an excellent delivery service for those who want to get groceries, essential items and their favorite food without leaving home. 
Make Your Money Work Better for You
About Grubhub
This popular company was founded in 2004 as an alternative to paper menus. In 2013, they merged with Seamless's food delivery service, becoming the food delivery giant we know and love. Today, Grubhub processes over 745,000 daily orders and features more than 300,000 restaurant partners across 4,000 American cities.
Where You Can Work With DoorDash vs. Grubhub
Grubhub serves 23 million active diners and is available in more than 4,000 cities in the U.S. Nowadays, drivers can work in every state. However, they must follow regional boundaries when accepting orders. This helps ensure all drivers get as many orders as possible. Occasionally, Grubhub partners will receive requests through the app to serve an area outside their regular region boundaries.
DoorDash also has full coverage in the U.S. Dashers are able to work in over 7,000 cities across the country. Unlike Grubhub delivery partners, Dashers don't have regional restrictions. They can Dash wherever they want as long as they're able to complete their orders in the required time.
The only limitation Dashers face when picking delivery areas is that they're not allowed to switch between countries. So, if you're a Dasher in the United States and want to deliver in Canada, for example, you'd have to go through a separate application process. 
Driver Requirements
Most food delivery companies have similar rules and parameters for drivers. Here are the current requirements.
To Drive With Grubhub
Grubhub delivery partners must:
Be at least 19 years old — except for Las Vegas, where they need to be 21
Have an iPhone with an iOS of 11 or higher or an Android with 5.0 or higher
Have a data plan
Have a valid driver's license or a valid state ID for cyclists
Have auto insurance
Have a reliable vehicle
Have a checking account for direct deposit
Grubhub also may require partners to pass a driving and criminal background check before they can complete their first order. 
To Become a Dasher
DoorDash driving partners are held to the same standards. They must:
Be at least 18 years old
Have a valid driver's license
Have auto insurance
Have a Social Security number
Have a reliable vehicle
Have an iPhone or Android smartphone that can run the app
Additionally, applicants with more than three minor driving violations in the past three years are automatically disqualified. All Dashers and Grubhub partners must complete orientation before they can accept their first order.
Good To Know

DoorDash is the biggest food delivery service in many major cities in America, holding 55% of the current market share. That's why Dashers are often more likely to get higher earnings than Grubhub drivers. Grubhub holds just 17% of the market share.
What It's Like To Drive for These Companies
Before applying, drivers often wonder what a day working as a delivery partner looks like. The job is essentially the same, but conditions may differ from one courier to another. Although differences may be relatively small, sometimes partners can use them in their favor when it comes to making more money. 
Scheduling Shifts
Grubhub and DoorDash allow their delivery partners to build their own schedules. Shifts are opened for selection at a specific time during the previous week and are typically on a first-come-first-served basis. Additionally, drivers are able to choose to work on an open schedule if they cannot commit to a fixed one.  
DoorDash has a Dash Now feature that allows drivers to work on demand when areas are busy and there are not enough Dashers to fulfill all of the orders. The option becomes unavailable once things slow down and there are enough drivers available. Grubhub driving partners, on the other hand, can start driving at any time regardless of how busy it is. 
Accepting Orders
Grubhub doesn't require driving partners to meet a minimum order acceptance rate. However, drivers may lose some in-app privileges if they abuse this function. After all, this affects the customer experience, which is extremely important for the company. The more orders a driver rejects, the less likely it becomes to receive order requests in the future. Once a driver has built an acceptance rate, the driver can get a bit pickier and start rejecting some lower-paying orders. 
DoorDash has a different approach. While the company doesn't have a minimum acceptance rate, it has an incentive program to encourage drivers to take more orders. Dashers don't get penalized for a lower acceptance rate as long as they complete their orders accurately and in time and have decent customer ratings.
Incentive Programs: Top Dasher vs. Tiers
Both companies have incentive programs to reward partners who want to make a full-time job out of driving. Partners who drive constantly and pick up more orders than others are eligible to receive perks and early scheduling access. 
Top Dasher
With DoorDash, drivers must meet the following requirements to become a Top Dasher:
Customer satisfaction rating: 4.7 / 5
Minimum acceptance rate: At least 70%
Completed orders: At least 95% 
Deliveries completed in the last month: 100 or more
Lifetime deliveries: 200 or more
Top Dashers get to be the first to pick orders and are prioritized over newcomers for rewards and perks. They have less competition over incentive-winning orders and are able to use Dash Now privileges even when it's not busy in their area. 
Grubhub Driver Recognition Program
Grubhub has a driver recognition program that consists of a three-tier system to rank delivery drivers:
Partner: The default tier for new drivers
Pro: All drivers that show up for their schedule blocks and have a minimum acceptance rate of 85%
Premier: Rewards the most loyal drivers and gives access to privileged scheduling. Premiere Drivers can access catering orders to bring in more cash.
Final Take
Becoming a delivery driver is an excellent alternative for those looking to make some cash on the side in a flexible and simple way. Although different in some of their policies, both Grubhub and DoorDash are excellent options to get a part-time gig or even a full-time job if you're willing to commit. The guide above will help you decide which company better meets your specific needs. Make sure to compare and contrast both options before taking the plunge. 
FAQ on DoorDash and Grubhub
Here are some of the frequently asked questions for those interested in joining DoorDash or Grubhub as delivery partners.
Do these companies offer referral programs?

Both Grubhub and DoorDash have special programs for partners who bring in more drivers. DoorDash offers up to $150 per referral as long as the person completes the application process successfully and is able to fulfill a certain number of deliveries. On the other hand, Grubhub offers just $10 per referral. New drivers applying through this program get this bonus on their first paycheck.

Which company treats delivery partners better?

Both companies have driver support for delivery partners. However, Grubhub has been involved in a couple of labor lawsuits and controversies through the years. That doesn't necessarily mean that they're unpleasant to work for, but it might be worth looking into the particulars of those cases if it's a major concern for you.

Can I drive for more than one of these companies at once?

Most food delivery companies welcome new drivers even when they also work for direct competitors. As an independent contractor, you're free to choose whom you drive for and when as long as you're able to work your scheduled shifts and complete your orders satisfactorily.

Do Grubhub and DoorDash provide drivers with the necessary gear?

DoorDash will send drivers a DoorDash kit that includes a Dasher Red Card (a credit card to pay for some orders) and an insulated bag for free after they complete their first delivery. Grubhub, on the other hand, sends drivers insulated bags and driver card five to 10 days after they have completed their onboarding. Both companies have a driver gear store where delivery partners can get branded insulated bags and other delivery essentials.
Information is accurate as of Feb. 7, 2022.
Make Your Money Work Better for You