20 Side Hustles for Introverts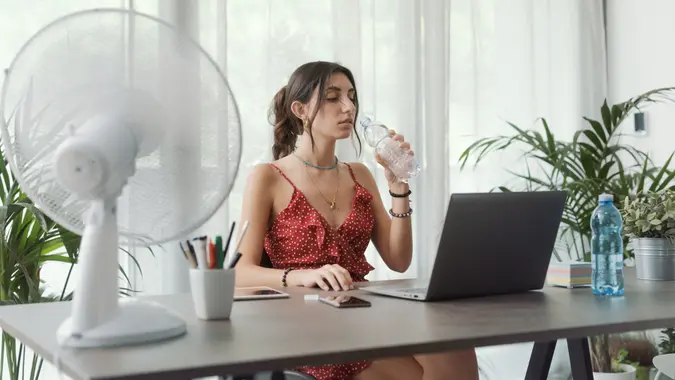 demaerre / Getty Images/iStockphoto
You're looking to earn some extra cash, but being surrounded by people all the time isn't really your thing. Popular side hustles like being a rideshare driver, working in customer service or babysitting  are a bit too social for your tastes.
Thankfully, there's no shortage of side hustles for introverts. Whether you want to work remotely or in-person — just with little-to-no other people around — there's plenty of options.
Ready to get started? Here's a look at 20 great side hustles for introverts.
1. Etsy Shop Owner
Do you have an artistic side? If so, starting an Etsy shop can be a fun creative outlet that also allows you to earn extra cash.
The possibilities for homemade goods are endless, ranging from paintings and jewelry to scarves and personalized décor. You can also sell vintage items and craft supplies, if you don't want to create new products.
2. Graphic Designer
Whether you're a graphic designer by trade or a novice, you can find a paying side gig. You'll likely need experience for freelance jobs on Fiverr, Upwork or job sites, but if you have it, there's plenty of them.
If you don't have much experience yet — or simply want to create passive income — consider making printables. You can sell everything from weekly planner templates to editable wedding menus on sites like Creative Market and Etsy.
Make Your Money Work Better for You
3. Remote Stylist
Do you love fashion and have an eye for style? If so, consider lending your talents to others as a remote stylist.
From the comfort of your own home, you'll curate looks for clients through companies like Stitch Fix, Amazon and Neiman Marcus Group. Pay varies, but averages $16 per hour at Stich Fix, according to a job posting on Appjobs.
4. Sell Stock Photos
If you enjoy taking pictures, monetize your hobby by selling them as stock photos. These are in demand for a variety of purposes, including adding relevant images to online articles and blogs.
Since content creators can't always take their own photos, they rely on stock photography for images that bring their piece to life. Many different websites serve as a platform to sell your photos, including Shutterstock, Adobe Stock and Getty Images.
5. Proofreader
Do you have an eye for grammar? If you also can't stand typos and misspellings, you could thrive as a freelance proofreader.
You can find clients on freelance platforms like Upwork or online job sites, who need you to proofread copy like websites, emails, newsletters and social media posts. Freelance proofreaders earn an average of $25 per hour, according to ZipRecruiter.
6. Transcriber
Are you wondering, "How can an introvert make money at home?" If you're a detail-oriented person with decent typing skills, working as a transcriber could be a great fit.
In this gig, you'll be responsible for listening to audio files or watching video and typing what you hear word-for-word to create a transcript. On Upwork, the average pay is $12-$22 per hour.
Make Your Money Work Better for You
7. Remote Bookkeeper
A great side gig for accountants, remote bookkeepers manage the finances of companies and weigh in on important monetary decisions. The best part is, you can do this from the comfort of your own home.
The remote nature of the job allows you to avoid people, while working with clients across the U.S. Expect to earn approximately $25 per hour, according to ZipRecruiter.
8. Book Reviewer
A classic introvert hobby, reading a book allows you to escape into total solitude. What you probably don't realize is you can actually get paid to read and review books.
You can apply for jobs at a variety of companies, including The U.S. Review of Books, OnlineBookClub.org and Booklist.
9. Dog Walker
If you'd rather hang out with dogs over people any day, moonlighting as a dog walker could be your dream job. You can take on regular clients — walking dogs while their owners are at work — or on an as-needed basis — when an owner needs care for their dog while they're away on a trip or at an hours-long special event.
The average pay for dog walkers varies by your location. For example, dog walkers in Los Angeles earn an average hourly rate of $17, but bring in approximately $12 per hour in Atlanta, according to Care.com.
10. Housesitter
When some people go out of town, they hire a housesitter to either temporarily live onsite in their absence or stop in regularly — i.e., to water plants, collect packages, etc. As an introvert, this is your ideal way to visit someone else's house, because they're not actually home.
Make Your Money Work Better for You
Pay varies greatly by client and the services performed. However, the average rate is $35 per hour, according to ZipRecruiter.
11. Grocery Shopper
How can an introvert make money? Doing other people's grocery shopping.
Grocery pickup and delivery became immensely popular in the early days of the COVID-19 pandemic and this trend is still going strong. This means there's no shortage of companies that need grocery shoppers to fulfill orders.
For example, Instacart allows you to set your own schedule and work up to 29 hours per week. The average base pay of an Instacart shopper is $16 per hour, plus an average of $7 per hour in additional pay — i.e., bonuses, commissions, tips and profit sharing — according to Glassdoor.
12. Food Delivery Driver
You want to work in the food service industry, but you're wondering "How can I make money without interacting with people?" Taking on a side gig as a food delivery driver may be the answer.
In this job, you'll simply pick food up from restaurants and deliver it to customers. There's many different food delivery services to choose from — Uber Eats, DoorDash, Seamless, Grubhub and more.
DoorDash "dashers" across the U.S. earn an average of $25 per hour, including 100% of their tips, according to the company website.
13. Snow Removal
When the weather outside is frightful, sidewalks need to be shoveled and driveways need to be plowed. Many people prefer not to do this task themselves or are unable to do so, which is where you come in.
Make Your Money Work Better for You
If you have a truck, consider purchasing a snow plow to attach to it during the winter. Otherwise, you can simply invest in a snowblower or even a snow shovel, depending on your budget.
The national average cost for a single plow job is $30 to $50 and sidewalk clearing costs an average of $25 to $75 per hour, according to HomeAdvisor.
14. Become a Tasker
If you haven't seen any gigs that appeal to you get, fear not, there's almost definitely something you can do on TaskRabbit. The site offers a huge selection of services that can be completed largely on your own, including furniture assembly, painting, house cleaning, gardening services, waiting for deliveries, running errands and returning items.
Average pay rates vary by job and location. For example, expect to earn around $22 per hour running errands in Denver, rising to $48 per hour assembling furniture in Boston.
15. Rent Your Extra Space
What are the most successful side hustles? Most people would definitely agree it's the gigs that earn you money with little-to-no effort.
As an introvert, you wouldn't dream of putting any part of your space on vacation rental websites like Airbnb. However, other platforms — such as Neighbor — allow you to rent out unused space in places like your attic, basement, garage and driveway for storage.
This allows you to earn passive income without doing anything, while having limited interaction with the person whose belongings you're storing.
Make Your Money Work Better for You
16. Rent Out Your Car
Does your car spend a lot of time parked outside your home? If so, put it to work.
There's plenty of online platforms that will connect you with people who want to rent your car, including HyreCar, Turo and Getaround. Average earnings vary by location, make, model and availability. However, an example listed on Getaround revealed a 2013 Nissan Juke earns $694.26 per month in Charleston, South Carolina.
17. Virtual Assistant
Have experience working as an administrative assistant or an office manager? If so, or even if not — prior experience isn't always necessary — you'll have no trouble finding a virtual assistant job that allows you to provide clients with administrative services from home.
Sure, you'll likely have to make phone calls, but working remotely means you won't have to greet visitors as they come in the door or entertain clients. Virtual assistants earn an average of $28 per hour, according to ZipRecruiter.
18. Product Reviewer
Enjoy being in the know on the latest products? You might not realize it, but you can actually get paid to test products from home.
Simply create a profile on sites like Ipsos, Opinion Outpost and Branded Surveys and you'll be notified when a job you're qualified for becomes available. Pay varies by assignment and company, but you can earn cash and gift cards, in addition to scoring lots of free products.
Make Your Money Work Better for You
19. Test Scorer
One of the best side hustles for introverts, working as a remote test scorer involves no interaction with test takers. You'll simply perform duties like checking a standardized test with an answer key or providing feedback on essay questions.
Qualifications vary by company, but you'll typically receive training upon hire. Opportunities can be found on job sites and pay varies. To give you an idea, an assessment scorer at Cognia earns $15 per hour, according to a job description.
20. Search Engine Evaluator
When users perform a web search, companies want to make sure they receive the correct results. As a search engine evaluator, you'll conduct research and provide feedback to companies to highlight the accuracy, relevance and general helpfulness of the results.
A quick online search is all you'll need to do to find these jobs, which allow you to work from home in blissful isolation. Pay varies, but to give you an idea, an online web evaluator for Mommy Jobs Online pays $15 per hour, according to a job description.
Final Take
Clearly, there's no shortage of side hustles for introverts, so it's time to start earning extra cash. Whether you're trying to pay off debt or save for vacation, this is a great way to supplement your income — without having to work with the general public.
Information is accurate as of Aug. 18, 2022.
Our in-house research team and on-site financial experts work together to create content that's accurate, impartial, and up to date. We fact-check every single statistic, quote and fact using trusted primary resources to make sure the information we provide is correct. You can learn more about GOBankingRates' processes and standards in our editorial policy.