Top 7 Dog Walking Apps in 2022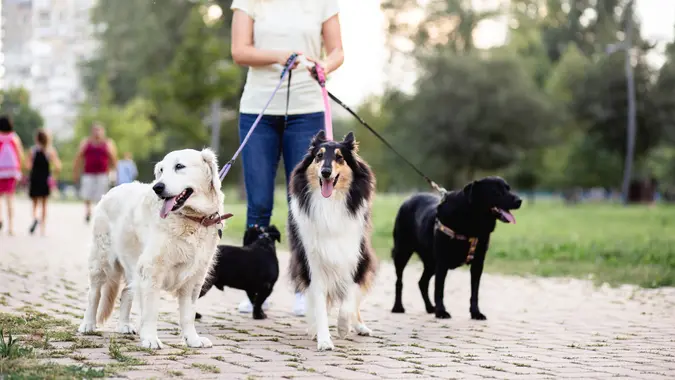 Group4 Studio / Getty Images
A dog walking app can make it easy for those looking to pick up extra money caring for other people's furry family members. While the app may keep a cut of a walker's earnings, it can also provide a walker with many benefits.
Here are some reasons to use a dog walking app to book gigs and an overview of seven top dog walker apps.
The Benefits of Using a Dog Walking App To Book Gigs
Dog walking apps make it possible for dog walkers to connect with dog owners in need of walking and other pet care services without having to incur business costs. A good app will handle all customer bookings and payments, so walkers don't have to worry about finding clients or handling payment collection.
Since many pet owners turn to a dog walking app to book a dog walker these days, work may be easier to find through an app than in other ways. Many apps also insure dog walkers if an animal is injured or becomes ill while in the care of the dog walker. Several also provide training and allow walkers to set their own schedules. Some even allow walkers to set their own prices.
Here are seven apps to consider for those interested in starting a side gig as a dog walker. Not all apps will have available jobs in all U.S. cities.
Top Dog Walking Apps
Barkly Pets
Rover
Fetch!
PetBacker
Wag
Holidog
Scout
Make Your Money Work Better for You
Here is a quick overview of each dog walker app. All but one of these apps is available on iOS and Android.
1. Barkly Pets
With the Barkly Pets app, dog walkers set their own prices and receive everything the customer pays minus applicable credit card fees.
Rather than charging dog walkers commissions for using the app to get dog-walking gigs, Barkly charges a monthly membership fee of $8.50 per month. Dog walkers do not pay the monthly fee unless they earn over $100 for the month. Walkers can earn $101 or $1,001 in a given month for the same $8.50 membership fee.
Barkly also provides access to free tools and certifications for walkers wishing to grow their business, and Barkly walkers are given a free website to showcase their services. 
Walkers must apply and be accepted before booking jobs through Barkly. Every walker is vetted and must pass a background check.
2. Rover
Rover allows walkers to set their own schedule and prices, and provide other pet services in addition to dog walking, including boarding, doggy day care and housesitting. Walkers can also set the size, age and other preferences of the animals they walk.
Dog walkers can get 24/7 support through the app, including vet assistance. Rover provides up to $25,000 in vet care reimbursement in case an animal needs vet services while in the care of a Rover pet caregiver.
Rover dog walkers can withdraw payments two days after a service is completed.
3. Fetch!
Like Rover, Fetch dog walkers get a flexible schedule, insurance and can provide services beyond dog walking. Dog walkers must apply and interview with a local Fetch franchise owner to get work. Once a walker is hired, the franchise owner will coordinate with them to provide assignments that fit the walker's availability.
Make Your Money Work Better for You
Initially, Fetch dog walkers may only receive a limited number of assignments. As a walker builds a clientele, they will receive more jobs based on the type and quantity of dog walking and pet sitting assignments they wish to take on. 
Income will vary by the quantity and types of dog walking and pet sitting assignments a walker chooses to accept. According to Fetch, it tries to work with walkers to build a schedule that meets their income needs.
4. PetBacker
Those booking jobs on the PetBacker app can choose which services they wish to offer and set their own schedule and pricing. Care providers can accept job offer postings from clients or post their own services and let clients contact them.
PetBacker takes a set percentage from the amount quoted for every dog-walking job once complete. As with most dog walking apps, walkers must apply and be accepted to use the app.
5. Wag
Wag provides flexibility for walkers who can grab last-minute work or schedule it weeks in advance. Every walker must undergo an application process with a background check and then be insured if accepted.
The platform allows live chat with clients, and clients can meet the walker in person before hiring them. Dog walkers may be required to text owners during the walk and provide a post-walk update. Dog walkers set their own prices based on an estimate provided in the app. Tips are recommended, and the dog walker keeps the full amount. 
Make Your Money Work Better for You
The Wag website does not indicate how much or how often dog walkers are paid, but it does serve 53,000+ U.S. cities and has over 400,000 pet caregivers.
6. Holidog
Holidog does not take a commission from its pet care providers, although it does vet providers before approving their profiles on the platform. It is also the only company on this list that does not have a mobile app. Dog walkers log in to the Holidog website using a web browser to book gigs.
Holidog walkers can set their own rates, choose their own hours and indicate both on their profiles.
Potential Holidog walkers can set up an account and a profile that lists their rates. Once Holidog approves a walker, their profile is activated, and they can begin accepting jobs. Holidog offers boarding, sitting and in-home visits in addition to dog walking services.
7. Scout
Scout differs from the previous six apps in that it is designed for independent pet care providers or even those who want to start a dog walking app. Those on the Scout platform must find and book their own clients. The Scout app can be used for scheduling and billing dog-walking clients for one or more pet care providers.
Dog walkers who have built a regular clientele outside of an app or service or who want to provide work to other dog walkers for a commission may find that Scout makes it easier to manage their dog walking business. It can also be a good choice for potential dog walkers who live in an area not serviced by other apps.
Make Your Money Work Better for You
Takeaway
Dog walking apps make it easy to provide dog walking and other pet-related services as a side hustle. Since these apps handle everything from marketing to new potential clients and collecting payment, walkers can apply to a few apps and begin getting jobs once accepted.
Remember that walkers for most apps are considered independent contractors and responsible for taxes on any earnings.
FAQ
Here are some quick answers to common questions about dog walking apps.
What is the best app for dog walking?

The best dog walking apps allow dog walkers to set their own schedules and prices without paying high commissions for using the platform. Two such apps are Barkly Pets and Rover. However, not all apps serve all cities, so some dog walkers may find that they are limited to one or two apps for finding work.

How much do dog walking apps pay?

Pay will vary by dog walking app. Some apps keep a percentage of the fee charged to the client. Others allow walkers to set their own rates and pay a monthly fee for the use of the platform.

Are dog walking apps worth it?

Paying for the use of a dog walking app can be worth it for finding gigs since the platform typically handles the marketing, bookings and payment of gigs. This can enable walkers who have not yet built up a regular clientele to get started earning from dog walking without any overhead or the need to advertise to potential clients.
Editorial Note: This content is not provided by any entity covered in this article. Any opinions, analyses, reviews, ratings or recommendations expressed in this article are those of the author alone and have not been reviewed, approved or otherwise endorsed by any entity named in this article.