12 Apps That Pay You To Walk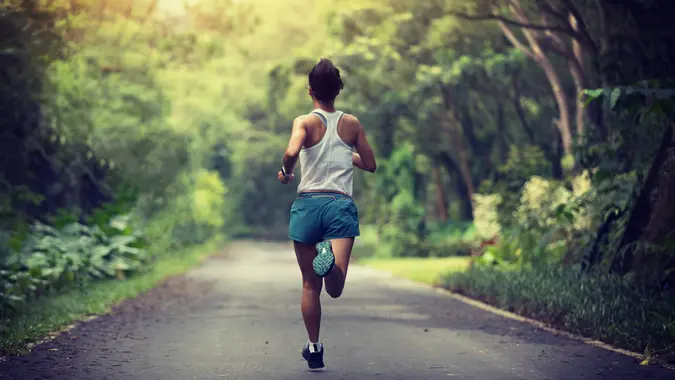 lzf / Getty Images/iStockphoto
Walking has many health benefits — it can keep you in shape and lower your stress levels. Plus, it's easy, requires little equipment and can be done almost anywhere. But did you know you can make money doing it?
Best Apps That Will Pay You To Walk
You might be wondering "How can I get paid for walking?" or "What app pays the most for walking?" There are many walking apps that will reward you for your steps — and, in some cases, other types of exercise — with charitable donations, discounts, gift cards and more. How's that for even more motivation to get moving? But before you lace up your sneakers, download one of these apps and get rewarded for walking.
1. Evidation
Evidation is an app that can track your activity and reward you with points for things like walking, biking, running, swimming, etc. You can earn up to 80 points a day for these activities. To track your activities, Evidation connects with apps like Fitbit, Garmin, Google Fit, MapMyFitness, MyFitnessPal, Runkeeper, Samsung Health and more.
You can also get points for logging food, weighing yourself, meditating and tracking your sleep. You can get six points each for up to five activities.
Make Your Money Work Better for You
Healthcare partners like the American College of Cardiology Foundation, Merck, Lilly and the Digital Medicine Society are working with Evidation to conduct research on the app, so users have the option to participate in research studies and surveys. You'll earn points for this as well.
Once you've accrued 10,000 points, you can redeem them for a $10 reward. You can also donate your reward to charity.
2. Fitpotato
If you're done being a couch potato, you can become a Fitpotato. This app requires that you make a commitment each week. You join a group and pay an entry fee. If you meet the attendance requirements of the commitment, at the end of the week, you split the weekly prize with everyone in the group who has also met the requirements. Anyone in the group who has not met the requirements doesn't get any part of the prize. Your connected fitness app will show if you've met the minimum number of steps for the commitment.
The prize is distributed as an account credit, which you can then use for the entry fee for the next week's commitment. You can also request that your account credits be distributed to you.
3. Charity Miles
Charity Miles is an app that pays you to walk. More than that, it lets you turn your walking, running or biking miles into charitable donations. You need to be sponsored, either by friends and family, by the corporate sponsor(s) of your charity, by companies that sponsor their employees through Charity Miles' Employee Empowerment Program or by Charity Miles' corporate sponsorship fund.
Make Your Money Work Better for You
Charity Miles has a large group of charities you can choose from to receive donations from the miles you walk, run or bike. There are health-related charities, like the Alzheimer's Association, Back on My Feet, the Crohn's and Colitis Foundation, the National Multiple Sclerosis Society, March of Dimes and more. There are also other charities like the World Wildlife Federation, Habitat for Humanity and the ASPCA.
4. HealthyWage
HealthyWage lets you win cash for weight loss challenges. You can build your own challenge or participate in one of the challenges that's already set up, like Jillian Michaels' HealthyWager Challenge. Participants pay an entry fee and those fees become the prize after HealthyWage takes 25% off the top.
Some challenges are for weight loss, but if you're just looking to increase your steps, there are walking challenges too. And you can create a challenge of your own if you have a group of people who want to sign up.
5. Walgreens Balance Rewards
If you shop at Walgreens, you can save some cash by earning Walgreens Cash rewards for meeting your fitness goals. There are 4-week-long challenges that focus on physical activities and lifestyle goals. You can do up to one physical activity and one lifestyle challenge at a time. For every week you are successful and complete your challenge, you earn $0.25 Walgreens Cash, so you get $1.00 if you finish all four weeks. Plus, if you finish all four weeks, you get a chance to win an extra $2 bonus Walgreens Cash.
Make Your Money Work Better for You
6. PK Rewards
PK Rewards let you earn coins for your workout, whether it's walking, running, biking, swimming or any other workout. You get a score for every workout that's based on the amount of effort you put in, so the harder and longer you work out, the more coins you earn. You can redeem your coins for rewards, including gift cards and merchandise from Starbucks, Southwest Airlines, Walt Disney World, Airbnb, Amazon and more.
7. PaceLine
PaceLine rewards you for having active minutes as determined by your Apple Watch, Garmin or Fitbit. When you are moving and your heart rate is elevated, you are accruing active minutes. The goal is to have 150 active minutes per week, but no more than 50 per day will be counted. The idea here is that you want to be active throughout the week, so you can't just load up on the active minutes on Saturday if you've spent the rest of the week on the couch.
Each week you meet your goal of 150 active minutes, you can choose a prize. Many of the prizes are discounts on health-related products or services, but a $1 Amazon gift card is often in the mix as well.
PaceLine also has a credit card that provides rewards for meeting your goal and maintaining a streak of weekly goals. You can get reimbursed for the purchase of an Apple Watch, and increase the amount of cashback you get on purchases.
8. StepBet
StepBet lets you bet on yourself to reach your fitness goals. You place a bet — amounts can vary, but $40 is a common bet — on a specific game. Most games last for six weeks. You select your source of steps, and the app calculates your goal based on your historic data. Depending on the game, your goal may stay the same for all six weeks, or it may gradually increase. You'll have Active and Power Goals, and you'll need to meet both of them.
StepBet takes 15% of the bets placed off the top, but they guarantee that you won't lose money if you reach your goal. So even if everybody reaches their goal, you'll still get at least your original bet back.
9. Winwalk
Winwalk is another app that pays you to walk. If you're looking for a basic pedometer, Winwalk will track your steps and reward you with gift cards when you reach your step goals. This app is for Android phones only and offers no frills, no bells and whistles — you just walk and win gift cards.
10. Lifecoin
You can earn Lifecoins for walking, which you can then exchange for gift cards and merchandise. You can earn Amazon, Lululemon, iTunes or Paypal gift cards, Apple merchandise like Apple Watches and iPhones, and more. Lifecoin is available for Apple and Android.
11. Fit For Bucks
Fit For Bucks is an app you connect to your Apple Watch or activity tracker. It counts your steps and gives you points. You can redeem your points for things like free coffee, discounts on fitness classes, a massage or even wine or dessert to go with your dinner — although that seems a little bit counter-intuitive.
12. One Million Steps
This app doesn't put money in your pocket, but it does donate to charity based on your steps. Join the National Walking Challenge that starts in January and walk 10,000 steps a day for 100 days — that's 500 miles! Support any of the available charities and raise money while you walk.
Final Take
Downloading an app that pays you to walk won't make you rich. In fact, you should probably count on keeping your day job. But if it's a little extra motivation you're looking for — if you need that extra push to go for a walk or jog when you really don't feel like it – one of these apps might provide just the incentive you need to get and stay fit. And the gift card or discount is really just a bonus.
Information is accurate as of Nov. 17, 2022. 
Make Your Money Work Better for You