How To Become a Dog Walker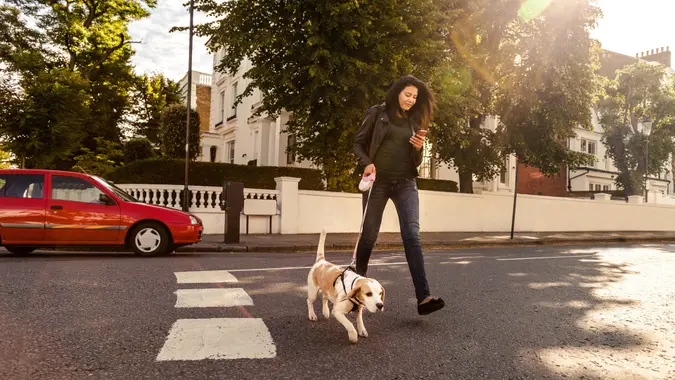 LeoPatrizi / Getty Images
Becoming a dog walker can be a fun and interesting way to earn some extra money or perhaps a full-time income. However, the career path for dog walkers isn't as clear as it is for other professions.
The good news is that becoming a dog walker isn't difficult if you follow the right steps. If you have the energy (and a love for dogs), you have what it takes to become a dog walker.
What Does a Dog Walker Do?
Dog walkers care for clients' dogs while they are away from home. Responsibilities include taking clients' dogs on walks, cleaning up after them, and tending to any of the dog's needs that may arise during your time together.
Dog walkers often walk more than one dog at a time, but it's important that they can give their full attention to each dog they walk. Clients should feel that their dogs are well cared for and you aren't compromising quality of care in order to walk multiple dogs.
How Much Should You Get Paid To Walk a Dog?
How much you should get paid to walk a dog depends on several factors. However, the biggest factors are likely your level of experience and where you live.
For instance, if you are a brand-new dog walker and live in a low-cost market, your hourly rate will be on the low end. But if you have been dog walking for 20 years and live in New York or San Francisco, your rates will likely be much higher.
Make Your Money Work Better for You
Thus, there is quite a range of pay for dog walkers in the U.S. The average hourly pay is about $15 to $17 per hour. In terms of annual compensation, the range is $13,500 to $52,000, according to ZipRecruiter.
Clients often have two or more dogs, which is something to consider if you want to walk more than one dog at a time. Dog walkers can have an additional dog rate, but it is usually lower than the rate for the first dog.
How To Become a Dog Walker
The path to becoming a dog walker is perhaps less clearly defined than it is for other professions, but that doesn't mean it has to be difficult. There are two basic ways to become a dog walker:
Join a dog walking marketplace. One way to become a dog walker is by joining a service such as Rover or Wag. This is the easiest way to get started and find new clients. However, these platforms charge fees for their services, which can be high.
Start your own dog walking business. It is possible to start your own, independent business as a dog walker. This will allow you to avoid fees, but it can be tougher to find clients, especially when you are new.
Reviews and testimonials can also be invaluable to growing your dog walking business. Don't be afraid to ask people who know you well to write a short testimonial for you. The same goes for clients who are happy with the service you provide.
Taking on New Clients
Before taking on a new client, dog walkers should meet with the client to see if it is the right fit — not just with the dog you will be walking, but with their owner, too.
When you meet with the owner, they should go over all the needs of their dog or dogs. Be sure they provide detailed instructions for each dog, including a schedule and any special needs.
Make Your Money Work Better for You
Also ask the owner any questions if they haven't already answered them, such as:
Does the dog get along with other dogs, people, children, etc.?
What is their walk routine/schedule?
What is their emergency vet/contact?
Does the dog have any other special needs?
Asking these questions will ensure everything goes smoothly with each dog. The more thorough you can be before taking on a new client, the better.
Qualifications To Become a Dog Walker
Dog walkers don't need specific certifications to get started like many professions do. However, it helps if you are physically active, especially if you will be walking larger, high-energy dogs. This will help you match their energy level so you don't get overwhelmed.
In some cities and states, you might need a business license, but this varies depending on where you live. Check with your secretary of state before getting started.
While becoming a dog walker doesn't require specific training, skills or education, there are several ways you can increase your knowledge and skills around caring for dogs. This will make it easier to find new clients as it will reassure them that their dog is with a skilled professional.
Some skills that may help you land new clients include:
Administering oral medication to dogs
Administering injected medication to dogs
Caring for senior or special needs dogs
Knowing first aid and/or CPR for dogs
Optional Qualifications
Adding some of these optional qualifications to your resume may help you land new clients:
Certified Professional Pet Sitter (CPPS)
National Association of Professional Pet Sitters (NAPPS) certification
Animal care courses
Dog walker certification
Make Your Money Work Better for You
As mentioned, all of these are about putting your clients' minds at ease. They can also help increase your earnings, particularly if you don't have much dog walking experience. However, other than a business license (in some cases), you generally don't need specific qualifications to become a dog walker.
Bottom Line
Becoming a dog walker is a great way for dog lovers to earn some extra money or even a full-time living. Getting started doesn't have to be difficult, but it isn't always obvious for aspiring dog walkers what steps they should consider. In general, joining a dog walking marketplace or starting your own dog walking business are the two paths to consider.
Dog walkers can earn a modest living, but hourly pay varies significantly based on factors such as your experience and where you live. You can increase your earnings by gaining more experience or adding relevant certifications and training. As you gain more experience, you can raise your rates and perhaps even turn dog walking into your full-time job — or start your own dog walking business.
Information is accurate as of July 22, 2022.
Our in-house research team and on-site financial experts work together to create content that's accurate, impartial, and up to date. We fact-check every single statistic, quote and fact using trusted primary resources to make sure the information we provide is correct. You can learn more about GOBankingRates' processes and standards in our editorial policy.