10 Best Companies for Free Product Testing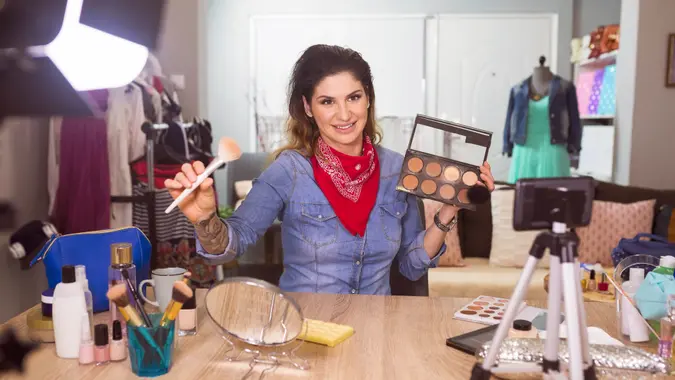 Sladic / Getty Images/iStockphoto
You've probably heard about how celebrities and social media influencers are gifted with products all the time to test out and endorse. The good news is, you don't have to be a household name or have one million followers to get showered with freebies. Free product testing for people who aren't influencers or celebrities is a real thing.
Best Companies for Free Product Testing
There are websites that offer free product testing — all you need to know is which ones are the best. This list is a good place to start if you'd like to test products for free.
1. Sign Up for PINCHme and Receive Free Items From Brands Like Garnier To Review
PINCHme will send you free products by mail after you sign up. All you need to do is review the items when you receive them. They offer a variety of products in the categories of beauty, food, pets, household and more. Some of the brands you may receive include:
Biore
Garnier
Boiron
Aveeno
Hill's Science Diet 
Best of all, you get to choose the samples you'd like to receive. About two weeks after you receive the items, you'll need to complete a survey offering feedback for each product.
2. Sign Up for a Daily Goodie Box To Review Free Samples and Full-Size Products
Daily Goodie Box also offers a ton of products from over 300 companies in different categories, with a focus on food, beauty and health products. The items will ship to your home for free and all you need to do is provide a short review. Plus, one of the best points is that not all products are tiny samples — you may also receive a full-size product to keep.
Make Your Money Work for You
However, Daily Goodie Box requires a bit more work than PINCHme to start free product testing at home. Besides signing up, follow the website's Facebook page and comment on offers to be chosen for a free product testing box. The good news is, Daily Goodie Box chooses 10-500 winners per post.
3. Join ThePinkPanel and Receive Beauty Product Testing Opportunities
If you're obsessed with beauty products, thePinkPanel offers boxes of cosmetics, haircare and skincare. You'll need to apply to join and like the company on Facebook. Once you do, you'll receive testing opportunities by email and on the Facebook page.
You'll need to review the products you receive, but it's worth your while to try the latest beauty and personal care products. Best of all, you'll also receive compensation for your reviews. Some of the rewards include keeping the beauty products or gift certificates ranging between $25 and $100.
4. Create a Profile With Influenster To Receive a Box of Samples From Big Brands
Influenster has one of the widest ranges of free product testing items of all the websites reviewed. Nearly all major brands are represented. According to the website, 6.5 million members have submitted over 59 million reviews.
Influenster creates product boxes called a VoxBox of samples for you to try and review. Getting started is simple. Create a profile and be sure to add your brand preferences. Follow its social media channels. You'll receive email offers or even invitations, if you qualify, for special VoxBoxes.
5. Earn Reward Points With Swagbucks To Exchange for Cash or Gift Cards
Swagbucks offers a different kind of freebie. Unlike most sites that offer mailed products, you can try online games, watch videos or earn free gift cards. You'll also earn reward points called Swagbucks that can be redeemed for cash or more gift cards.
Make Your Money Work for You
6. Register With MomSelect To Review Toys and Samples from Kid-Related Brands
Moms or mommy bloggers can sign up for MomSelect to sample products and provide opinions on the items. You'll find a variety of top kid-related brands that offer samples including Disney, LeapFrog, Fisher Price, Huggies, Build-A-Bear and more.
You'll need to register and sign up for the campaigns and programs that interest you. Some creative ways to succeed and get selected for bigger product testing include sharing to your own social media or organizing mommy parties to share free samples with friends and family.
7. Join InStyle Trendsetters to Test Products and Win Gift Cards
If you love the latest developments in fashion and beauty, InStyle magazine has its own free product testing from home known as InStyle Trendsetters. The products will include fashion, beauty and home decor items.
Readers can join free of charge. Once you sign up, you'll enter demographic information, such as your age and location, to receive targeted testing offers. Each time you complete a survey or review an item, InStyle will enter you in quarterly sweepstakes to win as much as $100 on a gift card.
8. Earn $5 for Every 1,000 Points You Rack up With Crowdtap
Crowdtap is similar to Swagbucks in the sense that you'll be completing surveys and questionnaires to earn freebies — mainly gift cards to your favorite retailers. Some of the gift card options include Xbox, Amazon and Walmart. However, there are also offers for free products on the site. You may even be lucky enough to be selected for an interview for an extra $25 to $50. 
Make Your Money Work for You
You'll need to register for an account to get started.
9. Join BzzAgent To Get Picked for Campaigns To Test Free Samples From Big Brands
Become a BzzAgent to participate in campaigns to test free samples. In 2022, some of the biggest brands BzzAgents tested were NARS Cosmetics, Timberland, Coach and Perricone MD.
Registering is easy. Complete your profile and watch your email for invitations to apply for product-testing campaigns. If you apply and are approved, you'll receive free samples in the mail to test.
10. Sign Up With Product Testing Group To Test Amazon Items Free or at a Discount
Product Testing Group allows you to get select Amazon products for free or at a discount to test. There are plenty of categories to choose from when you sign up. They include automotive, beauty, books, clothing, health and beauty, electronics, home, media, sports and kids items.
Signing up is simple — fill out the form with personal details and check off the category boxes of your choice. Although the site makes it clear that leaving a review on Amazon in exchange for discounted items is against Amazon's Customer Review Creation Guidelines, you can leave a review for the product on Amazon if you wish.
Takeaway
Follow through with these product testing jobs is important — in most cases, you'll need to review the product once it's received. Fortunately, reviews are pretty simple to complete and you'll likely get to keep the product you tested as a reward. However, don't expect to get paid to test items. The closest thing to pay would be a gift card or gift certificate in exchange for testing products.
Make Your Money Work for You
FAQ
How can you test products for free?

There are a variety of sites that will send you items free of charge in exchange for honest reviews. A few to consider are Influenster, Daily Goodie Box and InStyle Trendsetters.

What companies pay you to test their products?

Some of the top companies that pay you to test their products include L'Oreal, Johnson & Johnson and more.

Are product testing jobs legitimate?

Free product testing websites are real. There are many reputable ones with millions of members who receive products regularly to review and keep.

Can you test Amazon products for free?

You can test Amazon products for free in a few ways. Websites such as Product Testing Group or Amazon's own Amazon Vine are a couple of options. However, Amazon Vine is invitation-only.
Cynthia Measom contributed to the reporting for this article.