10 Stores That Reward You With Free Things for Shopping There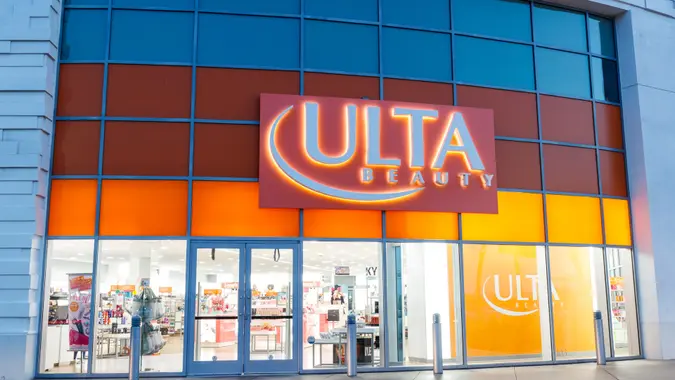 Jonathan Weiss / Shutterstock.com
Could you be getting more from your favorite stores? Many retailers offer free items to their best customers. If you know what loyalty programs to sign up for and what deals to look for, you could walk away with more than you paid for — and it's completely legal.
Here's where to score free stuff on your next shopping trip.
Sephora
Sephora has a very robust rewards program that's free to join and all beauty lovers should be a part of.
The Beauty Insider Program has three tiers based on how much you spend at the makeup giant each year. The amount you spend translates to points, which you can put toward travel or full sizes of bestselling products. If you bank enough points, you can even participate in special makeup release events, or get luxury services from makeup artists. Certain tiers of membership come with free shipping as well.
Ulta
Beauty lovers are also in for a treat when they sign up for Ulta's Ultmate Rewards. Not only do you earn points for every purchase, but you can earn even more points for signing up for promotional emails and downloading the Ulta app. Your points can be redeemed for free products from Ulta or free beauty services. You can get a whopping $125 off your purchase when you earn 2,000 points!
Blume
Blume offers a wide array of self-care products, from exfoliating skincare masks to 100% cotton tampons. Join the store's rewards program, Blumetopia, and you'll ensure you'll be rewarded for your shopping trips with points. It costs nothing to join, and you can put points toward Blume merch and products.
Make Your Money Work for You
Shopping isn't the only way to earn points; you can also rack up rewards by leaving reviews and interacting with the brand on social media.
DSW
The free DSW rewards program rewards you with one point for every dollar you spend at the shoe store. For every $100 you spend (or 100 points you earn), you'll get a $5 reward. You can stock up on these to apply to a purchase, so you end up with a free pair of shoes! You'll also receive free shipping on all of your orders.
Periodically, the retailer will offer free bags, socks and other items with your purchase, no points required.
The North Face
If you love the outdoors, you need to sign up for The North Face's free rewards program. XPLR Pass gives you a point for every dollar you spend, which you can cash in for $10 when you get 100 points. You also get free stuff with certain purchases and chances to test out products that haven't been released yet.
Macy's Star Rewards 
For absolutely free, you can be a part of the Macy's Star Rewards program. Like most programs, you get one point for every dollar spent and can cash it in for free items at the store.
Additionally, there are bonus days where you can earn more points on your purchases by shopping on that particular day. You'll also receive coupons that are tailored to your purchases.
Office Depot 
Stock up on office supplies by joining the free Office Depot and OfficeMax Rewards Program. You'll get 2% back in rewards on every purchase you make. You'll also get $2 back in recycling rewards per recycled cartridge with a $10 qualifying purchase.
Make Your Money Work for You
In addition, you'll get $2 back for leaving reviews. You can get rewarded for three reviews a month, meaning you could earn $72 a year toward free items at the store just by leaving reviews.
Best Buy
My Best Buy is free to join and gives members 0.5 points for each dollar spent. You earn a $5 reward for every 250 points you accrue. In addition, you'll be alerted about special deals that only members hear about.
Petco
Treat your furry friends to a freebie when you sign up for the free Petco Pals program. You'll get points for every purchase, and can cash them in for free stuff for your pet, in addition to discounted grooming services. You can also get a free bag of food after buying seven, and a free groom after purchasing seven.
Bath & Body Works
Not only will your home smell great with Bath & Body Works, but the candles and body essentials make perfect gifts as well. The My Bath & Body Works rewards program is free and gives you 10 points for every dollar you spend. When you spend $75, you earn 750 points and a free full-size product (up to $16.50) of your choice. You also score a free gift from the store on your birthday.
More From GOBankingRates