10 Best Survey Apps for Extra Cash in 2023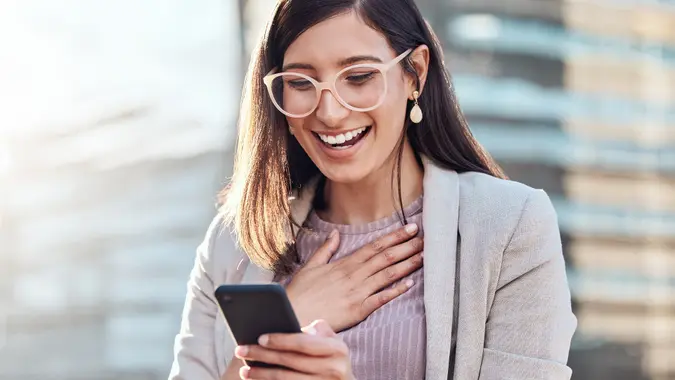 PeopleImages / iStock.com
Taking paid surveys is one of the easiest ways to earn some extra cash online. But having to find each survey individually can be time-consuming — not to mention inconvenient. That's where survey apps come in handy.
Read: With a Recession Looming, Make These 3 Retirement Moves To Stay on Track
The best survey apps make it easy to find surveys from different sites and fill out their questionnaires without having to scour the web.
Top 10 Survey Apps To Consider in 2023
These are some of the best survey apps to get some extra cash this year:
Keep reading to find out more about these apps and what you can expect from each one.
1. Survey Junkie
One of the best survey apps out there is Survey Junkie. With Survey Junkie, you can earn points for completing surveys.
If you're interested in going beyond surveys and participating in market research, you can also opt in to the SJ Pulse community via the Survey Junkie app, or install it on your computer. Doing this allows the system to track the different types of websites you visit, your search history, and the apps and products you use. This will let you automatically earn points that are redeemable for real money.
Make Your Money Work Better for You
Once you earn 500 points, you can exchange them for cash using PayPal, a bank transfer or gift cards to major retailers like Amazon, Sephora and Visa.
Survey Junkie has 4.27 out of 5 stars with 1,680 reviews on the Better Business Bureau website.
2. Swagbucks
Swagbucks lets members earn free gift cards, coupons or discounts, and cash-back rebates by completing paid surveys and polls, testing out products, watching videos and more. Some members have earned more than $1,000 on this site, making it one of the higher-paying survey apps.
Swagbucks surveys can last anywhere from a few minutes to upwards of 40 minutes. The more intensive surveys can pay up to $50 apiece. However, most of their surveys pay 40 to 200 Swagbucks points each, or $0.40 to $2.
No survey app will pay you instantly, but Swagbucks is one of the faster ones. First-time payments usually arrive within a week. Any additional payments are typically processed within a couple of business days.
Under Prodege, LLC., Swagbucks has 3.51 out of 5 stars on the BBB with 520 customer reviews.
Make Your Money Work Better for You
3. MyPoints
MyPoints is another legitimate survey app that can pay you real money. With MyPoints, you can earn up to 20 points on online purchases and groceries. You can also earn up to 2,200 points for completing surveys. Or, if you want to do something different, you could earn points for completing daily challenges and games using the app.
Once you have enough points, you can redeem them for gift cards at retailers like eBay, Starbucks or Target. It typically takes up to 10 business days to receive a gift card or PayPal transfer.
MyPoints is rated 4.4 out of 5 stars on Trustpilot with over 18,000 reviews.
4. Qmee
Qmee is another highly-rated survey app that allows members to cash out their points for real cash rewards. This app primarily focuses on market research for different brands. You can use it on a mobile device, or you can install the extension to your browser. 
Unlike other survey apps, Qmee doesn't have a minimum withdrawal requirement. When you complete a survey, you can earn cash rather than points. You can also claim your payout on Venmo or Paypal within minutes, or you can have a gift card sent to your email.
Make Your Money Work Better for You
In addition to surveys, Qmee lets you earn coupons and cash-back rewards by shopping or playing games.
Qmee is rated 4.3 out of 5 stars on Trustpilot with 4,847 reviews.
5. Zap Surveys
Zap Surveys lets you earn rewards that you can redeem for gift cards. When you sign up, you can also earn $3 by completing their Welcome Survey.
Some of the app's higher-paying surveys come with higher eligibility requirements, which could limit your earning potential. Once you earn $25 in your account, though, you can cash out via an eGift card or PayPal. It typically takes 1 business day to receive your money.
6. InboxDollars
Another one of the best survey apps of 2023, InboxDollars, offers several ways to earn cash, such as through playing games, watching videos, shopping online or participating in paid surveys online. They also provide cash-back rewards when you try out featured deals or scan your receipts.
When you sign up for InboxDollars, you'll receive $5 automatically. After that, you can start taking surveys. Most of their surveys pay between $0.50 and $5 and take between 3 and 25 minutes to complete.
To redeem your earnings for the first time, you'll need to have at least $15 in your account. After that, you can redeem when you have $10 or more. Most people receive their money after a few business days in the form of a PayPal transaction or gift card.
InboxDollars has 4.2 out of 5 stars with 35,587 reviews on Trustpilot.
7. Branded Surveys
With Branded Surveys, you can earn points by completing online surveys or other simple tasks. Once you sign up, you'll automatically receive 100 points. Each survey can earn you anywhere from $0.50 to $5. After earning 500 points, or $5, you can redeem them for gift cards or cash via PayPal. It generally takes one to three business days to receive your rewards.
Branded Surveys also has daily polls you can participate in to boost your earnings. Along with this, they have a Branded Elite program, which is designed to encourage you to take more surveys for higher rewards.
The app has 4.2 out of 5 stars on Trustpilot with 71,717 reviews.
8. SurveyMonkey Rewards
SurveyMonkey Rewards is a survey company that lets you take short surveys online for rewards. Unlike other platforms, they create and host their own surveys for members to take.
Every time you take a survey through SurveyMoney Rewards, you'll earn credits in the form of digital cash. Once you earn at least $5, you can exchange it for rewards or a digital gift card through Amazon. Alternatively, you can choose to donate your earnings to different charities.
Most of their surveys take around 5 minutes to complete. Signing up is easy, but the app is only available in the United States.
9. GrabPoints
GrabPoints allows users to earn gift cards, as well as PayPal cash, in exchange for completing specific offers, watching videos or taking surveys. It's possible to earn up to 20,000 points in a day. Once you have enough points, you can redeem them for a gift card.
The amount of points you can earn depends on the survey provider. Some, such as YourSurvey, cap out at 850 points, while others have higher or lower limits. You can also refer friends for additional points.
You'll need to earn at least 5,150 points — approximately $5 — before requesting a payout in the form of a gift card or cash via PayPal. Once you make a request, you will get your reward within 48 hours.
GrabPoints has 4.7 out of 5 stars on Trustpilot with 2,779 reviews.
10. Ipsos ISay
Ipsos iSay is another survey app that lets users earn rewards by participating in surveys. Each survey you complete will include the amount of points you could earn.
Besides surveys, you can also enter Ipsos iSay's sweepstakes or contests for a chance to earn more. Or you could refer a friend and earn an extra 100 points with a maximum of 10 referrals per month.
You can redeem your points at any time, provided you've earned enough to exchange them for a reward. Rewards include charitable donations and electronic vouchers. If you redeem them for a prepaid card or gift card, it will typically arrive instantly in your email inbox. PayPal funds usually take a few weeks.
Ipsos iSay has 4.2 out of 5 stars on Trustpilot with 44,783 customer reviews.
Making Money with Survey Apps

It's possible to make money using survey apps, but don't expect massive earnings. How much you make depends on how much time and effort you put into taking surveys, and how much each survey pays.

Since each app will have different incentives or bonuses, it is important to look for the details on their website for a clearer idea of what you can expect to earn.
Final Take
Survey apps are so appealing because they're easy to use and you can complete surveys — or do other tasks — for rewards. You can make money using these apps, but the payouts aren't usually that high. Still, if you have some spare time on your hands, this could be a good way to earn a few extra dollars.
Just remember that survey apps don't typically pay you instantly. You could get paid more quickly if you redeem your points for a digital voucher or gift card rather than a PayPal or Venmo transfer, though.
Ultimately, if you enjoy voicing your opinion and want to earn some money in your free time, taking paid surveys could be a great way of doing that. Sign up for one or two of the best survey apps this year and start earning a little extra cash on the side.
FAQ
Here are the answers to some of the most frequently asked questions regarding survey apps.
What survey app pays the most?

Different apps have different incentives or bonuses, which makes it hard to determine which ultimately pays the most. Your pay will also come down to the time you are willing to commit to the different surveys or tasks available.

What survey apps pay you instantly?

While instant payouts for survey apps are hard to find, Swagbucks and Ipsos iSay are two options that pay you relatively quickly.

With Swagbucks, first-time payments usually arrive within a week. All other payments are processed in a few days.
Ipsos iSay claims that if you select an electronic prepaid card or gift card, it should arrive within a day in your email inbox. Other payment selections will take longer.

What is the easiest survey app?

Survey apps in general are very easy to use. Once you pick an app, you will have to fill out some basic information about yourself and then select your task or survey. After you earn enough, you can cash out your earnings typically for gift cards or PayPal transfers.

Can you really make money on survey apps?

It's possible to make money using survey apps. How much you make will depend entirely on how much time you are willing to spend and how many surveys you complete.
Information is accurate as of March 17, 2023. 
Make Your Money Work Better for You