10 Product Tester Jobs: Get Paid To Test Products at Home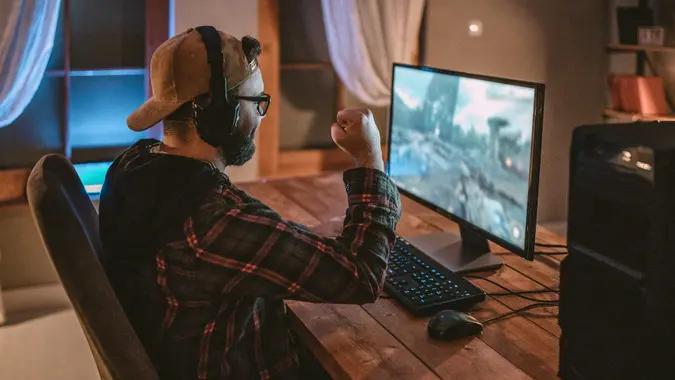 eclipse_images / Getty Images
You have heard of product testing, but what is it? It's just what the phrase implies — testing a product from the beginning to the end of its development. First, the concept of the item itself is evaluated for its viability in the marketplace, and then the process advances through phases such as quality assurance and A/B Testing to weigh dueling versions of the product. One of the steps in the sequence is user testing, during which companies put the goods in the hands of consumers to try out and provide feedback. In exchange, you'll receive compensation that ranges from cash to gift cards to points to redeem for rewards.
If you go to work as a product tester, you'll have a say in items that make it to the marketplace, which is simultaneously a cool and rather intimidating thought. And as a bonus, you'll usually receive compensation and often can do the testing at home. So, you're asking, "How do I get involved in product testing?" Keep reading to learn more about how you can get such a job, the red flags and how much money you can make.
Make Your Money Work Better for You
Is Product Testing a Legitimate Job?
Yes, but you need to be aware as you seek a product testing job because scams in the field do exist. The Federal Trade Commission cautions that scammers have many ways of finding you — through paid advertising, on social media and via online job sites. Scams even can crop into radio and television advertisements.
Many of the ads appeal to those who want to work from home and claim you can earn lots of money without stepping outside. If it sounds too good to be true, it probably is. If you see an ad for a product-tester that appeals to you, don't jump in with two feet. Instead, dab your toe in the water to check its legitimacy. The FTC cautions that some scammers don't really have a job available — just a ruse to zap you of your personal information and money.
The FTC advises doing a Google search of the name of the company offering a job plus words such as "review," "complaint" or "scam." Reports of any scams should pop up. Also check a site such as Glassdoor to look for employee reviews of companies offering product testing jobs.
Do Product Testers Make Good Money?
In most instances, product testing is a side gig, meant to supplement your income and not to be counted on as a means of support. The pay isn't terrific for testing a product or filling out a consumer opinion survey, which many product testing companies also offer — if you get paid at all. The compensation with some companies is points that can be redeemed for prizes or the product itself.
Make Your Money Work Better for You
Some companies that offer in-house opportunities for a temporary product tester pay an hourly rate, but you must live near the test site.
Companies Offering Product Tester Jobs
Product testing isn't necessarily one size-fits-all. You might need to be part of a certain demographic or have a specific interest or expertise. If a company wants to evaluate the absorbency of its new disposable diaper, for example, you'll need to have a baby or toddler at home.
While you can perform many product tester jobs at home, some require you to go to an office for the duration of the evaluation period.
Here are 10 potential product testing jobs, showing the diversity of the positions and companies available.
User Testing
On its website, User Testing says it works with more than 2,500 of the top brands in the world, so that should open some product testing opportunities for you. Apply online, take a practice test and once approved, you'll be able to review tests that are available. The company says it adds available tests to its website daily. An online review says most opportunities pay $10 and many can be completed in 20 minutes or so.
Make Your Money Work Better for You
Pro: Pay received via PayPal seven days after test completion.
Con: Must have an electronic device with a microphone.
Pinecone Research
The company works with manufacturers who seek opinions on how to improve existing or new products. Pinecone Research also offers opportunities for survey taking. You'll earn points with each assignment that can be redeemed for cash or prizes.
Pro: Positive online reviews of the company.
Con: Recruitment doesn't appear to be ongoing. The website states it will post targeted banner ads online throughout the year as the need for help exists.
Friends & Neighbors
Fortune 500 company Johnson & Johnson runs Friends & Neighbors, a program that gathers inputs into its variety of health and personal-care products. A range of opportunities exist, such as testing products like a new shampoo or taking part in an online forum. The program's website says that when the project is over, you "may receive an honorarium as a token of appreciation, such as a Prepaid Visa Card."
Pro: Run by a longstanding, reputable company.
Con: Not all participation is paid.
McCormick Consumer Test
If the kitchen is your happy place, the McCormick Consumer Test is the opportunity for you. The spice and seasoning giant runs 5-10 home tests per year, with internet surveys once every two to three months. The pay is $10 to $15 per in-home study.
Pro: Another longstanding, reputable company.
Con: Limited opportunities.
Princeton Consumer Research Corp.
Princeton Consumer Research Corp. has been involved since the early 1990s in clinical trials in the cosmetic, beauty, personal care and baby care industries. When you receive an assignment, you will be told in advance how many testing sessions you'll participate in. When the trial is over, you'll be paid, "usually in cash," according to the company website. According to Indeed the pay rate is up to $30 per hour.
Pro: Longevity of company.
Con: Must be based on site at labs in New Jersey, Florida, the United Kingdom or Winnipeg, Canada.
Lionbridge Games
Video games are the order of the day at Lionbridge Games in Boise, Idaho. The company hires testers for full-time temporary stints to play and evaluate new video games before they are released.  You'll work alongside others who are passionate about video games. Company says it offers "a competitive base wage" with the possibility of bonuses on some projects. Indeed lists the hourly pay at $12 to $14.50.
Pro: A fun job for serious video gamers who know the ups and downs of the gaming industry.
Con: Job located only on-site in Boise, Idaho.
Valued Opinions
Established in 2004, Valued Opinions offers the chance to test products at home, take online surveys or even keep a diary about a story. Pay is in credits to exchange for gift cards. Its website says 3 million people participate around the world.
Pro: Company longevity.
Con: No cash pay.
Opinion Outpost
While Opinion Outpost is primarily a survey-taking site, it has a product testing component as well. The signup is simple, and once you're entered in the system, you'll have access to surveys and other opportunities. You have the choice of pay in cash or rewards.
Pro: Ease of use.
Con: Must earn a set amount of points before you can redeem for cash or prizes.
Social Nature
You'll get to try out "better-for-you products" through Social Nature. You sign up to receive and review a full-size product such as organic salad dressing, a plant-based frozen dessert or organic potting soil. Your pay for the review is the product.
Pro: Interesting product mix for free.
Con: No pay.
Brooks Product Testing Program
The Brooks Product Testing Program is one is for a true niche audience: runners. Shoe and apparel manufacturer Brooks will send approved members of its test program the latest running gear to try out and rate.
Pro: Who doesn't want to wear new running shoes without buying them?
Con: As part of the test program, you must agree to return the shoes if asked.
How Do You Become an Amazon Tester?
Amazon Vine is an invitation-only program for only the most "trusted reviewers," Amazon says. Sellers on Amazon submit their new products, and they are distributed to the reviewers, know as the Vine Voices, for product testing. The reviews on Vine are not influenced in any way or edited by the sellers, Amazon says.
People who write the most helpful reviews or are experts in a certain product are among those likely to be invited to participate. Amazon product testers are not paid. The reward is entry into such a prestigious group, it seems.
Final Take
Product testing can be an enjoyable way to make a little extra money or try something new, but you won't get rich doing it. The opportunities with some projects are scarce, and even where they are abundant, you won't make a ton of cash. But it can be fun, too, so look at product testing as a supplement to your income rather than a career.
Information is accurate as of Aug. 8, 2022.
Our in-house research team and on-site financial experts work together to create content that's accurate, impartial, and up to date. We fact-check every single statistic, quote and fact using trusted primary resources to make sure the information we provide is correct. You can learn more about GOBankingRates' processes and standards in our editorial policy.
Make Your Money Work Better for You