Is It More Cost-Effective To Go Meatless?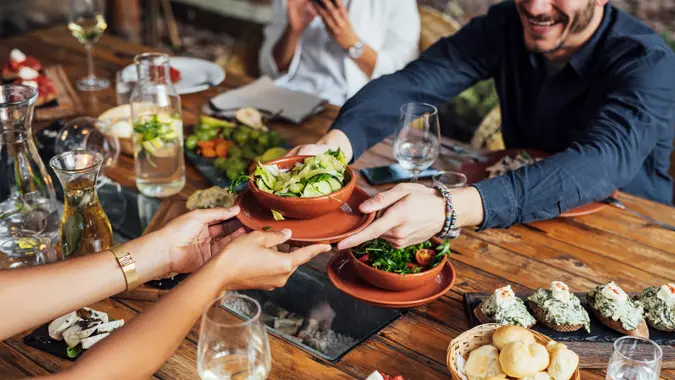 LStockStudio / Shutterstock.com
There are many reasons to consider going meatless, or at least cutting back on the amount of meat you eat. If you're not motivated by the health benefits or how meatless diets are more sustainable for the planet, you may be motivated by the fact that a meatless diet will save you money.
In a time of skyrocketing inflation on food, this could be welcome news. Let's take a look at all the factors that make going meatless a cost-effective way to combat inflation.
Supply Chain Pressures
Just going to the supermarket to buy the same items you've always purchased has put a noticeable dent in many people's budgets lately. According to the Bureau of Labor Statistics' Consumer Price Index, meat prices soared fastest above all other food items over the past year thanks to inflation and other food chain supply issues.
This may be largely driven by a loss of labor in the meat industry due to the COVID-19 pandemic, according to Mississippi State University. Labor shortages affected every stage of supply, from handling the animals themselves, to trucking and warehouse shortages. The industry has not recovered quickly enough for prices to stabilize.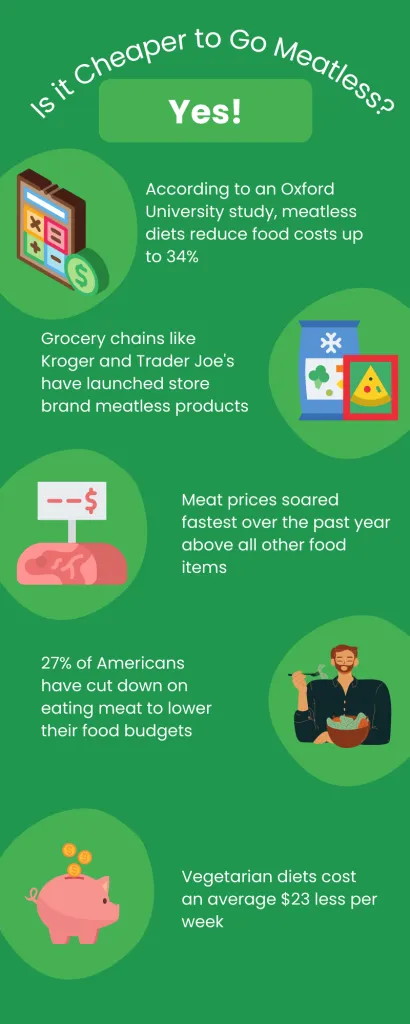 More Meat, Less Money
While there are a lot of staple items you probably can't do without, from bread and eggs to milk to rice, most people could replace meat with vegetarian forms of protein and still achieve the same, if not better, nutrition.
According to an Oxford University study, meatless diets also reduce food costs by as much as 34%. They calculated the costs of diets in 150 countries "by pairing estimates of food demand for different consumption patterns with estimates of commodity prices in different years and under considerations of food-system and socioeconomic changes."
Make Your Money Work for You
What they found is that the most affordable diets emphasized legumes and whole grains instead of animal products as the centerpiece of the meals. And the study authors write that the costs of meat diets could even be more expensive if they had factored in other elements such as air and water pollution and other impacts of climate change.
So, cutting out or even just reducing meat consumption is an instant way to reduce your grocery costs.
Meatless Options Expand
Capitalizing on Americans' increased awareness of the perks of going meatless, companies have begun to produce meatless products that mimic meat, such as Impossible and Beyond brand burgers and other meat substitutes. While these may appeal to the taste buds, processed meat replacement products can actually be quite a bit more expensive than regular meat, or just as pricey, according to CNET.
To bring down the price of these products, grocery chains like Kroger and Trader Joe's have launched their own store brand meatless products. Kroger developed its Simple Truth brand of plant-based meat, and Trader Joe's offers their own label plant-based "protein patties" as well as a variety of other foods like soy-based "chorizo" sausage, "chickenless" chicken tenders, "meatless" meatballs, and many more, according to Bon Appetit.
However, plant-based meat products are still processed foods, which means they often strip away some of the very things that make real vegetables so good for you — including fiber, vitamins and minerals — and the healthy fats, according to Better Homes and Gardens. They also often add sodium, sugar and trans fat to make the products more palatable.
Make Your Money Work for You
In lieu of plant-based meat products, try turning to the many vegetarian whole food options that bring a great deal of protein as well as additional nutritional value. Such items include tofu, quinoa, lentils, chickpeas and almost all beans and legumes. Vegetables, too, contain protein. Try on some artichokes, asparagus, broccoli, Brussels sprouts, collards, corn, potatoes, peppers, spinach, sweet potatoes and turnip for proteins, according to the American Heart Association.
Recipes abound online for making your own vegetarian meals that are still full of flavor.
Environmental Benefits
Another amazing benefit of eating less meat is its powerful environmental impact. According to an article in Scientific American, as much as 40 percent of those climate-ravaging greenhouse gases come directly from agriculture and other land uses.
Beef production is especially bad for the environment in several ways — through the cows' own emissions, which are largely methane, and because the industry has to destroy natural forests to make more room for cows to graze. The article asserts that if every person in the U.S. could reduce meat consumption by just 25%, we'd reduce greenhouse gas emissions by one whole percent, which is big in the grand scheme of things.
More Americans Going Meatless
Americans are getting wise to the benefits of eating less meat. From a health perspective, cutting out meat has positive benefits to your health that lower the risk of many diseases such as heart disease, stroke, high blood pressure, high cholesterol and diabetes, according to the American Heart Association.
Of course, the benefits to your bank account are also significant, and 27% of Americans have cut down on eating meat to lower their food budgets. Once you realize that vegetarian diets cost an average of $23 less per week than meat-based meals, eating less meat and more veggies might be a no-brainer for you and your family, too.
More From GOBankingRates