What Are the Top Items To Sell on Etsy? July 2022 Edition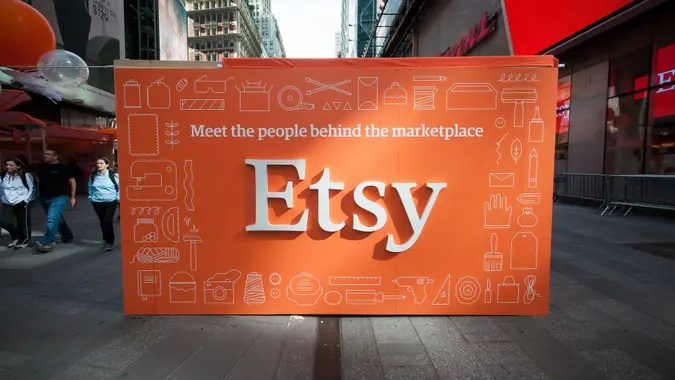 rblfmr / Shutterstock.com
If you're looking to make your way into the Etsy market as a seller, but aren't sure what to sell yet, there are a few items that may just send your store to the top.
See: 22 Side Gigs That Can Make You Richer Than a Full-Time Job
Small Business Spotlight 2022: GOBankingRates Celebrates Small Businesses Across the US
GOBankingRates studied the top-selling items on the site and based recommendations off what items are trending right now. A few characteristics that help sell the item no matter what it is: personalization and multiple patterns or colors. Think about what you'd like to sell and how you could weave personalization and variety into that idea.
Below are some of the hot selling items on Etsy for July 2022.
Personalized Necklaces 
If you enjoy crafting jewelry, Etsy is the place for you to sell your wares.
Personalized necklaces are some of Etsy's top sellers right now. One tip is to offer a variety of shapes, chain lengths and finishes to give customers some extra personalization on top of the engraving option. The engraving option can be initials, a full name or phrase depending on how much space you have to work with.
Make Your Money Work Better for You
A related  hot item right now is letter necklaces, which feature individual letters dangling from a chain. If you were to sell both of these in your store, you'd be hitting two of buyers' favorite items. 
Take Our Poll: Do You Tip for Service?
Psychic Readings
Have a flair for clairvoyance? You could charge shoppers on Etsy for readings based on how long and detailed the readings are. If you are familiar with tarot decks, those types of readings are especially popular. You can charge for a single card reading or a multiple card reading based on the customer's questions. 
Handmade Home Decor Boxes
A lot of customers flock to Etsy to find practical, yet artful pieces for their homes. A popular item in this category is a box that, honestly, doesn't just look like a box. Boxes that add a bit of character to a space, rather than looking like blatant storage are very sought after. If you like working with wood and building, consider making containers to sell. Wooden, rustic style boxes are especially valuable on Etsy. 
Make Your Money Work Better for You
Pet Portraits 
Love to paint or sketch? You could rake in some extra cash creating likenesses of people's pets. Current sellers charge for these based on how many pets are needed in the portrait, as well as what kind of material the customer would like the portrait to be on. Options include paper, canvas or solely a digital copy. Some sellers will also offer a frame choice.
Though many sellers offer pet portraits, all of them differ in style. If you're an artist that's passionate about making art with animals, adding your own spin on pet portraits could prove extremely successful in the Etsy market. 
Custom Maps
Specific places mean so much to people that they often come to Etsy to find a creative representation of a setting that's close to their heart. If you work with a specific medium, whether it be 2D or 3D, consider offering shoppers a customized map. This means the buyer would indicate a place and perhaps a saying or names to incorporate and you could make that setting come to life using the method you love to work with. 
Make Your Money Work Better for You
Greeting Cards
This is another item that's perfect to sell if you have an eye for sketching or graphic design. Unique greeting cards — particularly those that are good for any occasion — are big sellers on Etsy because they're versatile. If you have a style that's very specific to you, that will help set you apart in the Etsy marketplace.
Conversely, if you love a TV show or movie, making greeting cards specific to that fandom can also be a top seller. Shows like "Schitt's Creek" and "The Office" have a lot of fans on the site that are always looking for more merchandise to add to their collection. Additionally, if you can capitalize on a current show's popularity, that's great way to sell more items. 
Gender-Neutral Clothing
Etsy saw a 429% year-over-year increase in searches for "unisex adult clothing." If you love to make clothes or have some unisex clothing you'd like to sell, Etsy is a particularly great marketplace. One specifically hot item this year has been crop tees. 
Floral Signet Rings 
Floral signet rings have seen a whopping 1,298% year-over-year increase on Etsy. If you have these or make these, now is the time to open up shop. Make sure to offer bands in a variety of sizes to reach the most customers possible. 
More From GOBankingRates
Make Your Money Work Better for You