How Does Robinhood Make Money? What You Need To Know Ahead of Its IPO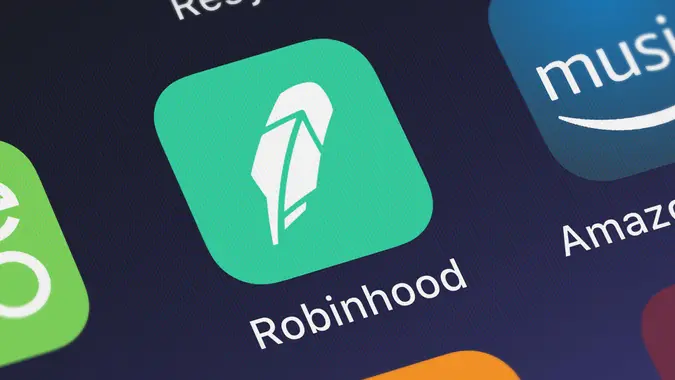 OpturaDesign / Shutterstock.com
Best known for an investing app that made free trades an industry standard, Robinhood Markets Inc. — better known as Robinhood — is growing at a dizzying pace. While revenues are soaring, the financial services company has had some losses, too.
Here's a closer look at how Robinhood makes money and the company's future outlook as it gets ready for its initial public offering.
How Robinhood Makes Money
Robinhood lists five main paths to revenue generation on its website. Let's take a closer look at each one.
1. Rebates
When you place a trade — whether it's for a stock, exchange-traded fund, or option — your order is sent to someone who can fulfill it. That third party can be a trader who's working for a stock exchange, such as the New York Stock Exchange or the Nasdaq. It can also be a market maker — a party that will offer to step in and execute the trade for less money than would be required on an exchange. Market makers also offer brokerage firms rebates as a thank you for their business.
Make Your Money Work Better for You
Robinhood built an automated system that routes orders to the market maker that's most qualified to execute them and at the best possible price. In return for its pursuit of efficiency, Robinhood benefits from routing a high volume of well-executed trades and the financial rebates that ensue.
2. Subscriptions
Robinhood users have the option to sign up for Robinhood Gold, a subscription that costs $5 per month. Robinhood Gold users get access to analysis such as Morningstar research reports and Nasdaq Level II Market Data, as well as larger instant deposits and margin investing. Investors who utilize more than $1,000 of margin pay 2.5% in annual interest on the settled margin utilized above the $1,000 baseline.
3. Loans
Robinhood takes the income it earns from margin securities and loans it out, giving the company the ability to charge interest on it.
4. Interest Earned on Cash
The cash that Robinhood keeps in interest-bearing bank accounts earns interest, just as yours does.
5. Fees
Like most other financial institutions, Robinhood earns money from fees. The company receives an interchange fee from Sutton Bank, which issues Robinhood's debit card. This is a common type of fee for debit and credit card issuers, and one aimed at helping institutions afford transaction processing and recover losses tied to fraudulent activities.
Make Your Money Work Better for You
Robinhood also collects fees from banks that send it business, and from consumers who place orders, execute outgoing transfers, and more.
Good To Know

Investing has become more affordable during the past decade. In 2009, brokerages were charging between $9.99 and $19.95 for transactions involving buying or selling stocks online. Robinhood broke barriers by introducing free trades, lowering the cost of entry for everyday investors.
Robinhood's New Customers, Growing Revenue and Upcoming IPO
Even in a global pandemic, Robinhood has managed staggering growth. By the end of 2021's first quarter, the company was managing 18 million funded accounts — a 151% jump compared to the previous year. Robinhood's 2020 revenue landed at $959 million, a year-over-year increase of 245%.
That's a lot of new customers and a pile of money, but it comes with an important caveat. On July 1, Robinhood submitted its S-1 — the filing that's required by the Securities and Exchange Commission before a company goes public. The company, which plans to reserve up to 35% of its initial public offering for its own customers, noted a $1.4 billion loss in the first quarter of this year.
Make Your Money Work Better for You
The joint revelation of soaring revenue and losses reveals that doing business with Robinhood can be a messy proposition. How well investors interested in buying Robinhood stock will tolerate the company's baggage is yet to be seen. Wall Street has high hopes for Robinhood's valuation and initial public offering, but some analysts urge caution. There has never been a better time to understand the forces that Robinhood is up against and the levers it can pull to increase its earning power.
Acceleration Amid Setback and Controversy
Robinhood's period of intense growth has been accompanied by damaging news events, including a history-making regulatory fine and dozens of lawsuits.
A Record-Breaking Regulatory Fine
An investigation led by the Financial Industry Regulatory Authority found that millions of Robinhood's customers were given misleading information about their accounts — from incorrect balances to faux trade restrictions and more. Robinhood has now agreed to pay a nearly $70 million fine issued by FINRA — the largest regulatory fine ever imposed by the organization.
Several Dozen Lawsuits
When a group of Reddit users, many of whom were using Robinhood, decided to target specific stocks earlier this year — notably GameStop — Robinhood ceased trading activity on its platform. This angered many users and led to the filing of several dozen class actions and a few individual lawsuits.
Robinhood: Hotbed of Growth Potential or Cautionary Tale?
Ahead of Robinhood's IPO, many investors evaluating the company want to know whether they're watching the inevitable growing pains of an industry disruptor or a shooting star being dragged by interminable chaos.
Only time will tell. For now, Robinhood is likely to benefit from its initial public offering, even if pricing swings ensue. Beyond that, investors can feel comfortable that the brokerage has at least five lines of revenue it can pursue, as well as a rapidly growing customer base. That may be all it needs to stay on a growth trajectory, but investors should keep a close eye on the company's decision-making processes and results. Robinhood has proven that it knows how to make money, but it has yet to prove that it can consistently make a profit from its growth.
Our in-house research team and on-site financial experts work together to create content that's accurate, impartial, and up to date. We fact-check every single statistic, quote and fact using trusted primary resources to make sure the information we provide is correct. You can learn more about GOBankingRates' processes and standards in our editorial policy.
Make Your Money Work Better for You