10 Best Stock Trading Websites for Beginners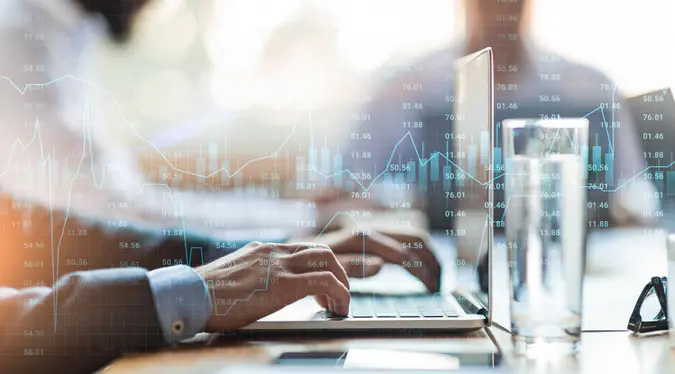 Prostock-Studio / Getty Images/iStockphoto
Trading stocks may seem daunting, but there's a wealth of information out there for investors of every experience level. The trick can be finding the platforms and tools that are geared for the beginning investor. Here are the 10 best stock trading websites for those who are new to investing.
E-Trade
E-Trade is one of the original online trading platforms and is now owned by Morgan Stanley. With years of experience helping beginning investors, E-Trade has a wealth of information on all things investment, ranging from diversification to risk tolerance to options trading. The platform includes screener tools to help you choose the best investments for your goals, research, news and even retirement planning tools.
E-Trade offers $0 commission on U.S. listed stocks, bonds and options. There is a 65 cent fee for options contracts, although if you trade 30 or more options per quarter, that drops to 50 cents. The fee for futures contracts is $1.50.
E-Trade is offering a cash credit of up to $600 or more when you open and fund an account.
$50 when you deposit $5,000 – $19,999
$100 when you deposit $20,000 – $49,999
$200 when you deposit $50,000 – $99,999
$300 when you deposit $100,000 – $199,999
$600 when you deposit $200,000 – $499,999
$1,200 when you deposit $500,000 – $999,999
$2,500 when you deposit $1,000,000 – $1,499,999
and $3,500 if your opening deposit is over $1,500,000.  
Robinhood
Investors who use Robinhood can trade in stocks, options, ETFs and crypto. They also offer margin. Since they cater to the beginning investor, the website includes information on everything from what an investment is to how to analyze a stock to how to invest for retirement, all in plain language. And you don't have to have a Robinhood account to get access to this basic information so you can learn first, and invest later.
Robinhood also offers a cash card, a debit card that lets you round up your purchases and invest the difference.
Webull
Webull touts its investing technology, and its easy-to-navigate website which includes lots of courses on investing topics. You can take a beginning trading course, then graduate to more complex subjects like put and call options, covered calls, crypto, stock splits, technical analysis and more.
Investors who use Webull can invest in stocks, including fractional shares, ETFs, options and cryptocurrency. They support extended hours trading, including pre-market from 4:00 a.m. to 9:30 a.m. EST and aftermarket from 4:00 p.m. to 8:00 p.m. EST.
SoFi
SoFi offers an active investing platform with no commissions or account minimums. They offer stocks, including fractional shares, ETFs, options and crypto, and you can trade on margin. If you have an active investing account you can participate in IPOs before they begin active trading on an exchange. SoFi also has a community of investors you can interact with to share information and knowledge.
Vanguard
The Vanguard online brokerage account caters to the beginning investor. There's a lot of information in plain language that will teach you important concepts like asset allocation, portfolio management and more. In your Vanguard brokerage account, you can buy and sell mutual funds, individual equities, exchange-traded funds, bonds and CDs.
Vanguard charges no fee on some mutual fund transactions, as well as ETFs, stocks and CDs. Options contracts incur a fee of $1 per contract. There is an account service fee, but it is waived if you opt for e-delivery of statements and other documents, or if you hold at least $10,000 in Vanguard funds and ETFs or $50,000 in qualifying assets.
No- and low-fee accounts are great, but not if you're sacrificing return. Vanguard boasts that 75% of their ETFs beat the returns of their Lipper peer-group averages.
Fidelity
Fidelity offers commission-free trades on U.S. stocks, ETFs and options. They don't charge account fees. You can get information to inform your trading decisions with their Active Trader Pro platform and use their research tools to understand trends and how they can impact your goals. Fidelity offers mobile trading with a custom dashboard so you can trade wherever you are.
Fidelity offers fractional share trading for over 7,000 U.S. stocks and ETFs in a program they call Stocks by the Slice in case you're looking to add Berkshire Hathaway to your online portfolio and don't have six figures to invest.
Ally Invest
Ally Invest gives investors the option of self-directed trading, robo portfolios that automatically adjust your portfolio in accordance with your goals, and wealth management by a human advisor.
Self-directed trading features $0 commissions on stocks, ETFs and options, although options incur a fee of 50 cents per contract. Bonds incur a $1 fee per bond, and no-load mutual funds will cost you $9.95 per trade. If you want to invest in low-priced securities — stocks under $2.00 per share — you'll pay $4.95 per trade plus a penny a share. There's no account minimum, and you can trade any time on the mobile app.
TD Ameritrade
TD Ameritrade offers different trading platforms for different devices. You can choose the thinkorswim platform for the web or for desktop, or the TD Ameritrade mobile trading platform. The desktop version of thinkorswim provides more in-depth tools and more customizable software and is designed for day traders who will be sitting in front of their computers all day. The web version can be accessed from anywhere and lets you trade based on pre-configured strategies. Mobile trading lets you trade anywhere on your mobile device, including Apple Watch.
Merrill Edge
Merrill Edge is the self-directed investing platform from Merrill, now owned by Bank of America. The platform has no minimum investment and no commission charge for stocks, ETFs and options trades. Research and investing insights are available to you if you need them, either online or on the Merrill app.  
Since Merrill is owned by Bank of America, your Merrill balances count toward some of the perks you can get if you also bank at Bank of America, like credit card rewards and loan interest rate discounts.
If you're not ready to manage your own investments yet, Merrill also offers Merrill Guided Investing, an online platform that provides you with asset allocation, monitoring and rebalancing by investment professionals. There's a $1,000 minimum investment for the guided investing platform.
Interactive Brokers
Interactive Brokers has several trading platforms that have various levels of complexity. Beginning investors may be overwhelmed, but if you have some background or want to jump right into complex trades, it's worth a look.
Going beyond stocks, bonds and ETFs, Interactive Brokers' platforms let you trade options — including futures options — spot currencies, crypto, warrants, combinations, structured products, physical metals, hedge funds and more. Not all positions are available on all platforms, though, so you'll want to know what you'll be investing in before you choose.
Information is accurate as of June 18, 2022.
Editorial Note: This content is not provided by any entity covered in this article. Any opinions, analyses, reviews, ratings or recommendations expressed in this article are those of the author alone and have not been reviewed, approved or otherwise endorsed by any entity named in this article.