What Is a Brokerage Firm?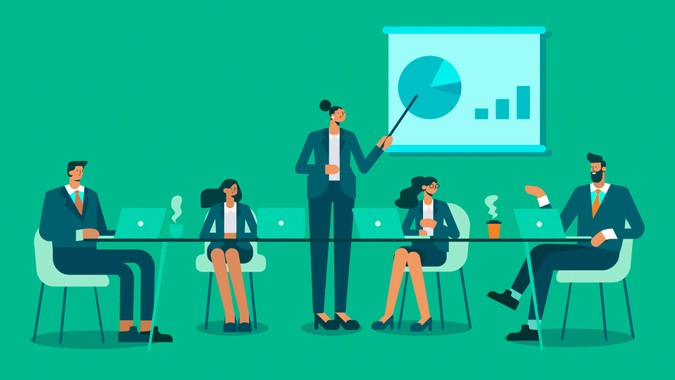 Oksana Latysheva / Getty Images/iStockphoto
A brokerage firm is a company that functions as a liaison, buying and selling stocks, bonds, options and other financial products on behalf of their clients. Most individual brokers work as part of a larger brokerage firm that pools resources to better serve clients, and many financial services companies will have a brokerage house that is part of their broader services.
Finding the right brokerage firm for you can be an important piece of any successful retirement plan, so read on to learn about what a brokerage firm is, what it can do for you and what you should look for when selecting a broker.
What Does a Broker Do?
A brokerage brings several brokers together as a firm. Without a broker, you have very limited options for purchasing stocks, so you'll need a broker to help you procure investments. A broker is an individual with the appropriate licenses needed to sell you stocks, bonds and mutual funds. Brokers work closely with clients to help them choose investments that meet their needs.
How Does a Brokerage Firm Work?
Sponsors of
A brokerage will communicate with exchanges to execute the trades you want. In exchange for their services, they charge a brokerage fee, usually charged on a per-trade basis but sometimes also including annual account maintenance fees.
There are many different types of brokerages out there, so you should carefully consider what you want from your brokerage and research which firms will provide those services before settling on a company.
What Is a Full-Service Brokerage Firm?
Full-service brokerage houses are there to provide more than just the basics. A full-service brokerage house not only executes trades for you, but it will also provide a range of other services. What services do brokerage firms provide? It varies by firm, but services can include tax planning, research services, investment advising and estate and retirement planning.
A full-service brokerage will have a dedicated broker who can meet with you in person and provide you with personalized advice based on your specific circumstances. However, with that comes a higher brokerage fee since you are receiving more services.
Even the best full-service brokerage might ultimately fail to create enough value in the other services they offer to make up for the fees they charge, which can add up considerably over time. However, there are also many ways a good full-service brokerage can help you avoid paying unnecessary taxes or make investments that are suited toward your specific financial goals. It's important to consider just how complex your investment portfolio is or will be, and whether the additional services you get with a full-service brokerage are worth it to you.
What Is a Discount Brokerage Firm?
A discount brokerage is a stripped-down, bare-bones version of a full-service brokerage, simply executing trades and not much else. That might mean you're not getting a dedicated team of professionals helping you understand how you can grow your wealth. However, you'll often pay a lower brokerage fee for this service — typically a simple, flat, per-trade fee.
Most online brokerages are of the discount variety, giving you a simple, direct way to make investments at the lowest possible cost. You can save a considerable amount on fees by opting for a low-cost discount brokerage and taking a DIY approach to investing, but you will be losing advice and planning a team of professionals employed by a full-service brokerage would give you. If you have a smaller account or intend to make simple, straightforward investments, a discount brokerage might be right for you.
What Is a Robo-Advisor?
Sponsors of
A robo-advisor is an app or website that creates an investment portfolio for you based on your financial goals. You typically don't interact with a person; everything is automated. Since few people are involved, the fees are typically very low.
Each robo-advisor works a bit differently. With some, you may be able to ask investment questions via chat or email. With others, you may not be able to talk to an investment professional. Most, however, include educational resources so you can make an informed decision.
Individual vs. Captive Brokerage: What's the Difference?
Brokers don't just belong in the investing world. You may also find brokers when you shop for insurance. You may work with a captive agent, with an individual broker or with a brokerage firm.
Individual Brokerage
An agent can work independently as an insurance broker. An insurance broker represents your interests and needs. Brokers are affiliated with multiple insurance companies. For example, if you need health insurance and visit a health insurance broker, the broker will recommend the plan that best fits your health and financial needs. Insurance brokers may charge a fee for their services.
Captive Brokerage
A captive agent is an insurance agent who exclusively represents one company. Captive agents typically know the products well, as they represent one carrier. They may also have relationships with underwriters and corporate employees since they consistently work with the same insurance company.
Click through to read more about how to find a broker and start investing.
This article has been updated with additional reporting since its original publication.