10 Best Robo-Advisors of 2023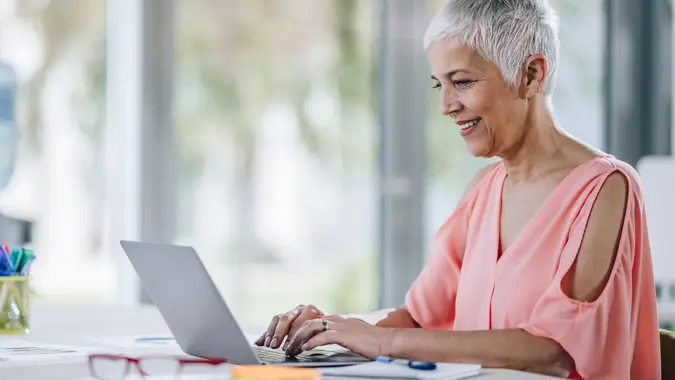 skynesher / Getty Images
Whether you're overwhelmed at the prospect of initiating investing strategies or looking for something different to diversify, working with a robo-advisor could be a beneficial option for your account balances. Your investment portfolio management is a key ingredient to reaching your investment goals.
See: 3 Things You Must Do When Your Savings Reach $50,000
What Is a Robo-Advisor?
A robo-advisor is an automated online investing platform. Digital platforms like these offer financial planning services based on algorithms. Automated services, therefore, are often more affordable for the average consumer because they require less human interaction. Using a robo-advisor account allows the financial company to charge less and offer much lower investment minimums than a traditional financial advisor.
10 Top Robo-Advisors 
Robo-advisors offer many services, including investment management and retirement planning. You might also hear financial experts refer to robo-advisors as automated investment advisors or digital advice platforms.
If you're considering a more passive form of investing, a robo-advisor might be the right vehicle. Here are 10 to consider:
Acorns
Ally Invest
Axos
Betterment
Ellevest
E-Trade
Fidelity
SoFi
Vanguard
Wealthfront
1. Acorns 
This platform gives you a portfolio designed by experts with tools designated to help you with wealth building. Monthly fees range from $3 to $5 depending on the plan you choose, but there is a round-up investment option to get started or a one-time investment of $5.  When you open an account, you can even automate your investment from your bank accounts.
2. Ally Invest 
With Ally Invest, there are no account minimum requirements, trading fees, advisory fees or annual fees. Ally Invest also doesn't charge you for rebalancing and tax loss harvesting and has commission-free stocks and ETFs. It puts 70% of your investment into your uniquely diversified portfolio and then sets aside 30% as cash to earn interest at a competitive rate, while also acting as a buffer against market volatility.
3. Axos
Axos offers low-cost account management and curates the design of your portfolio to your financial needs. Though it doesn't have a wide variety of account types, it does have a great selection of goal-based planning tools. Its customizable options even grant you access to socially responsible investments.
4. Betterment 
There is no minimum investment requirement with Betterment, and its automated technology is designed to make investing easier for you. Betterment will keep your account at your preferred ratio of stocks, bonds or cryptocurrencies as well as use your dividends to balance your portfolio to help avoid static cash. 
5. Ellevest
Built by women, Ellevest is an investing tool specifically designed for women. There is a flat $12 monthly fee, and no account minimum is required. Through Ellevest, you get discounted access to financial planning as well as free tools and resources. This platform also takes into account factors distinctly faced by women, such as the pay gap, career breaks and longer life span. 
6. E-Trade 
E-Trade is well known in the personal investment game with a robo-advisor that actively manages your mutual funds. There is a $500 account minimum, and it does not offer tax-loss harvesting. It also has a great supply of investor tools and educational resources.
7. Fidelity 
Fidelity is a digital financial service with a robo-advisor that builds a strategy to fit your needs. No account minimum is required, and it offers you professional management of your money through monitoring the market and rebalancing your investment portfolio automatically. Your money is invested through Fidelity Flex mutual funds, and there are no fees. 
8. SoFi 
Though there are limited account types, there is only a $1 minimum investment needed to get started. You can access financial planning tools as well as a wide variety of low-cost investments. SoFi offers free management, diversification, recurring deposit options and automatic rebalancing. 
9. Vanguard 
Vanguard offers numerous investment options as well as great customer service and constant account monitoring. There is a $3,000 minimum deposit of assets required, but for all index-investment options, you'll pay no more than $2 annually. It also offers free tax-loss harvesting. 
10. Wealthfront 
Wealthfront offers help with lowering tax obligations and has fees per fund ranging from 0.06% to 0.13%. It has low ETF expense ratios as well as daily tax-loss harvesting. You can even automate some investment options yourself should you choose.
Robo-Advisor Fee Breakdown
The best robo-advisors for beginners offer low or no fees. If you've just started investing, consider working with a company that has low deposit requirements. Robo-advisors that offer low initial investments provide a less risky way to tiptoe into the investment industry.
| Robo-Advisor | Fees |
| --- | --- |
| Acorns | $3 to $5 per month |
| Ally Invest | Low-priced securities are $4.95 (base), plus 1 cent per share on the entire order |
| Axos | 0.24% management fee |
| Betterment | 0.25% with a balance over $20,000 or $4 per month |
| Ellevest | $12 per month |
| E-Trade | 0.30% management fee |
| Fidelity | 0% to 0.35% management fee |
| SoFi | No management fees |
| Vanguard | 0.15% advisory fee |
| Wealthfront | Annual advisory fee of 0.25% on all assets under management, deducted monthly |
Is a Robo-Advisor Worth It?
Opting for a robo-advisor has both benefits and drawbacks. Deciding whether to work with a digital system depends a lot on your priorities and comfort level. Whether you're making your decisions based on a robo-advisor's returns, expense ratios or accessibility, here are a few pros and cons to consider:
Pros
Convenience and accessibility
Fees typically much lower than at traditional financial companies
More power over your investment decisions
Returns may be more stable since the algorithm automatically adjusts investments to meet your financial goals
Cons
Limited investment options and less flexibility compared to traditional brokerage accounts
Automatic investment options might lead to less scrutiny of accounts, causing you to miss needed adjustments
Less hands-on attention than with a regular brokerage
What To Consider When Choosing a Robo-Advisor
Though sometimes you may want access to human financial advisors, the best robo-investors automate your investing process without the need for human interference. Once your account is set up and there is a clear assessment of your financial situation and goals, a robo-investor will automatically invest for you based on the information you have provided from its digital platform.
As with any financial investment, you should take the time to find the best match for your financial and personal situation. When considering which robo-advisor to work with, here are a few things to consider:
Accessibility for beginners
Range of services
Fees
Minimum balance requirements
Overall financial performance
Reviewing a robo-advisor's performance over the last year gives you an idea of what your returns might look like. You not only want to see decent growth but also growth that either closely parallels or outperforms the broader stock markets. While there's no guarantee the robo-advisor will replicate that performance in the future, you'll at least have a baseline.
Final Take To GO 
Investing in stocks and bonds doesn't have to be intimidating. Emerging technologies make it easier for all investors to participate in the stock market from the comfort of their own homes. Whether you're working with a small budget or a large one, a robo-advisor could be a helpful tool to diversify your investments.
John Csiszar contributed to the reporting for this article.
Information is accurate as of June 7, 2023.
Editorial Note: This content is not provided by any entity covered in this article. Any opinions, analyses, reviews, ratings or recommendations expressed in this article are those of the author alone and have not been reviewed, approved or otherwise endorsed by any entity named in this article.