14 Best Day Trading Platforms for 2022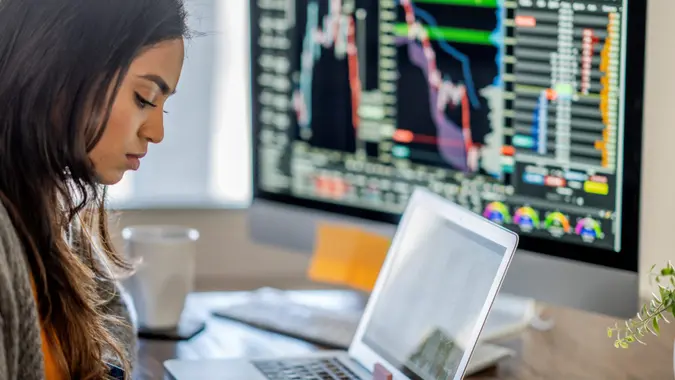 FatCamera / Getty Images/iStockphoto
There are many people who make their living from the stock market, including brokers, traders, financial advisors and more. But few are surrounded by the allure and mystique of the day trader — someone who follows the market so closely that they can make a living by rapidly buying and selling positions.
If this type of high-adrenaline trading appeals to you, read on to find the best platforms to trade on.
What is Day Trading?
FINRA defines day trading as 'the purchasing and selling or the selling and purchasing of the same security on the same day in a margin account except for positions held overnight."
FINRA requires that brokers restrict day trading by identifying those investors considered pattern day traders, described as those who execute four or more day trades within five business days. These traders must have an ending balance of at least $25,000, excluding crypto.
In short, day traders make money on the volatility of specific investments by buying and selling positions in quick succession, usually on the same day. Therefore, a day trading platform should let you transact accurately and quickly, and have very, very low or no commissions and fees. Per-trade charges add up quickly when you're trading multiple times each day.
Day Trading Platforms
The key to success in day trading is to be able to make trades instantly. To do this, you need a platform that not only includes the tools you need to make rapid-fire decisions but to execute those decisions instantly. You also need a platform with no or low per-trade commissions.
Here are the 14 best day trading platforms for 2022.
Interactive Brokers
Interactive Brokers' website is filled with accolades for its trading platform — Best Online Broker, Best Trading Technology, #1 for Professional Trading — the list goes on and on. Its desktop, web and mobile trading platforms are easy to customize and use but powerful enough for professionals.
And, perhaps most importantly for day traders, no commission for some trades and low margin rates.
Pros
Powerful trading platform
Customizable interface
Cons
May be overwhelming for beginners
TradeStation
TradeStation lets you trade equities, ETFs, options, futures, futures options, crypto, IPOs and more. The desktop platform offers dynamic tools to scan the market for opportunities, extensive customizable charting and advanced order management, among other things. The web and mobile versions let you trade anywhere, any time with powerful tools, research and analysis.
Pros
Commission-free trades for stocks, ETFs and options
Cons
You'll pay a transaction fee for mutual fund trades
Fidelity
Fidelity's Active Trader Pro boasts $0 commission online trades for U.S. stocks and ETFs, as well as options trades for just $0.65 per contract. The Fidelity platform also gives you extensive research, including reports on over 500 stocks from 20 independent third-party firms, and custom filters to create your own screen strategies.
Pros
Robust educational resources for beginners or those expanding their portfolio — adding options, for example
Cons
You can't trade crypto, futures or commodities
Merrill
Merrill Edge MarketPro lets you customize your trading dashboard or use one of their layouts. You can save up to 25 different layouts, built from customizable windows that include built-in help. There are no commissions or trade requirements, and no minimum deposit.
Pros
Great for Bank of America customers since your Merrill account is included when qualifying for rewards
Cons
TD Ameritrade
TD Ameritrade's thinkorswim platform is available for desktop, web and mobile. The desktop version includes professional tools for analysis and strategy testing, while the web version gives you access to your account anywhere. The mobile version supports a wide variety of devices, including the Apple Watch.
Pros
Robust trading platforms
No minimum
Good selection of investments
Cons
Desktop version may be too complex for beginners
Ally Invest
Ally Invest might not be the first broker you think of when you're considering day trading, but their platform is solid and their pricing structure is interesting. Ally Invest day traders pay $0 commission on stocks and ETFs, and $0 commission plus a 50-cent contract fee on options contracts.
Ally charges fees for bond and mutual fund trades, which are typically not traded by day traders anyway. They charge $4.95 per trade plus $0.01 per share for securities trades under $2.00 per share.
Pros
Platform is easy to use
You earn interest on your cash balance
Forex trading is offered
Cons
Fees for bonds, mutual funds and low-priced securities
No futures or crypto trading
E-Trade
E-Trade has a power investing platform suitable for day traders that offers powerful tools for stock, options and futures trades. There's also the original E-Trade platform, which is less sophisticated. There's a mobile app for each platform.
E*Trade offers $0 commission trades on U.S. stocks, ETFs and options, but charges 65 cents per option contract — or 50 cents if you trade more than 30 contracts per quarter. They charge $1.50 per futures contract.
Pros
Basic platform for beginners
Power platform for sophisticated investors
Cons
Options and futures trades are pricey compared to other platforms
Webull
Webull hangs its hat on its technology and on making things simple for the individual investor who may be saving for retirement. But there are benefits for day traders here, too, such as full extended hours trading: pre-market from 4:00 a.m. to 9:30 a.m. EST and after-hours trading from 4:00 p.m. to 8:00 p.m. EST.
Pros
No commission charge and no contract fee for options trades
Cons
Mutual funds are not available
ZacksTrade
ZacksTrade claims to be targeted to the active trader, yet they charge $1 per stock and ETF trade, plus a penny a share. They offer option contracts for 75 cents each after your first one, which costs a dollar. They do, however, offer low margin rates of 3.56% or less, based on your balance.
The ZacksTrade Pro platform is customizable and includes news, research and analysis tools. Less sophisticated traders can stick with the client portal, which is more suited for less frequent transactions. ZacksTrade's mobile apps are available for smartphones and tablets.
Pros
Large selection of stocks and ETFs, all with low fees
Cons
Desktop platform is complex and not suitable for beginners
Lightspeed
As its name would imply, the Lightspeed platform focuses on fast trade execution. They also offer advanced order management, reliability, risk management and customization.
Pros
Technology is robust
Costs are low for high-volume traders
Cons
High account minimums make Lightspeed unsuitable for beginner or casual traders
Cobra
Cobra specifically markets its platform to day traders, so it is optimized for speed, accuracy and cost-effectiveness. They also promote their customer service, which will step in to resolve any issues you may have.
They offer three different platforms with different features. DAS Trader Pro has advanced analytics, portfolio management and multi-instrument trading. Sterling Trader Pro is a direct access platform for equities and options. Cobra TraderPro is for the cost-conscious day trader.
Cobra charges a small, tiered commission for equity trades, beginning at $0.003 per share for 100k or fewer shares per month, dropping as low as $0.0015 per share if you trade 10-20 million shares per month. If your volume is higher than that, they'll customize your rate.
Pros
High-volume traders will appreciate the speed and accuracy
Cons
Robinhood
Robinhood became a household name during the so-called 'meme stock' phenomenon in early 2021. Since then, they tend to shy away from actively promoting day trading on their platform, but you can certainly still do so. You can trade stocks, ETFs, options and crypto with no commission fees. Robinhood even offers a debit card that rounds up your purchases and invests the difference.
Pros
Easy to learn and use for beginning investors
Cons
Research resources are limited
Specialty Day Trading Brokers
Some day traders specialize in one type of transaction, and there are brokers for that. If you want to only trade futures or crypto, for example, you may want to choose a platform that is specific to that type of trade. Here are some specialty day trading brokers.
NinjaTrader
NinjaTrader is a futures trading brokerage that lets you start small and work your way up. There's a demo program that will let you practice trading before you invest any money. Then you can purchase micro and mini futures — small contracts with less risk but also less upside.
Pros
Open-source architecture allows third-party apps and add-ons
Cons
Fees for premium platform features
Tastyworks
On Tastyworks' platform, you can trade stocks, ETFs, crypto and commodities, but the focus is on options, futures and options on futures. You can adjust your strikes and expirations quickly with curve analysis, use the quick roll feature to roll your position into the next cycle and quickly adjust working orders.
Pros
Options traders will find lots of research and resources
Cons
Final Take
Choosing a day trading platform is critical to success as a day trader. Many of these platforms have a free demo option so you can test drive them to determine which one will make your day trading experience the most efficient — and profitable.
With the speed, accuracy and tenacity it takes to be a successful day trader, the selection of your trading platform is very important. Take advantage of the demo version before you make your choice.
FAQ
What platform is best to day trade on?

The best platform will depend on how and what you intend to trade. If you're strictly looking at stocks, choose a platform that has a large number of stock positions and that doesn't charge a fee for stock trades. If options are your thing, look for the lowest price per contract and robust research.

What broker do most day traders use?

Interactive Brokers, TradeStation and E-Trade are some of the most popular day trading platforms. The right platform for you will depend on what you intend to trade

–

stocks, ETFs, options, crypto, etc.

–

and how experienced you are.
Most platforms offer a trial version so you can check it out before investing any money, which is a great idea for new day traders.
Our in-house research team and on-site financial experts work together to create content that's accurate, impartial, and up to date. We fact-check every single statistic, quote and fact using trusted primary resources to make sure the information we provide is correct. You can learn more about GOBankingRates' processes and standards in our editorial policy.