TD Ameritrade vs. Fidelity: Which Is Better in 2023?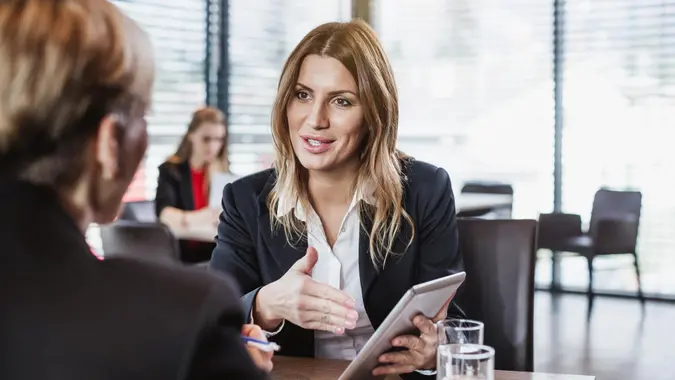 sanjeri / iStock.com
In 1943, Fidelity started with its mutual fund business idea and became an industry giant. On the other hand, TD Ameritrade took off in 1975 and changed the industry with its exceptional trading platform. Both are now considered world-class brokers with efficient, user-friendly interfaces.
However, it's important to note that TD Ameritrade was recently acquired by Charles Schwab and is currently in the process of converting its accounts to Schwab. As of April 10, 2023, TD Ameritrade still retained its own identity, but at some point in 2023 it is expected to be fully merged with Schwab.
Since both Fidelity and TD Ameritrade have relatively similar costs and features, it's pretty challenging for active traders to decide which to use. For such traders, here's a comparison of TD Ameritrade vs. Fidelity.
TD Ameritrade vs. Fidelity: What Do They Offer?
Services
TD Ameritrade
Fidelity
Stock trading costs
$0 
$0
Account minimum
$0
$0
Options trades
$0.65 per contract (no base commission) 
$0.65 per contract (no base commission)
Account fees (annual, transfer, closing, inactivity)
• Annual fee: $0
• Inactivity fee: $0
• Transfer fee: $75 full; $0 partial
$0 account fees
Trading platform
Free trading platforms:
• TD Ameritrade web
• Thinkorswim for desktop users
Free trading platforms:
• Fidelity.com
• Active Trader Pro
Tradable securities
• Bonds
• Stocks
• Mutual funds
• ETFs
• Options
• Forex
• Foreign ADRs
• Futures
• IPOs for qualified accounts
• Bonds
• Stocks
• Fractional shares
• Mutual funds
• ETFs
• Options
Cryptocurrencies
Qualified clients can trade over-the-counter crypto coin trusts, like Bitcoin futures, from CME.
Cryptocurrency trading is available.
Mobile apps
• TD Ameritrade mobile app
• TDA thinkorswim app
Fidelity mobile app for both iOS and Android.
Research and data
Third-party tools like S&P Capital IQ, Dow Jones and more ensure research and analysis.
Free and extensive
User-friendly options
• Representatives are available 24/7 on the phone, email and live chat support.
• In-person support is available at 250+ local branches.
• Customer support is also available on Facebook Messenger, Twitter, Apple Business Chat and Amazon Alexa.
• Representatives are available 24/7 on the phone, email and live chat.
• In-person support is available at over 200 local branches.
TD Ameritrade vs. Fidelity: Which Is a Fit For Your Needs?
Here are a few things you should look at to figure out which is your ideal choice.
User-Friendly Options
Fidelity supports three platforms: web, Fidelity Mobile App and Active Trader Pro. This makes opening an account extremely easy.
TD Ameritrade supports four platforms: web, thinkorswim, TD Ameritrade Mobile Trader app and thinkorswim Mobile. It's easier to open an account on TD Ameritrade, but it offers numerous account types, making the process more complicated. Both brokers' apps offer decent functionality.
Fidelity doesn't support futures or options on futures, which might be considered a downside for some active traders.
Trading Technology
With impressive price improvement strategies, Fidelity now executes more than 98.20% of orders at a better price than others, offering solid savings for investors of about $18.99 for a 1,000-share marketable order, compared to the industry quote.
TD Ameritrade has also opted for price improvement and fast execution strategies. According to the company's statistics, most marketable orders get a price improvement of $0.0119 per share.
Automated Investing
Both TD Ameritrade and Fidelity offer robo-advisory services.
TD Ameritrade's automated investing platform has already been fully absorbed by Charles Schwab's "Intelligent Portfolios" platform for new investors. This platform has up to 80 investment variations, and although it has a $5,000 minimum, it charges no fees or commissions.
The Fidelity Go automated investing platform has no minimums and charges no fees on portfolios under $25,000. Larger accounts carry a 0.30% annual management fee, but this includes unlimited one-on-one coaching calls.
Costs
Both Fidelity and TD Ameritrade charge no cost for stock trading with no account minimum. Both also offer free commission for options, online equity and ETF trades for customers residing in the U.S.
Both brokers have similar per-contact options fees of $0.65.
Good To Know

Fidelity can be a good fit for active traders, while TD Ameritrade may be the best choice for beginners. Both offer exceptionally customizable platforms, user-friendly services, functional trading apps and reasonable costs.
Research Facilities
The main competition between both platforms is research. Both of them offer flexible stock, mutual fund, fixed-income, ETF and options screeners to assist you in finding ideal trade and investment opportunities.
If you trade options, you will like TD Ameritrade's Option Hacker and Spread Hacker. These tools let you search for all types of options strategies.
On the other hand, ETF traders may prefer Fidelity's screener. It allows you to customize your screens via 100 ETF criteria and helps you search by the themes.
Customer Service
Both have excellent 24/7 customer service. Fidelity is available on the phone, a limited-hour online chat facility, an email portal and Virtual Assistant.
Quite similarly, TD Ameritrade also offers 24/7 phone support and availability on many social media platforms, like Twitter, Messenger, Apple Business Chat and WeChat in Asia. In addition, the app supports live chat and a virtual agent, Ask Ted.
Is TD Ameritrade Better Than Fidelity?
Those looking for futures trading might find that TD Ameritrade is the best. One of the downsides of TD Ameritrade is that it doesn't offer cryptocurrency trading, and some of its fees are higher than at Fidelity. However, those who are fans of Charles Schwab might find that TD Ameritrade will actually turn out to be better than Fidelity, as it is in the process of completing its acquisition.
Ultimately, Fidelity has more history and tradition on Wall Street, while TD Ameritrade was an online trading revolutionary that is now partnered with the well-regarded Charles Schwab.
In a head-to-head matchup, both TD Ameritrade and Fidelity score highly as reputable brokers in the industry. The primary difference between Fidelity and TD Ameritrade is in their history, their focus and their specific product offerings. Individual investors will have to rely on their own needs and preferences to tip the scales one way or the other.
FAQ
What is the difference between Fidelity and TD Ameritrade?

The biggest differences between TD Ameritrade and Fidelity are that TD Ameritrade doesn't offer crypto trading and some of its fees are higher, but it does have better resources for trading options. Fidelity, while it offers crypto trading and somewhat lower fees, doesn't offer the same level of options trading.

What is the downside to TD Ameritrade?

If you're looking to invest in cryptocurrency, TD Ameritrade is not the brokerage for you.

Why is TD Ameritrade the best?

TD Ameritrade offers excellent research tools for options traders in its Options Hacker and Spread Hacker.
John Csiszar contributed to the reporting for this article.
Information is accurate as of April 10, 2023.
Editorial Note: This content is not provided by any entity covered in this article. Any opinions, analyses, reviews, ratings or recommendations expressed in this article are those of the author alone and have not been reviewed, approved or otherwise endorsed by any entity named in this article.