5 High Dividend ETFs To Buy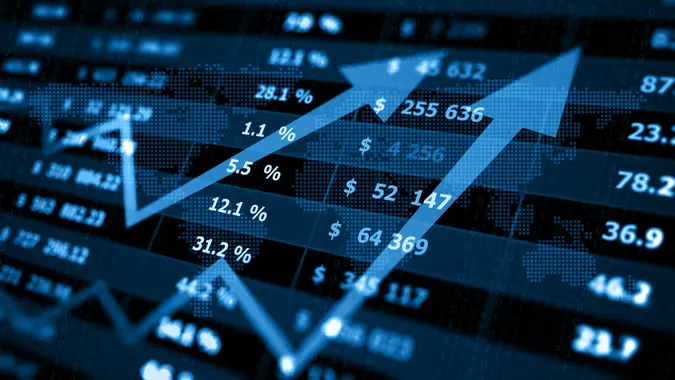 MF3d / Getty Images/iStockphoto
Investors often turn to high-dividend exchange-traded funds to create another avenue for passive income through the dividends companies pay to shareholders. ETFs can simplify the investment process; rather than hand-picking individual stocks, an ETF gives you access to companies that share similar investment profiles.
High Dividend ETFs To Buy
If you are looking to expand your investments, here are five high-dividend ETFs you might want to consider.
1. SPDR S&P 500 ETF Trust
Formed in 1993, SPDR S&P 500 ETF Trust is the oldest ETF in the United States — and perhaps the best-recognized. It generally displays the highest asset under management rankings and the most significant trading volume. 
SPY is a unit investment trust that boasts a highly liquid and diverse trading pool. It must entirely replicate its index and cannot reinvest portfolio dividends between distributions. This high-dividend ETF tracks the S&P 500 Index, representing 500 of the largest corporations in America.
| Data | Details |
| --- | --- |
| Ticker | SPY |
| Dividend Yield | 1.57% |
| Top Holdings | Apple Inc., Microsoft Corporation, Amazon.com Inc., Alphabet Inc. |
| Expense Ratio | 0.09% |
| AUM | $349.59 billion |
2. Vanguard Russell 2000 ETF
Vanguard Russel 2000 ETF gives exposure to small-cap organizations as defined by the Russell 2000 Index. It contains securities that rank 1,001 through 3,000 in the Russell 3000 Index. Because it excludes the 1,000 companies with the largest market caps, this fund is a good choice for diversifying a portfolio weighted with large-cap stocks like those held by SPY.
| Data | Details |
| --- | --- |
| Ticker | VTWO |
| Dividend Yield | 1.48% |
| Top Holdings | U.S. Dollar, Ovintiv Inc., Antero Resources Corp., Chesapeake Energy, Vanguard Cash Management |
| Expense Ratio | 0.10% |
| AUM | $5.32 billion |
3. Vanguard Total Stock Market ETF
This high-dividend ETF offers investors thorough equity exposure representing the entire stock market. Additionally, it offers neutral coverage — including micro-caps — with a comprehensive list of domestic corporations among its 4,000 holdings. A passively managed fund, the Vanguard Stock Market ETF remains entirely invested at all times.
VIT is a great option for beginners since it takes out the guesswork with its widely diversified list of holdings. This could make it one of the simplest ways to enter the stock market. However, it's important to note that portfolio disclosure is reported monthly, so investors who like tracking the performance of their stocks every day may not enjoy this option as much.
| Data | Details |
| --- | --- |
| Ticker | VTI |
| Dividend Yield | 1.59% |
| Top Holdings | Apple Inc., Microsoft Corporation, Amazon.com Inc., Alphabet Inc. Class A., Tesla |
| Expense Ratio | 0.03% |
| AUM | $247.38 billion |
Good To Know

Contrary to what some might believe, sometimes the lower the payout ratio is, the better and more sustainable the investment is. A company with higher payout ratios may be returning more money than it's making. A slow but steady payout ratio increase is an excellent indicator of an organization's overall health and reliability.
4. iShares ESG Aware MSCI USA ETF
A great thing about this high-dividend ETF is that it takes a different approach to climate issues. It tracks an index of select U.S. corporations with solid environmental, social and governance traits. While ESGU focuses on large- and mid-cap organizations in the MSCI USA Index, it still maintains a comprehensive market-like portfolio. 
The iShares ESG Aware MSCI USA ETF excludes companies involved with tobacco, unsustainable energy resources, controversial weapons and civilian firearms. It uses portfolio optimization technologies to stay true to market-like exposure and maximize the fund's stake in highly-rated organizations.
| Data | Details |
| --- | --- |
| Ticker | ESGU |
| Dividend Yield | 1.44% |
| Top Holdings | Apple Inc., Microsoft Corporation, Amazon.com Inc., Alphabet Inc. Class A, Tesla Inc. |
| Expense Ratio | 0.15% |
| AUM | $21.38 billion |
5. Vanguard FTSE Emerging Markets ETF
This high-dividend ETF is a great option for tactical investors. It primarily focuses on stocks from emerging markets other than South Korea. Top countries represented in the portfolio include Hong Kong at 25.51%, Taiwan at 18.76%, India at 15.64%, China at 7% and Brazil at 6.70%.
While investors should always be aware of the risks of putting their money in emerging-market economies, this one is perhaps less risky due to its diversity compared to the MSCI Emerging Markets Index, for example, which is heavily weighted with Chinese securities at 35.38%.
| Data | Details |
| --- | --- |
| Ticker | VWO |
| Dividend Yield | 3.39% |
| Top Holdings | Taiwan Semiconductor Manufacturing, Tencent Holdings Ltd., U.S. Dollar, Alibaba Group Holding Ltd. |
| Expense Ratio | 0.08% |
| AUM | $70.72 billion |
How To Invest in Dividend ETFs
Dividend investing is often less risky than other investment methods as it delivers steady returns. And while earlier generations of investors benefitted from higher yields, a good dividend investment strategy can still offer shareholders an excellent passive income. Additionally, many ETFs take pride in regularly increasing their dividend payouts.
Before you choose an ETF, it's a good idea to:
Set financial goals.
Research dividend funds, stock markets and macroeconomic factors.
Determine the right asset mix.
Review all current investments.
Once strategy prep is done, it's time to look for the right ETF. Some of the main aspects to keep in mind include:
ETF Fees: Understanding the expense ratio of an ETF is crucial when figuring out which yield the best returns. 
Overall Yield: This is a solid indicator of the type of income you can expect from your ETFs, even when dividends aren't guaranteed over time. 
Asset Liquidity: If an ETF has less asset availability, it could become a challenge to sell it when the time comes. 
It's important to remember that all investment types could lead to losses. That's why it's vital to evaluate which funds invest in riskier assets and which stay on the safer side. Although dividend yield is a great tool to pick the best dividend-paying stocks, it's not all there is to dividend investing. You should also evaluate share prices to avoid getting involved with struggling companies.
Final Take
High-dividend ETFs are an excellent choice for veteran and beginner investors alike, depending on short- and long-term financial goals. They offer shareholders a passive income that can increase over time.
However, as with any other investment, you should be careful when selecting high-dividend ETFs to avoid incurring significant losses. The alternatives mentioned above are worth keeping an eye on during the second half of 2022.
High Dividend ETF FAQs
Are you considering a high dividend ETF investment but still want to learn more? Here are some of the most commonly asked questions about high dividend ETFs.
What ETFs pay a monthly dividend?

If you're looking for a consistent income from your investments, the following ETFs do payouts on a monthly schedule: Vanguard Total Bond Market Index Fund ETF Shares, iShares MBS ETF, Nuveen Municipal Value Fund, DNP Select Income Fund, First Trust Senior Loan Fund and PIMCO High Income Fund.

Are high dividend ETFs worth it?

As always, it depends on what investors want in their investments and what their financial goals are. With dividends, companies distribute their earnings to their shareholders. This could be a good way for investors to build wealth over time. Unlike other investment types, dividends generate passive income. This is a perfect investment for retirees and others looking to receive passive income.

Are high dividend ETFs taxed?

High dividend ETF payments receive a similar treatment to income and must be reported on your 1099 statement. Profits from selling ETFs are taxed like the underlying stocks or bonds inside them.
Daria Uhlig contributed to the reporting for this article.
Information is accurate as of July 13, 2022.
Our in-house research team and on-site financial experts work together to create content that's accurate, impartial, and up to date. We fact-check every single statistic, quote and fact using trusted primary resources to make sure the information we provide is correct. You can learn more about GOBankingRates' processes and standards in our editorial policy.