Webull vs. Robinhood: Which Is Best for You in 2021?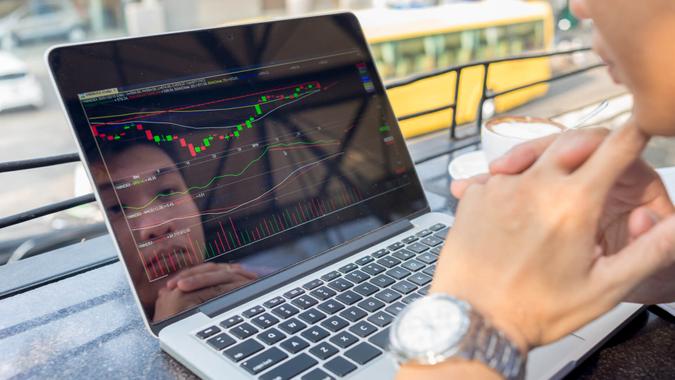 SamuelBrownNG / Getty Images/iStockphoto
Learning about investments was once out of reach for many Americans. When you think of investing money in the stock market, after all, you probably imagine the New York Stock Exchange.
Thanks to technology, investments are now possible from your phone or tablet. Companies like Webull and Robinhood have made investing friendly enough for anyone to feel comfortable doing.
If you're new to investing, you might feel lost. Webull and Robinhood are top competitors for investing opportunities, but how do you know which one is right for you? We're breaking down the pros and cons of each site so you can make an educated decision.
About Fintech Companies
The greatest benefit of online trading platforms is that you can dabble in investing without paying commissions to brokers. If you like to be hands-on with knowing where your money is going, these online platforms are the way to go.
Companies like Webull and Robinhood make investing easy, but they each cater to a niche market. Both offer a desktop and app experience for users. Webull positions itself as being more sophisticated, while Robinhood strives to make investing fun.
Keep in mind that both platforms are designed for active, engaged investors. If you prefer a hands-off approach where you're not making individual decisions about trading, neither site may be for you.
Know the Risks
Online trading has its share of pitfalls. Instances of fraud are high, and you're at risk for scammers hacking into your account. If you decide to invest through an online platform, beware of:
Phishing emails that appear to be from Webull, Robinhood or other investing sites.
Imposter websites designed to steal your login information when you try to access your account.
Denial of service warnings that make you think your account is locked out.
As long as you stay vigilant in protecting your personal information and assets, investing online is perfectly safe.
Pros and Cons of Webull
Webull maintains an air of sophistication around investing. The site feels professional and serious, catering to investors who know about the stock market. Yet even with the site being a little more polished, it's still accessible to the average person.
Pros
There isn't a minimum deposit amount.
You don't have to pay commissions on stock trading, ETFs and options.
Its offerings include cryptocurrencies and margin accounts.
You can access real-time investment quotes at no charge.
Cons
The platform doesn't offer joint brokerage accounts, education savings accounts or automated investing options.
It doesn't offer access to mutual funds.
It has fewer tools and resources available to users compared to other sites.
Pros and Cons of Robinhood
Robinhood works to make stock trading easy and fun. The site removes some of the seriousness that is typical with investments and strives to ensure day trading is easy to understand.
Pros
It's free to trade stock, options, ETFs and cryptocurrencies
You can buy partial shares.
You can try margin investing.
Accounts for cash management are available.
The app is easy to navigate.
Cons
It has fewer tools and resources available to users compared to other sites.
The platform doesn't offer retirement accounts, joint accounts, education savings accounts or mutual funds.
Customer service availability isn't great.
You can't name beneficiaries on your account.
How Do I Know Which Investment Option Is Right For Me?
Consider the following factors when deciding between Webull or Robinhood as your investment platform.
Ease of Account Opening
You can set up either account completely online. The application process takes about 10 minutes, and both platforms commit to reviewing your account for approval within one business day. Requirements include:
Being at least 18 years old
Having a valid US social security number
Providing a residential US address
Proving your US citizenship by providing a license, ID card or passport
You'll be prompted to take and upload a picture of supporting documents like identification. Keep in mind that your address and other personal information should match the card you provide.
Fees
Robinhood doesn't charge fees for trading stocks. To trade stocks on margin, you'll have to upgrade to the gold account option and pay a $5 fee each month. There's also a 5% annual fee for margins greater than $1,000.
Webull doesn't charge commission fees, either. However, they do charge a slightly higher rate of 7% for margins up to $25,000. After that, the fee lowers half of a percent in increments to $3 million.
Options
Both sites limit you to three day trades per week. If you have a minimum account balance of $25,000 with either site, you can get around this limit.
Minimum Opening Deposit
Neither account has a minimum opening deposit. This gives you an introduction to trading, but you're still very limited. Only customers with $25,000 invested are allowed to trade more frequently and access additional investing resources.
Account Types
Both companies offer similar basic accounts and upgrades. Webull doesn't offer any paid account options aside from incentivizing larger deposits. Robinhood offers three account types:
| Type | Details |
| --- | --- |
| Cash account | No instant deposit; transfers take 4-5 business days |
| Instant account | Instantly deposit up to $1,000 and start trading right away |
| Gold account | True margin account with more buying power; costs $5 per month |
Withdrawal Options
ACH withdrawals are free on both platforms. Neither allows transfers using credit cards, debit cards or digital wallets. Both sites limit you to $50,000 in withdrawals per day. Domestic transfers cost $25 while international transfers cost $50.
Security
Your money is equally safe no matter which platform you choose. The U.S. investor protection scheme called the Securities Investor Protection Corporation protects your investments against losses. If either company goes broke, your SIPC protection is $500,000 and includes a $250,000 limit for cash.
User Experience
Robinhood and Webull are very similar when it comes to account and fee structures. Both offer educational materials, albeit limited resources. With this in mind, your choice may come down to the user experience.
Webull Interface
Webull is simple yet sophisticated. There aren't as many bells and whistles to catch your attention. Instead, the user experience is designed to be easy to navigate.
Keep in mind that the resources offered may feel overwhelming at first. Since the target audience is more serious investors, the available resources are for people who are already investment savvy. If you're interested in learning more about the stock market, take your time.
Robinhood Interface
The draw of Robinhood is the excitement behind trading. Since the platform turns stock trading into a game, it's easy to get in over your head. If you choose Robinhood for investments, explore before making too many financial moves.
Keep in mind that the excitement may lead you to add more money to your account. Even if you don't invest it in the stock market, you'll have to wait four to five days before the platform allows you to withdraw your cash.
Other Considerations
Seek Professional Advice
The aspiration for DIY investing doesn't mean you have to do it alone. Speaking to a financial advisor is always a good idea before moving too much of your money into the stock market.
An advisor can explain some of the financial acronyms and lingo so you know what everything means. They can also talk to you about stocks that are high and low risk so you can make investment decisions within your comfort level.
Remember Your 401(k)
It's easy to feel confident when you invest a small amount of money and see comparatively impressive returns. That doesn't mean you should take money out of your 401(k) plan and invest it on your own.
Advice

Investing is not a short-term commitment. While it can be fun and exciting now, over time investing can grow boring. Maintain your commitment and set long-term goals. Make sure you continue learning about the stock market and best practices for investing in today's market.
Both of these platforms will encourage you to deposit large sums of money. But don't feel tempted to change your investment flow away from retirement accounts and into a platform like Webull or Robinhood.
Instead, maintain your automatic transfers to 401(k) and retirement accounts and set aside a little extra for your personal investments. This strategy ensures that you don't lose your retirement money by making a misstep with investing decisions.
Our in-house research team and on-site financial experts work together to create content that's accurate, impartial, and up to date. We fact-check every single statistic, quote and fact using trusted primary resources to make sure the information we provide is correct. You can learn more about GOBankingRates' processes and standards in our editorial policy.