How Much Is DoorDash Worth?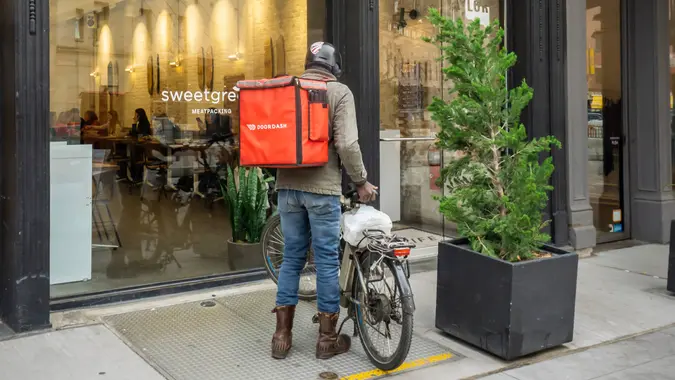 rblfmr / Shutterstock.com
DoorDash is a technology company whose main product is an app-based platform that partners with restaurants, grocery stores and other businesses, using on-demand couriers to deliver takeout meals and other items. Although the company has seen a steady increase in food delivery in the past couple of years, the COVID-19 pandemic boosted its growth tremendously.
Today, the company connects more than 500,000 merchants, over 20 million consumers, and more than 3 million drivers ("Dashers") in the United States, Canada, Germany, Japan and Australia.
Read on to learn more about DoorDash, how much it's worth and what you should consider before investing in the company.
DoorDash: Company Snapshot
Headquarters
San Francisco
Year Founded
2013
Founders
Tony Xu, Andy Fang, Stanley Tang and Evan Moore
CEO
Tony Xu
How Much Is DoorDash Worth?
DoorDash filed for an initial public offering on Nov. 13, 2020. The company announced a $102 per-share trading price on Dec. 8, 2020, which would have valued it at $32.4 billion. However, the company closed its first day of trading on Dec. 9 at $189.51, giving it a market capitalization of $72 billion, inclusive of employee-owned shares. DoorDash reported 317.7 million shares outstanding after its IPO.
Make Your Money Work Better for You
As of market close on Feb. 18, the company's share price was $96.21, giving DoorDash a market capitalization of $33.01 billion.
Another way to measure a company's value is by net worth, which is calculated by subtracting liabilities from assets. By that measure, DoorDash has a net worth of approximately $4.67 billion.
DoorDash's Co-Founders
DoorDash was founded on Jan. 12, 2013, by Tony Xu, Andy Fang, Stanley Tang and Evan Moore. In 2012, the four Stanford students created a website displaying menus from local restaurants in Palo Alto, California. They first named the company Palo Alto Delivery. When the first orders were placed, Xu and his friends made the deliveries, which numbered more than 100. They used to work at night and go to class during the day.
According to a letter included in the company's Securities and Exchange Commission filing, Xu was lured into the restaurant business "to empower those like my mom who came here with a dream to make it on their own." Xu moved from China to the U.S. when he was 5 years old. He washed dishes at the restaurant where his mother worked as a waitress. She had a medical license but was not allowed to practice in the U.S.
Make Your Money Work Better for You
Then 36, Xu made a surprise entry into the billionaires' club in December 2020 with over $3 billion to his name, owing to a stake of 4.6% of DoorDash. As his net worth is closely tied to his holdings, it fluctuates with share prices. His current net worth is $1.4 billion, according to Forbes' Real-Time Billionaires data.
Key Product Lines Contributing to Revenue
DoorDash makes money by offering on-demand delivery from restaurants, grocery stores, convenience stores and other businesses to customers in more than 7,000 cities. Its services are available in all 50 states across the U.S. As of August 2021, DoorDash had delivered a staggering two billion orders, according to a press release.
DoorDash's revenue for the fiscal year 2021, which ended on Dec. 31, 2021, was $4.89 billion, a 69% increase over full-year earnings in 2020, according to the earnings release. The company set a quarterly record for orders in the fourth quarter — 369 million, up 35% year over year. DoorDash also increased its monthly active users, which currently number over 25 million, up 22% compared to the fourth quarter of 2020.
Make Your Money Work Better for You
DoorDash's Top 10 Shareholders
Institutional shareholders own 92.78% of the company. Here's a look at the top shareholders:
SB Investment Advisers (UK) LTD, 13.98% of shares
SC US (TTGP) Ltd., 12.64% of shares
T. Rowe Price Associates Inc., 6.20% of shares
Morgan Stanley, 4.30% of shares
Galileo (PTC) Ltd., 4.18% of shares
Tiger Global Management LLC, 3.55% of shares
Vanguard Group, 3.35% of shares
Coatue Management LLC, 3.03% of shares
Sands Capital Management LLC, 2.51% of shares
Lone Pine Capital LLC, 2.39% of shares
How the Future Looks for DoorDash
When DoorDash went public, analysts said it was "the most ridiculous IPO of 2020." While some cited lack of profitability, others were concerned about stiff competition in the food delivery sector and a pandemic-induced demand for services that may fade with time. DoorDash lost $667 million in 2019 and $149 million in the first nine months of 2020. In a December 2020 report, Citron Research said, "We don't see how a food delivery can maintain a valuation of over $50 billion."
According to an opinion published in Bloomberg, food delivery looks like another gig-economy dead end, and there's no money in bringing meals to consumers.
Still, DoorDash pushed for expansion, venturing into the delivery of other items with DashMart, a convenience-store concept available in a limited number of cities. Couriers pick up items including ice cream, cough medicine, dog food and packaged desserts from fulfillment centers run by DoorDash and deliver them to customers who pay a monthly membership fee.
DoorDash has also expanded its third-party merchant base. Over the course of 2021, the company doubled the number of non-restaurant merchants using its services and says it is focused on making it easier for smaller merchants to come on board while continuing to add value for customers. The earnings report suggests the efforts have been successful so far, as the number of monthly active users ordering from non-restaurant merchants grew 14% in December 2021, and the number of DashPass members has increased to over 10 million.
Although DoorDash certainly benefited from the pandemic, its guidance for 2022 indicates it expects demand for food deliveries to stay strong, as noted by CNBC.
Analysts also see value in DoorDash's expansion into new categories and international markets during this time of economic transition. JPMorgan analysts wrote in a note to clients that they believe "DASH's investments in growth opportunities — new verticals, services and 'geos' — being funded by profit from its core U.S. restaurant marketplace should be well received in a rising rate environment," CNBC reported.
One area of concern expressed by some is that DoorDash's policy wars may impact its profitability. According to MarketWatch, the company has spent $48.1 million to help pass Proposition 22 in California. Now, DoorDash and other gig companies are exempted from a state law that would have required them to treat their couriers and drivers as employees. As self-employed independent contractors, drivers are not covered by protections to which employees are entitled, such as sick pay and unemployment insurance.
Is DoorDash Worth Investing In?
The delivery industry is blooming, and DoorDash has emerged as a key company leading the change. Despite consistently losing money, the company is keen on growing, something that seems to keep investors hooked.
As many experts have cautioned, if restaurants return to normal after the pandemic passes, the business may be affected negatively. However, in a note to clients reported by CNBC, Deepak Mathivanan, an analyst at Wolfe Research, said, "Overall, the underlying demand for DASH's delivery offerings remains steady even as normalcy is slowly returning in many markets."
Current recommendation ratings from analysts surveyed by Yahoo Finance give DoorDash a 2.3 on a scale of 1 (strong buy) to 5 (sell). That score teeters between "buy" and "hold."
The average analyst price target is $172.40 — well above the most recent closing price of $96.21 on Feb. 18.
Takeaway

While skeptics have suggested that the demand for DoorDash's brand of delivery service is likely to diminish as time passes, the company continues to aim for expansion beyond delivering groceries and partnering with even more businesses. One key factor to watch will be whether the post-pandemic world sees significantly fewer diners — DoorDash's core customers — seeking the convenient delivery that this business revolves around.
Daria Uhlig contributed to the reporting for this article.
Data is accurate as of Feb. 18, 2022, unless otherwise noted, and subject to change.
Our in-house research team and on-site financial experts work together to create content that's accurate, impartial, and up to date. We fact-check every single statistic, quote and fact using trusted primary resources to make sure the information we provide is correct. You can learn more about GOBankingRates' processes and standards in our editorial policy.
Make Your Money Work Better for You