Shipt vs. Instacart: Which Grocery Delivery Service Is Best?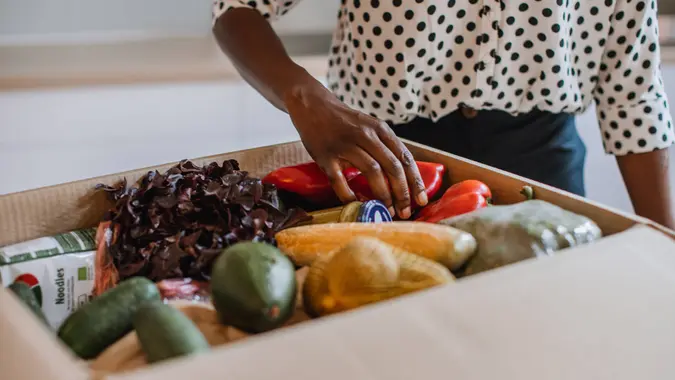 vgajic / Getty Images
Grocery shopping these days has become so much easier with e-commerce. You can go grocery shopping like you go online shopping — without leaving your house.
Online grocery shopping is already a part of many people's lives, and it has become a go-to option for many amid the COVID-19 pandemic. However, it has its pros and cons. It's a time-saving option that has made shopping easier and convenient. On the other hand, you might have to pay more, and you don't have the luxury of handpicking your groceries yourself.
There are many different grocery delivery services to choose from, including Shipt and Instacart, which are among the most popular options in the U.S. right now. Read on to find out what these services have to offer.
Shipt vs. Instacart: How Do They Compare?
Shipt is a delivery service provider that was launched in 2014 with its headquarters in Birmingham, Alabama. It lets consumers order groceries and household items via the Shipt app or website.
Make Your Money Work for You
Instacart is a delivery service that lets consumers buy groceries through the Instacart app or website. The company was formed in 2012 with its headquarters in San Francisco.
When looking at Shipt vs. Instacart, there are a few things you should consider to establish which one is better. They have a lot in common, but they do some things differently. Take the following factors into account to help you decide which service is right for you.
Shopping and Customer Experience
Customer experience is a very important aspect of online grocery shopping. Shipt and Instacart both generally offer a good shopping and customer experience but with a slight difference.
Shipt
Shipt lets you communicate in real time with your shopper while they're working on your order. By doing so, your shopper can choose groceries according to your preferences. A Shipt customer selects the stores they want to shop in and the items they want using the app.
Shipt allows you to choose your substitute preferences before ordering. You can also choose the time you want your groceries delivered within the same day. Shipt makes deliveries from over 100 retail stores in the U.S., and it contracts individuals to take and fulfill its users' orders. After a customer places an order, a Shipt shopper sees the order on their app and goes to buy the items on the list.
Make Your Money Work for You
The Shipt app and website support tipping. Shipt does not take any amount from the tips — 100% of what you tip goes to the shopper.
If you need assistance, Shipt offers customer service by phone 24 hours every day of the week, 365 days a year.
Instacart
You can shop from your favorite major grocery stores, neighborhood markets, drugstores and specialty retailers from home. After you select the stores and items you want, Instacart sends a personal shopper to buy and deliver what you ordered. With Instacart you can select your substitution preferences before placing your order.
If you need to make changes to your order or choose replacements for items that are unavailable, Instacart also lets you chat with your shopper in real time via the app or website.
The personal shopper picks up everything you ordered from the store and drives your order to you using their own car. Tipping is recommended when using Instacart. As with Shipt, 100% of your tip on Instacart goes to the shopper who works on fulfilling your order.
Make Your Money Work for You
Verdict
Both Shipt and Instacart have a good customer experience and offer the option of communicating directly with your shopper. However, Instacart's order tracker, which is integrated into the app, may convince you to choose it over Shipt.
Membership Fees and Benefits
Shipt and Instacart have different membership terms. Consider the advantages of each plan the services offer to decide which one fits you best.
Shipt
Shipt charges its users a membership fee of $99 annually. Initially, you could not use the delivery service without a membership plan. However, this changed — now Shipt offers a pay-per-order option. This means that you can make a single order without committing to a yearly membership plan.
Shipt can deliver your groceries to your home or place of work. It will even bring your groceries to wherever you are on vacation.
As a member, you get exclusive in-app coupons. You also get waivers on delivery fees if your order is over $35. Orders below $35 have a flat delivery fee of $9.99 for a single delivery. Customers who have subscribed to the annual plan enjoy unlimited same-day delivery for orders above $35.
Instacart
Instacart makes it possible to use the service even without a membership. It has a membership service called Instacart Express where you can pay $9.99 every month or $99 annually. Users with a membership do not pay delivery fees for orders above $35. They are also not charged peak hour fees, and they also get a discount on the 5% service fee.
Nonmembers are usually charged higher delivery fees during peak hours. They typically have to pay a delivery fee that starts at $3.99 for same-day orders over $35, while fees for deliveries under $35 vary.
If you use Instacart regularly, you should subscribe to the Instacart Express membership. Instacart Express ensures faster delivery and reduced service fees, which will save you a lot of money in the long run.
Verdict
While both Instacart and Shipt offer annual memberships for $99, Instacart offers flexibility in the form of a monthly membership — something Shipt doesn't offer. This option might be worth considering if you're not ready to commit to a full year. If you expect to use the service for at least a year, however, keep in mind that the annual membership offers a better value than the monthly membership in the long run.
Delivery and Locations
Delivery is one of the most important factors to consider when it comes to online grocery shopping. Everything you order has to come in time and in good condition. Shipt and Instacart offer slightly different delivery windows.
Shipt
With Shipt you can order groceries from your favorite local and national retailers. Shipt allows you to order a wide variety of products from many different stores. You can order pet supplies, medication, fresh foods, household essentials and even office supplies.
Shipt shows you the available stores around your area for delivery. It offers same-day delivery, and in some cities, delivery can take less than an hour. Shipt delivers groceries to over 5,000 U.S. cities. The delivery service is accessible to over 80% of households in the country.
In addition to its pay-per-order option for single online orders, Shipt offers passes that customers can buy at $8 for five orders and $9 for three orders. You can order from many different retailers. This can come in handy if you have food preferences or dietary restrictions and tend to have to shop in different stores to get every product you need.
You can also earn a $10 credit each time you refer a friend who joins Shipt and completes a qualifying order. This can help you save money if you plan on making regular orders.
Instacart
Instacart offers very fast delivery. It will deliver groceries in less than two hours per order. This applies to both members and nonmembers. The service is a good option when you want your groceries delivered immediately.
Instacart delivers groceries and other products, including:
Beauty products
Convenience goods
Home and decor products
Medicines and healthcare products
Office products
Sporting goods
The delivery fee usually depends on whether you're a member, the size of your order, and how fast you want it delivered. For nonmembers, it starts at $3.99 for same-day orders of more than $35. The minimum order you can make with Instacart is $10. It serves all 50 states in the U.S. and Canada.
Instacart works with freelance personal shoppers who will go to your favorite drugstores and supermarkets. Instacart also allows you to shop in stores like Costco even if you are not a member. Its shoppers will shop at most of the grocery stores near you, including wine shops and gourmet stores.
Instacart has partnered with almost 600 retailers to deliver in more than 5,500 cities in North America. Shoppers deliver products from more than 45,000 stores. Instacart is accessible to over 85% of households in the U.S. and 75% of households in Canada.
Shopping with Instacart might be more expensive than going to the grocery store yourself. Prices for products on the website or app are higher than they are in the actual store. However, markup is not the same in all stores.
Verdict
Shipt provides a shorter delivery window for eligible orders, but some users prefer giving their personal shoppers a bigger time window. This helps in case something goes wrong, delaying the time of delivery.
Instacart is, however, in more locations than Shipt. There are places where you cannot use Shipt but you can access Instacart.
Shipt vs. Instacart: Which One Should You Use?
When it comes to Shipt vs. Instacart, it all depends on what's more preferable to you.
Even so, there are a few ways you can decide which delivery service to use. Check whether each service is available in your area. You can do this by going to the Shipt and Instacart websites and entering your ZIP code. Calculate the amount of money you would need to spend. Work out or estimate how much it will cost you in delivery, membership and service fees.
Advice

Make sure to check the price of what you want to buy across different stores and brands before shopping. Use promo codes and avoid shopping during peak hours to save money on your order. You can also choose the curbside pickup option to reduce the amount of money spent on delivery fees.
After figuring out which delivery service is a more convenient option in your area and which one better fits your budget, you should have no trouble deciding which one to use.
Make Your Money Work for You