DoorDash and Airbnb (Finally) Go Public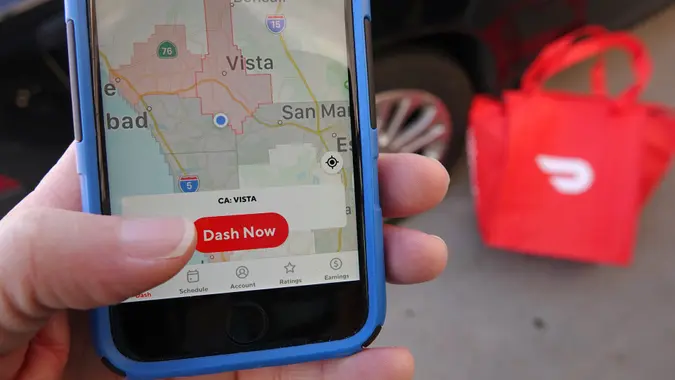 Simone Hogan / Shutterstock.com
While the coronavirus pandemic has wreaked havoc on many businesses–including the restaurant and hotel industries — it's actually been a boon to others. As the pandemic shuttered restaurants and turned hotels into ghost towns, it also created enormous growth opportunities for businesses that could step in and fill hospitality needs in a different way.
2020 in Review: How Small-Business Owners Got Creative in the Time of COVID-19
That might explain why DoorDash, a food delivery service, experienced explosive growth since the start of the pandemic. Although not as meteoric, the rise of Airbnb (a vacation home sharing service) has been on the upswing even before the pandemic. Both companies, seen as disruptors in their respective industries, will go public in IPOs after weeks of speculation.
Hot Tip: 10 Stocks Set To Soar From Holiday Shopping
DoorDash jumped way ahead in the food delivery sector during the pandemic, capturing a 50 percent market share compared to its closest competitor (Uber Eats, with 28 percent market share). In the third quarter of 2020, its revenue skyrocketed 268% to $879 million. It primarily focuses on serving the suburbs, which works out great because suburban families tend to spend more on food orders than urban dwellers. In its IPO, DoorDash — valued at $32.4 billion — priced its shares at $102 apiece, above its expected range of $90 to $95 reported last week.
Fast Cash: The Best 'Blank Check' Companies Getting a Fast Track to That IPO
As for Airbnb, it maintains the biggest house-sharing platform compared to many of its competitors. And with travel taking such a devastating hit during the pandemic, those who do venture out have been seeking alternative accommodations ranging from RVs to camping outdoors to house-sharing rentals. This positions Airbnb nicely as it goes public. In its IPO, Airbnb — aiming for a valuation between $26.4-$29.8 billion — priced its shares at $44-55 a pop.
More From GOBankingRates