How To Make Money on Airbnb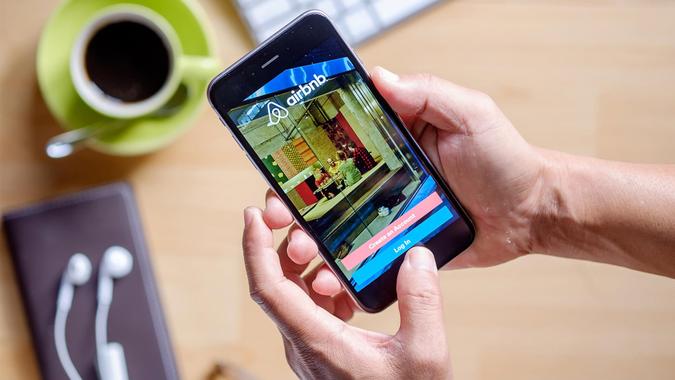 mirtmirt / Shutterstock.com
The sharing economy makes it possible nowadays to make money by renting your things out. You could rent your car out through Turo, your backyard swimming pool for parties or get-togethers using Swimply, and even a spare room or other properties through Airbnb. But is becoming an Airbnb host worth the trouble? Take a closer look at how to make money on Airbnb to find out if it's right for you.
What Is Airbnb?
Airbnb is an app and online platform that lets you host guests for stays at your home, apartment or additional properties. The platform is community-based. Guests and hosts can review each other. Reviews are important since others can see them to determine what type of guest or host you are.
How To Make Money on Airbnb
To make money on Airbnb, you will need at least one room you are willing to rent out. However, some hosts have taken Airbnb hosting from a side gig to a full-time business by offering several properties. Think outside the box — even if you don't have a handful of vacation properties to rent out, you can make money on Airbnb by putting together innovative stays, such as:
Make Your Money Work Better for You
How To Become An Airbnb Host
Becoming a host on Airbnb is fairly simple. The website walks you through the process by asking you questions about the property or room you plan on hosting. The main steps you'll need to follow in the setup walk-through are:
Provide info on the rental, such as location, number of rooms and features
Upload photos
Create an availability calendar
Add house rules
Choose prices
Review local laws about rentals
If some of the points on the list seem overwhelming, don't worry. Airbnb makes the process simple by offering tutorials and guides that help you make an informed decision. For example, the website may have information on laws in your city or town about hosting.
Once you become an official host, you'll (hopefully) start receiving booking requests. Before you decide on whether to accept a booking, you can review the person's profile to see past ratings from other hosts. You can also communicate with the guest through Airbnb's messaging platform.
How Much Can You Make as an Airbnb Host?
How much you can make depends on your location, the number of rooms or properties and your marketing skills. Globally, the average nightly stay costs $110 per night as of 2020, according to AllTheRooms Analytics. However, nightly rates in the U.S. are the highest in the world at $171 on average.
Make Your Money Work Better for You
Earning over $100 per night as a host sounds lucrative, but 100% occupancy or being fully booked the whole month is rare. Earnest found that nearly half of Airbnb hosts make at least $500 per month, with average monthly earnings of $924.
Some hosts beat the average (despite the pandemic) and have hit it out of the ballpark:
Alexis Schroeder of Fitnancials makes $2,000 in her busiest months for her northern Virginia property.
Kristen Sarah and Siya Zarrabi of Hopscotch The Globe made $10,000 their first month hosting their Ontario mountain house.
Susan and Boris Mordkovich of BuildYourBnb earn an average of $5,000 per month renting out a few of their properties.
What To Consider When Pricing Your Airbnb
Before you set a nightly price for your rental, consider some of the costs of doing business as a host. They include:
Insurance: Having a renters insurance policy is necessary to protect you against the costs of litigation or damage to your property.
Service fee: Airbnb's service fee is straightforward. You'll pay 3% on each booking. It's not much, but it does add up.
Taxes: You'll be liable for taxes on the income you make if you rent for more than 14 days per year. Speak with a tax professional to maximize your writeoffs and prepare for the tax filing.
Utilities: Don't forget to account for water, electricity, internet, trash service and gas on your rental.
Cleaning fees: Whether you hire a company or do it yourself, you will incur expenses to clean and prepare the rental before every guest's arrival. Many hosts offset cleaning fees by charging them to guests upfront.
Emergencies: A clogged toilet or leak tends to happen at the worst time. Having maintenance contacts on standby in case you need to make an emergency repair is important. Having to call a plumber on a Friday night is going to be pricey but part of being a professional host.
Supplies: Soap, toilet paper, cleaning supplies and more are part of the cost of doing business. Don't forget to account for the expense when deciding how much to price your rental at.
Make Your Money Work Better for You
Who's Eligible To Become an Airbnb Host?
As mentioned, you don't need a swanky beachside villa to make money on Airbnb. You can rent out a room — or even host a tent in your backyard. It seems that the more creative you are about the experience you offer your guest, the more popular your rental may be. There are limits, of course.
According to Airbnb, there are basic requirements all hosts must follow. Some of the main ones are:
Ensure your home is properly sanitized according to the Centers for Disease Control and Prevention's COVID-19 guidelines.
Provide essential amenities, such as toilet paper, soap, pillows, sheets and towels.
Respond to booking requests within 24 hours.
Maintain a high rating from customers.
Follow your local area's laws and ordinances regarding hosting.
No recording devices are allowed in bedrooms and bathrooms. Security cameras in other areas must be disclosed.
Have a clearly marked fire escape route.
Who's Not Eligible To Become an Airbnb Host?
Although Airbnb doesn't set too many limits on hosts, there are things you should look into before you sign up:
If you rent, your lease agreement may have a clause that forbids you from subletting or hosting your rental.
Some buildings or communities may limit the number of nights you can rent your location, or even which floors allow vacation rentals.
Certain neighbors may be hostile about the prospect of an Airbnb rental next door and could make your guests' stay unpleasant.
It's important to do your research first to make sure you don't land in hot water as a host.
Airbnb vs. Competitors
While hotels are the most obvious competitors to Airbnb, there are a few other websites or apps that could serve as Airbnb alternatives. Here is how they compare:
Airbnb vs. FlipKey
FlipKey is Tripadvisor's rental platform. To start off, the website isn't as clean and user-friendly as Airbnb's. It only has about 830,000 rentals at this time, compared to Airbnb's 4 million. However, many travelers live by Tripadvisor member reviews on things to do and places to stay, making it a reputable alternative to Airbnb.
Airbnb vs. Vrbo
Vrbo stands for Vacation Rentals By Owner. Founded in 1995, it's been around longer than Airbnb. Vrbo offers about 2 million properties, half of Airbnb's 4 million. Although Vrbo has made improvements over the years to create an easier experience for hosts and guests, Airbnb's platform is still easier to work with for booking and hosting.
Airbnb vs. Couchsurfing
The main difference between the two is that Airbnb is paid and Couchsurfing is free. You could get started by hosting a few couch surfers to get an idea of what it's like to have guests before you list on Airbnb. However, Airbnb makes it simple to get started and provides plenty of support and resources for new hosts that want to do it right.
Other Things To Look Out For
There are some factors and expenses that could affect the success of your business — and your bottom dollar. First of all, being mindful of the guests you accept at your property is important. Otherwise, you could risk damages to your rental. Wear and tear is to be expected. However, the risk of someone leaving with your towels or linens is also possible. Choosing guests with high ratings could minimize trouble down the road, but having a contingency fund to cover maintenance and replacement of items is essential.
Then there is the issue with upsetting your neighbors. Angry neighbors in some areas are pushing for more local ordinances, making it harder to run a business. Having a good list of house rules could be helpful to inform potential guests of what expectations you may have.
Takeaway

Many homeowners and renters can make money on Airbnb. All you need is the desire to provide a fantastic experience for your guests by ensuring they feel comfortable and welcome. It's a great way to make a little money on the side, or pay off your mortgage early.

Being an Airbnb host takes a little initial preparation to get the rental tidy, make it comfortable and take inviting photos. But the payoff is great — you can earn some money by renting out a space you don't use, your home while you're on vacation, or a spot in your backyard.