10 Best Small Business Loans of 2023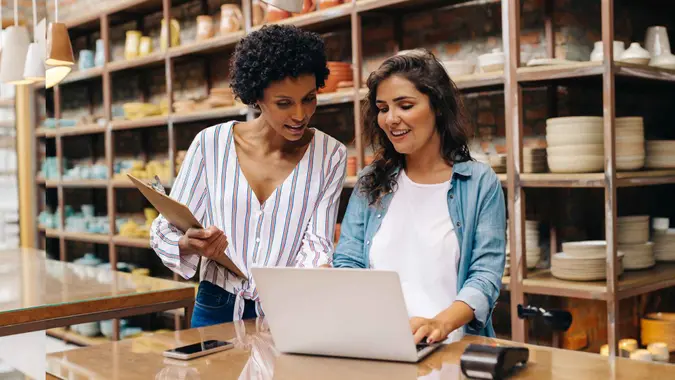 JLco - Julia Amaral / Getty Images/iStockphoto
Small business owners can often benefit from taking out a loan or line of credit to cover operating costs, bridge cash flow gaps or fund other things like marketing, production and growth. Since many types of small business loans exist, each with a different purpose and requirements, it's important to consider your options carefully before choosing one. With that in mind, here are the best small business loans in 2023 and what you need to know about them.
10 Best Small Business Loans
Each of the following lenders has been chosen based on the type of financing they offer, the time to funding, affordability and other key features.
1. OnDeck
OnDeck offers small business lending solutions, specifically term loans and lines of credit to U.S.-based businesses across more than 700 industries.
The lender's term loans come in amounts ranging from $5,000 to $250,000 and have a maximum repayment term of 24 months. The average annual percentage rate is 60.90%.
The company's business lines of credit range from $6,000 to $100,000 and have a yearlong repayment term. As a revolving form of credit, the term resets every time you make a new withdrawal. The typical APR is 52.60%.
Same-day funding is available. To qualify for either option, your business must be at least one year old and pull in $100,000 annually. You also need a 625 FICO credit score.
2. Wells Fargo
Wells Fargo offers some of the best startup and small business loans in 2023 — specifically those backed by the Small Business Administration. Options include SBA 7(a) and SBA 504 loans. Funds can be used for things like real estate, acquisitions, equipment financing and more.
Make Your Money Work Better for You
The maximum loan term is 25 years for commercial real estate. Loan terms for other business-related purposes cap out at 10 years. Depending on the loan type, Wells Fargo can finance up to $10,000,000 for your business. Interest rates are fixed or variable.
3. SmartBiz
SmartBiz provides SBA loans, term loans, business lines of credit and custom financing options. Requirements, fees and features vary by financing type. The time to funding is generally quick.
For example, SBA loans range from $30,000 to $350,000 and have 10-year repayment terms. They also have an APR of 11% to 12%. Your business must be at least two years old.
Term loans, meanwhile, cap out at $500,000 and have two- to five-year repayment terms. The starting interest rate is 9.99%. These loans also come with a 3% package fee and a 3% referral fee.
4. Fora Financial
Fora Financial also offers term loans to small businesses. Depending on your credit score, you could qualify for up to $1.5 million in working capital to help you scale your business. After you pay back 60% of the loan, you can apply for more funds if needed.
If approved, you'll typically receive funds within 72 hours. There are no application fees. You could also receive a discount for early repayment.
5. Funding Circle
Funding Circle offers small business loans with fast funding times — within 48 hours if you apply and are approved on a business day.
The process is simple. Fill out an online application and you'll see your financing options, which include SBA 7(a) loans, business term loans and business lines of credit. Rates, features and terms depend on the loan product.
Make Your Money Work Better for You
For instance, SBA 7(a) loans start at $75,000 and go up to $5 million. These loans have a maximum term length of 10 years. Rates start at 2.75% plus the current prime rate.
6. Fundbox
Fundbox has working capital loans for small and medium businesses. This option caps out at $150,000 and is a type of revolving credit with flexible repayment terms. Typical rates are around 4.66% to 8.99%.
You can apply online without affecting your credit score. If approved, you could receive funds by the next business day.
7. Credibly
Credibly touts itself as a simple solution to your business's financing needs. The lender offers working capital loans, merchant cash advances, business lines of credit, equipment loans, long-term business loans and other loans for small businesses.
Credibly has a quick pre-qualification option and offers up to $400,000 in funding. If you qualify, you could receive the money within 24 hours of approval.
8. National Funding
If you're looking for another online lender with a simple lending process and quick approval times, consider National Funding. This lender offers small business loans — working capital loans and short-term loans — ranging from $5,000 to $400,000. Funds are available in as little as 24 hours.
National Funding also provides equipment financing and leasing options. Funds cap out at $150,000. You could qualify for financing with fair credit or better, but you'll need to have been in business for at least six months.
9. Bank of America
A large, trusted lending institution, Bank of America, Member FDIC, offers small business financing solutions. This includes business lines of credit and term loans.
Make Your Money Work Better for You
With the Business Advantage Term Loan, you'll need to have a minimum annual revenue of $100,000 and have been in business for at least two years. Loan amounts start at $10,000 and come with 12- to 60-month terms. Rates start at 6.25%, depending on your credit score.
10. QuickBridge
With QuickBridge, eligible businesses could qualify for fast funding — within 24 hours in some cases — and tailored financing solutions. Options include small business loans, working capital loans, bridge loans, short-term loans and payroll loans.
This lender's small business loans max out at $400,000. There may be an origination fee, but there are no hidden fees. Interest rates depend on factors such as your personal credit score.
To qualify, your business must be at least six months old and make $250,000 in annual sales. After applying, you'll be connected with a funding specialist to help you along the way.
Types of Small Business Loans
Here are some of the main types of small business loans:
SBA loans: Backed by the SBA, these loans are beneficial if you want to expand your business, purchase equipment, refinance business debt, purchase commercial property or bridge cash flow gaps. These loans usually have a repayment term of five to 25 years. Perhaps the easiest SBA loan to get approved for is the SBA Express, since these loans come with an expedited lending process and are regulated by the Administration.
Term loan: This option lets you borrow money for business-related expenses. Like personal loans, you'll need to repay the loan plus interest over a set period of time.
Commercial real estate loan: These loans are designed to purchase property for your business, such as in the case of expansion.
Equipment loan: A type of term loan, equipment loans are secured using the equipment you purchase as collateral. You can use the funds to buy or upgrade equipment for business operations.
Business line of credit: A type of revolving credit, you can borrow up to a certain amount over a long period of time. You'll need to pay back what you borrow plus interest. This option is useful if you need funds but aren't sure exactly how much or for how long.
Make Your Money Work Better for You
Other common options include microloans,  which are essentially small loans, and invoice financing.
Where To Get Small Business Loans
The best place to get a business loan depends on a few factors, such as:
How quickly you need funds
Lender's typical rates and fees
Financing options and loan amounts
Repayment term flexibility
Lender credibility
Whether you already have a preferred lender (e.g., a bank or credit union)
Carefully vet any lender before choosing one to make sure it suits your needs.
Small Business Loan Requirements
Requirements largely depend on the lender, but here are some of the typical ones:
Minimum personal credit score (ideally 670 or above)
Business's creditworthiness
Minimum annual revenue of $100,000
At least six months to two years in operation
Maximum amount of business-related debts
Business industry
Solid business plan
Documentation verifying the business's details
Bottom Line
The best small business loans typically come from reputable lenders with competitive rates, fees and funding times. You can apply through private lenders online, banks or credit unions.
Depending on the type of loan, you may be able to use funds for things like initial startup expenses, commercial real estate, equipment and inventory needs, marketing, cash runaway funding and business expansion. Consider your business's needs carefully and compare several lenders before applying.
Information is accurate as of June 16, 2023.
Editorial Note: This content is not provided by any entity covered in this article. Any opinions, analyses, reviews, ratings or recommendations expressed in this article are those of the author alone and have not been reviewed, approved or otherwise endorsed by any entity named in this article.
Make Your Money Work Better for You