What Is a Good Credit Score?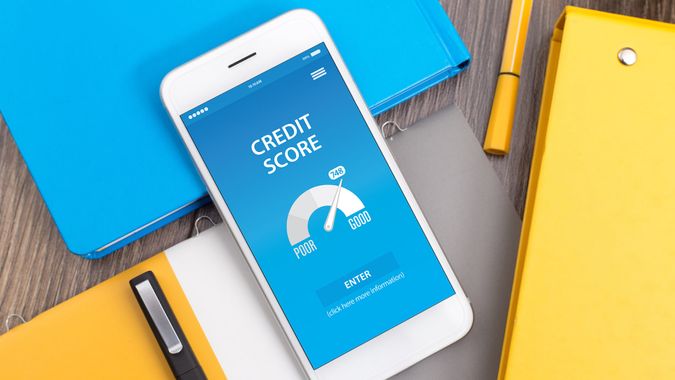 garagestock / Shutterstock.com
A credit score is a three-digit number, between 300 and 850, based on your credit history. Lenders use it as a measure to gauge your ability to pay back a loan. A good credit score is often considered to be 670 or higher, but it depends on the credit scoring model used.
Having a good credit score increases your chances of reaching your financial goals, whether you want to save more money for retirement or start a business. It also means that if you ever have an emergency, you will be able to get cash at more favorable terms.
Learn what's considered a good credit score and what it takes to achieve it.
What Is a Good FICO Score?
FICO stands for Fair Isaac Corporation, which provides one of the most common credit scoring models today. A good credit score means there is a higher chance of being approved for a loan with better terms and rates. Here's the FICO score scale to help you understand what's considered a good FICO score.
FICO Score Scale
Score
Rating
Indication
800+
Excellent
Easy approval, lowest rates
740-799
Very good
Good chance of approval, lower rates
670-739
Good
Considered acceptable borrowers
580-669
Fair
Subprime borrowers with higher rates and less chance of approval
579 and lower
Very poor
Considered risky borrowers (lenders may require deposits to access credit)
As people get older, they tend to earn more and make better decisions, so their credit scores trend higher. This is evident from what is considered a good FICO score by age.
Good FICO Scores by Age
Age
Good Fico Score
23 to 29
660
30 to 39
672
40 to 49
683
50 to 59
703
60 to 69
733
70 to 79
754
80 to 89
757
90 to 99
753
What Is a Good VantageScore?
While 90% of lenders use FICO scores, VantageScore is a newer model developed as an alternative by three major credit bureaus. It uses the same scoring scale as FICO and bases individual credit scores heavily on payment history and outstanding balances.
Therefore, while there might be some variation between the two figures, they tend to fall in the same general range and move higher or lower together over time. Here's a look at the VantageScore scale.
VantageScore Scale
Score
Rating
Indication
781-850
Super prime
Easy approval, lowest rates
661-780
Prime
Good chance of approval, lower rates
601-660
Near prime
Considered acceptable borrowers
300-600
Subprime
Higher rates and less chance of approval
Differences Between VantageScore and FICO
Although VantageScore and FICO both operate on the same credit-scoring scale of 300 to 850, the two models do have differences. Here a few to consider.
VantageScore is increasing in popularity and is updated more quickly than FICO scores.
For FICO to create a credit score, you must have at least one account that's at least six months old, whereas with VantageScore, a consumer must have at least one credit account, which can be less than six months old.
Additionally, FICO and VantageScore weight the factors differently that make up a credit score — specifically credit utilization, collection accounts and hard inquiries.
Good To Know

Even though FICO and VantageScore have their differences, the same behaviors that result in a good FICO score will lead to a good VantageScore — a consistent record of on-time payments, reasonable levels of credit utilization and low outstanding balances.
What Does Getting a Good Credit Score Get You?
A higher credit score provides a variety of benefits. It can help you get approved for loans and qualify for the lowest rates. On a long-term, cumulative basis, this can lead to significant savings, especially when considering mortgages or credit cards.
Credit scores are also used to screen potential tenants for rentals and job applicants in fields like finance, security and law enforcement. So, a good score can help people meet housing and employment goals.
What Factors Affect Your Credit Score?
According to the Fair Isaac Corporation, the company that created the FICO credit scoring algorithm, these are the factors that can result in a bad credit score:
Payment history: 35%
Amounts owed: 30%
Length of credit history: 15%
New credit: 10%
Credit mix: 10%
Here is the breakdown for how the VantageScore is calculated, so you can compare the two:
Payment history: 40%
Depth of credit: 21%
Utilization: 20%
Balances: 11%
Recent credit: 5%
Available credit: 3%
Importance of Payment History
Under both FICO and VantageScore, your payment history is the most important factor. It gives lenders an insight into your ability to make payments on time. It also includes details on missed payments, late payments, days past due and collection accounts.
Credit Utilization
Credit utilization measures the ratio of how much debt you have available compared to how much you are using. When credit utilization climbs above 30%, it can begin to affect your score negatively.
A high credit-utilization score can flag you as a high-risk borrower who has increased chances of missing payments or defaulting.
Credit Applications
A flurry of new credit applications is a sign of financial stress and can dent your credit score. These are considered hard inquiries. In contrast, soft inquiries — such as when you check your own credit — don't affect your score.
Length of Credit History
The length of your credit history also affects your score. A long track record of making payments on time and responsibly managing your accounts is a positive signal to lenders.
Credit Mix
Credit mix shows the number of revolving accounts like credit cards, versus how many are installment loans like mortgages or car loans. A good mix between the two is ideal.
What Factors Don't Affect Your Credit Score?
Many factors affect your credit score, but there are some that will not, including the following:
Factors Not Considered in Your Credit Score

Checking your credit score or credit report, since this is a soft inquiry
Race, gender, relationship status, education, religion, political affiliation or sexuality
Income level
Being denied for credit
How To Improve Your Credit Score
There are several steps you can take to improve your credit score. Some can pay off immediately, while others will take more time to show results. However, the results will be worth it. Here's what you need to know.
Step 1: Check Your Credit Report for Errors
The first thing to do is to access your credit report from each of the three major credit bureaus: TransUnion, Equifax and Experian.
Check each report for errors, such as fraudulent activity, accounts that don't belong to you or payments marked as late that you made on time.
Step 2: Prioritize On-Time Payments
Going forward, do your best to avoid late payments. Try to lower outstanding balances as much as possible. This is the clearest indication to lenders that you are not a risk and will have the most significant impact on your score.
Step 3: Don't Apply for New Credit Unless Absolutely Necessary
Additionally, don't apply for new credit unless necessary. New credit applications will temporarily lower your score.
Step 4: Develop Good Financial Habits
In the long term, some good financial habits are paying bills on time, paying off your credit card in full every month — if possible — and avoiding making several credit applications over a short period.
How To Get Your Credit Score
Knowing your score is the first step in improving it. You should also continue monitoring it to ensure that your efforts translate into a rising score. A variety of ways exist to get your credit score, including free options. Here's more.
Credit Bureaus
According to the Fair Credit Reporting Act, each of the three major credit bureaus — Equifax, Experian and TransUnion — are required to give you a free copy of your credit report, upon request, once a year.
You can request your free credit report at annualcreditreport.com, which is the only source for free credit reports that are authorized by law. And beginning in 2020, you can also get six free credit reports each year through 2026. To get started, visit Equifax or call 866-349-5191.
Credit Card Companies
Many credit card issuers provide access to credit scores along with updates to cardholders. Some of the most popular ones include CreditWise by CapitalOne, Chase Credit Journey and Discover Credit Scorecard. Check with your card issuer to see whether it provides this benefit.
Credit Counselors
If you are looking for ways to improve your credit, another option is to seek the services of a nonprofit credit counselor. Often, a counselor can provide you with a free copy of your credit report to discuss with you. You can find such organizations through the National Foundation for Credit Counseling.
This article has been updated with additional reporting since its original publication.
Our in-house research team and on-site financial experts work together to create content that's accurate, impartial, and up to date. We fact-check every single statistic, quote and fact using trusted primary resources to make sure the information we provide is correct. You can learn more about GOBankingRates' processes and standards in our editorial policy.