Do Bank Overdrafts Affect Your Credit?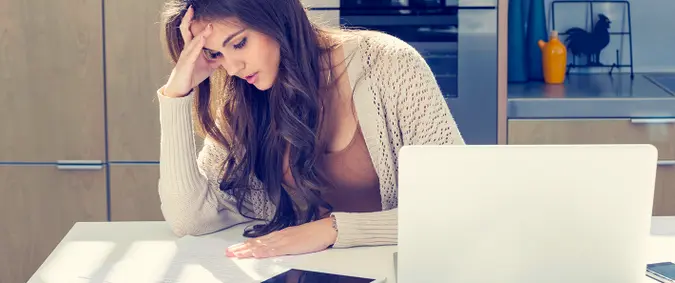 Courtney Keating / Getty Images
If you overdraw your bank account, it doesn't automatically hurt your credit. Your credit score will suffer, however, if you don't remedy the overdraft, according to Experian. A bank overdraft can ding your finances in other ways, too. For example, your bank will likely charge you a fee to cover the overdraft.
Checking account overdrafts do not directly affect your credit score. If the overdraft amount is sent to collections, however, that could appear on your credit report — which could damage your credit score. Find out what bank overdrafts are, how banks deal with them, ways they can ding your credit and learn how to avoid overdrafts for good.
How Banks Handle Overdrafts
An overdraft happens when you make a debit card payment or write a check for more money than you have in your account. The bank can refuse the payment — or, depending on its policy and what coverage you've agreed to, it can draw money from another account to cover it or extend you the money temporarily.
Related: Choose the Right Bank Account for You
The typical fee for extending the money is $35, which is often more than the overdraft amount. If you make repeated overdrafts, this can add up fast, and in some cases, you might be better off if the bank rejects the payment. Note that some banks enroll you in overdraft coverage automatically, so if you don't want it you have to opt out.
If the bank covers your overdraft, you'll have to pay back the amount of the overdraft plus bank fees. Some banks give customers a maximum of 30 days to pay the money back, but you should make every effort to bring your checking account to a positive balance as soon as possible. If the overdraft was for a small amount, consider asking your bank to waive the fee.
Related: Everything You Need to Know About Overdraft Protection
How Overdrafts Hurt Your Credit
Overdrafts become a problem for your credit report only if you don't pay them — and their associated fees — back, according to Experian. Once the bank classifies your overdraft as an unpaid debt, it can send it to a collection agency. If the debt goes to collections, the credit bureaus will receive that information and your credit score will suffer.
Although credit bureaus don't track overdrafts, "debit bureaus" like ChexSystems do, according to Experian. If you have repeated overdrafts on your account, that information goes into your debit bureau report, which in turn can affect your ability to open other bank accounts or even invest in CDs and mutual funds.
If the bank doesn't cover the overdraft, you have to square things with the payee. Suppose you write a check to your landlord and the bank doesn't cover it. You have to pay your rent as soon as possible, and your landlord can charge you a fee for the bounced check.
If you repeatedly bounce checks, the landlord might insist you pay in cash or start eviction proceedings. If he reports your unpaid rent to a collection agency it would affect your credit report as well.