What Credit Score Do You Start With?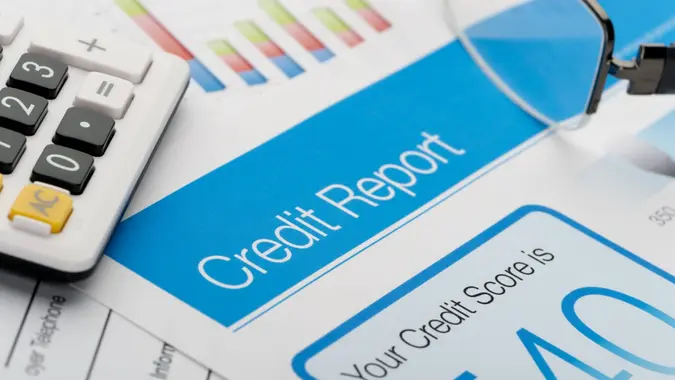 courtneyk / Getty Images/iStockphoto
When someone tries to make their first large purchase — like a car, home or furniture — they are often introduced to the complex world of credit scores. If a buyer has never financed a purchase or held a credit card in their name, then it's very likely that they have no credit score, because they have no credit history.
Read: Pocket an Extra $400 a Month With This Simple Hack
Initial Credit Score Range: Quick Take
Most people's initial credit scores are between 500 and 700 points, and this depends entirely on how they've managed their credit thus far. Every person's unique financial situation and history contributes to that score. You can't expect to have a high score, though, if you've never even had an account to begin with. Here are some things about credit scores you should know:
There is no beginning credit score model; you simply start without a credit score. 
The lowest possible credit score is 300, so it's a common assumption that your credit score starts there. However, although your first credit score will likely be lower due to your brief credit history or lack of lines of credit
It's unlikely to be in the 300 range unless you have seriously mismanaged your credit or credit limit.
While there is no base credit score, knowing how to effectively build credit is essential for accessing lower rates and financing. 
Understanding credit scores can help any borrower build their score over time.
What Is a Credit Score?
In simple terms, a credit score is a measurement of how likely someone is to pay their debts based on how they have handled debt in the past.
A credit bureau measures and checks your credit score. The three agencies are Equifax, Experian and TransUnion. These agencies use a person's Social Security number and personal information to track several components of their financing, spending and payment habits.
FICO Score
The most common credit score is the FICO credit score, which is made up of a combination of scores from the three bureaus. These three-digit scores are sometimes referred to as someone's "FICO score" and fall between 300 and 850 points.
Any time someone wants to borrow money to make a purchase, the institution they are borrowing from will check this score and use the number, along with employment history, to determine if they will lend to the borrower.
How Are Credit Scores Determined?
Credit scores depend on and are determined by a myriad of factors, including how long someone's credit history is, how many debts have been paid in full, how many times payments have been late or missed and how much debt remains outstanding. Credit card issuers often consider the length of your credit history, who the authorized users are and how many open accounts you have. 
Why Are Credit Scores Important?
Having a good credit score not only allows someone to borrow money, but borrowers with the best credit scores get the best interest rates on purchases. Whether it's a car loan, house payment or other large purchase, getting a better interest rate because of a great credit score can save a great deal of money on monthly payments.
If someone's credit is poor, or if they don't have credit at all, they might not be eligible for any financing. If this is the case, then buying a car or home becomes very difficult, and they might have to work on credit repair for months or even years to be able to obtain financing.
What Credit Score Does an 18-Year-Old Start With?
In theory, it would make sense that adults would have a "baseline" credit score, but that isn't how credit scores work. If an 18-year-old has never borrowed money, then rather than having an "average" credit score, their report would come back with "no credit." Unfortunately, in many cases, having no credit is worse than having bad credit.
One of the biggest hindrances to obtaining a great credit score for any young adult is the large weight that credit bureaus put on someone's "age of accounts." You can manage this issue by simply opening up one line of credit, and paying your bill on time. If you want some outside assistance you can look into platforms such as CreditStrong to help you build your credit quickly.
How To Build Credit 
The following list contains a few ways that people starting out with no credit can build a respectable score. Since these all involve some sort of borrowing money, the most useful method will be one that you are financially comfortable with.
Before taking these steps, you should ensure that your expenses do not outweigh your income and borrow responsibly. If you take any of the steps below and then miss payments or worse, default on a loan, it will have an inverse impact on credit that can take a long time to correct.
Get a credit card: Credit cards with low limits are available to people with no credit. If you are looking to quickly get a credit score established, these cards are a great choice.

The low barrier to entry and low risk with a credit card makes this an ideal way to get started with your credit journey. Some introductory credit cards have great benefits for young borrowers, as well. For example, some credit cards offer rewards, like cash back on gas station purchases, allowing you to build credit and save a little money, too.

Use a personal loan: Local banks will issue personal loans in small amounts — $1,000 or so — to people with little or no credit.

Because these borrowers do not have a credit history, the loans can have very high interest rates, so beware of taking out a large amount. If you take out a personal loan and make payments for six months, and then pay the loan off completely, it will do wonders for your credit.

Get a cosigner: If you are in the market for a car or home, you can typically obtain financing with no credit if someone with good credit signs on the loan with you.

In this case, your positive payment history still impacts your credit score, even though you were approved with someone cosigning.
Final Take To GO
Building credit can seem like an uphill battle, but the most important factors at a young age are to get involved early and make payments consistently. If you need help in this area you could use sources such as CreditStrong that can assist you in building your credit and payment history quickly.
FAQ
Here are answers to some frequently asked questions about credit scores.
What credit score will I start out with?

There really is no beginning credit score model; you simply start without a credit score.

Most people's initial credit scores are between 500 and 700 points, depending on how they've used their credit so far. You can't expect to have a high credit score, though, if you've never opened an account.

How long does it take to get a 700 credit score from 500?

Over time, if a debt isn't overdrawn and loans are paid off, the credit score will continually improve. Take steps to establish credit and earn a good score. The quickest way to improve credit from 500 to 700 is to simply pay all of your bills on time and consistently.
Caitlyn Moorhead contributed to the reporting for this article.
Our in-house research team and on-site financial experts work together to create content that's accurate, impartial, and up to date. We fact-check every single statistic, quote and fact using trusted primary resources to make sure the information we provide is correct. You can learn more about GOBankingRates' processes and standards in our editorial policy.