$80,000 Money Scam? Look for These Major Financial Red Flags Before Depositing Your Next Check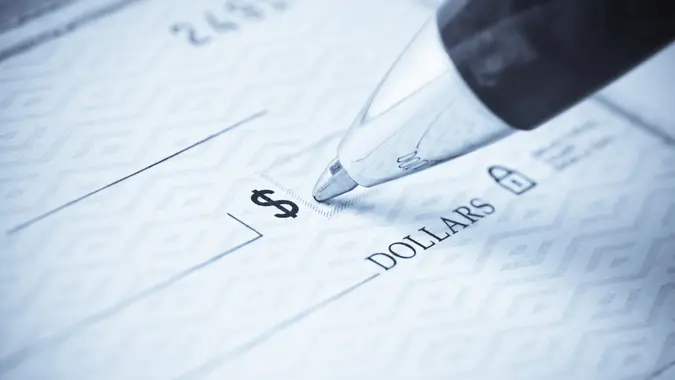 fluxfoto / Getty Images
When Joe Schulz*, a small-business owner based in New Jersey, received a new customer order from a company based in Dubai, he felt that something may be off. It turned out his instincts were right, as his company was targeted for what turned out to be a fake check scheme that could have cost him nearly $80,000.
Important: What Happens to Your Money If Your Bank Fails?
Read: With a Recession Looming, Make These 3 Retirement Moves To Stay On Track
Here's his story.
A Suspicious Order
Schulz's company specializes in making custom clothing and merchandise. Though he usually works with major brands, he occasionally does work with smaller companies. However, when a promotional company based in Dubai — where it's warm year-round — placed an order for 200 custom coats, he felt that something may be off. Nevertheless, he moved forward with the order.
Make Your Money Work Better for You
"They sent us the logo and we sent them a mock up for approval, and they said that they were going to wire the money from their United States-based warehouse in Pennsylvania," he said. "They asked for our bank account information to make a deposit."
However, the company ended up "accidentally" depositing too much.
"They deposited a check for $93,000 while the order was for $14,000," Schulz said.
Take Our Poll: What Do You Plan To Use Your Tax Refund For?
Signs of a Scam
After the deposit was made, the Dubai-based company sent Schulz an email stating that they made a wrong deposit of $93,000. They told Schulz to verify that the check had cleared — which it had — and asked him to wire back the difference between the deposit and the order amount — a whopping $79,000.
"Right away, we started looking into it," Schulz said. "I saw that the check was cashed into our account and that the money was already available in the bank. But I looked at the check and it was from a construction supply company based in Indiana."
Schulz did some research into the company listed on the check and found that it was a company that likely dealt with large orders, so a $93,000 deposit wouldn't raise any immediate flags.
"There probably wouldn't have been an issue until the company reviewed their monthly statements and noticed the check didn't match anything they had because they didn't write the check," he said.
Make Your Money Work Better for You
Schulz believes the scammers either stole the check or made a very convincing copy of the construction company's real checks.
"The check was perfect," he said. "Everything looked fine."
Taking Action
"As soon as we saw the check, we contacted the bank," Schulz said. "In the meantime, the company in Dubai sent us another email asking us to confirm we got the check. They had our routing number and account number, and we didn't know what kind of hacking they could do, so we had to freeze the account."
The Dubai company did send a couple of follow-up emails that Schulz never answered, but that was the end of the attempted scam.
How To Spot a Fake Check Scam
There are numerous types of fake check scams, one of which is the type of scam Schulz was almost victim to — an overpayment scam. With this type of scam, "people buying something from you online 'accidentally' send a check for too much and ask you to refund the balance," the Federal Trade Commission explains.
Make Your Money Work Better for You
These scams can be hard to detect at first, as fake checks generally look just like real checks, even to bank employees, the FTC explains: "They are often printed with the names and addresses of legitimate financial institutions. They may even be real checks written on bank accounts that belong to identity theft victims. It can take weeks for a bank to figure out that the check is a fake."
Because of this, the checks usually do clear in the bank, which was the case for Schulz.
"By law, banks have to make deposited funds available quickly, usually within two days," the FTC states on its site. "When the funds are made available in your account, the bank may say the check has 'cleared,' but that doesn't mean it's a good check. Fake checks can take weeks to be discovered and untangled. By that time, the scammer has any money you sent, and you're stuck paying the money back to the bank."
To avoid being scammed, Schulz advises other small-business owners to be extra careful about who they accept payments from.
"It wasn't a huge order so it didn't raise any red flags at first, but I did think it was strange they were ordering coats for Dubai," he said. "They didn't even want the order — they just wanted the money. If you see something suspicious — like coats to Dubai — be careful. Anything that looks too good is bad."
The FTC offers similar advice: "Don't rely on money from a check unless you know and trust the person you're dealing with."
What To Do If You Are Targeted by a Fake Check Scam
If you are the target of a fake check scam, the FTC recommends reporting the scam to them as well as the U.S. Postal Inspection Service and your state attorney general.
More From GOBankingRates
*Name has been changed to protect the subject's identity.
Make Your Money Work Better for You