8 Side Hustles No One Talks About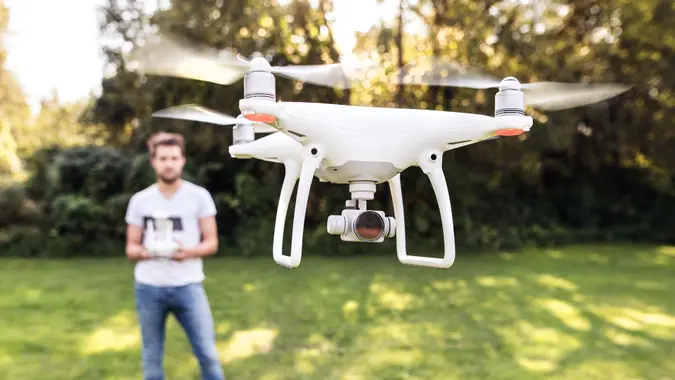 ©Shutterstock.com
Even before the pandemic prompted more people to engage in remote work and freelance gigs, side hustles have long been a great way to earn additional money. However, internet searches for side hustles always turn up the same set of options: blogging, freelance writing, taking surveys, etc. Those side hustles can work, but why deal with the masses who are trying to do so? Instead, look at these eight profitable side hustles that no one talks about.
Rent Out Your Pool
You've heard of Airbnb, which allows you to rent out your home or apartment, but have you heard of Swimply? If you are lucky enough to have a swimming pool at your home and don't mind sharing your space with strangers, Swimply allows you to rent out your pool for money.
According to CNBC Make It, an Oregon man made around $177,000 through the platform in under two years just by renting out his pool and backyard space. Of course, there are maintenance costs and hosting duties, but sharing your pool could be a great way to earn passive income.
Become a Notary Public
A notary public is a kind of low-key official, approved by each state's secretary of state to act as a fraud-prevention witness around signing significant documents, according to the National Notary Association. A notary has to follow specific rules and guidelines, and they can be called upon in a trial if there is a lawsuit.
To become a notary public, you need to be at least 18 years old, and while you do need to get trained and pass an exam, it's not complicated. Each state has its own guidelines, as well.
Make Your Money Work Better for You
Depending on how many hours you put in, you can earn between $500 and over $1,000 per month with this side hustle, according to the NNA.
Repair and Resell Appliances
When appliances break, the cost to hire a repair person if the item is out of warranty is often pricey. More often than not, people simply get rid of these broken items and invest in new ones, leaving appliances with potential on the market for the right person with the right skills — possibly you. Even if you don't think you have the skills to repair appliances now, the internet is a wonderful teacher for free.
According to The Penny Hoarder, you can also make money on adjacent tasks, such as selling parts of the appliances, charging to haul away people's old appliances, and selling some of the metal for scrap.
Get Paid To Store Things
Do you have a nice spacious garage that is miraculously uncluttered, or a backyard shed that's clean and safe from the elements? You can now earn money by signing up as a host with sites like Neighbor to store other people's stuff. You simply make your space clean and available, and Neighbor manages payments from renters and sends you your payouts. The platform also offers up to $1 million in liability protection for hosts.
According to the Neighbor website,you can set your own rates and earn between $50 and $500 per month storing other people's stuff.
Become a Professional Line Sitter
Waiting in a long line for a concert, event or product release can be tedious and frustrating. But what if you could be paid to do so? According to Invested Wallet, you can. Through freelancing sites like TaskRabbit and even Craigslist, professional line sitters can charge $25 or more per hour. Some people are still shy, due to the pandemic, about spending a lot of time in crowds, so this could be a great time to cash in.
Make Your Money Work Better for You
Fly Drones
Drones, those toy-sized planes with cameras built in, are more than just playthings; they're used in a number of professional fields, and they need operators to help navigate terrain, weather and other conditions.Some of the uses of drone operators, as noted by FinanceBuzz, include:
Aerial mapping
Agriculture monitoring
Drone deliveries
Promotional video for hotels and resorts
Real estate
Search and rescue training
Structural or building inspection
Wedding videos
You do have to earn a remote pilot certificate from the Federal Aviation Administration, but once you've jumped through this simple hurdle, you could be on the road to good money.
On average in the U.S., aerial or drone photographers earned between $250 and $350 per session as of February 2021, according to Thumbtack.
Pick Up Dog Poop
A great way to make money with a side hustle is to do tasks that most people would rather not do themselves. One surprisingly profitable task is picking up dog poop. Whether you do it for an individual family in their own backyard, a local park, or even on the sidewalks of your town, companies have sprung up offering this unusual but practical business model to willing freelancers. Some companies includeDoodyCalls and Pet Butler.
So long as you are not squeamish about animal waste, have a solid, easy-to-wash scooping tool, and can invest in waste bags, you could earn some decent side cash.
Donate Your Plasma
If you're not easily creeped out at the thought of selling a part of your blood for money, then donating plasma might be an excellent and easy side hustle for you. Plasma is a part of your blood that carries water, salt and enzymes — it's separate from your white and red blood cells, and it contains key ingredients such as antibodies and proteins that can be beneficial to sick people, according to Stanford Medicine Children's Health.
Make Your Money Work Better for You
According to Money.com, this is different than donating blood throughnonprofit organizations like the American Red Cross. You typically can only get paid to donate plasma to companies that are using the plasma in the process of making pharmaceuticals. You can donate your plasma once over a period of two days, up to a maximum of two times in seven days, according to the Food and Drug Administration, meaning you can do so more often than you can give blood.
You may also earn a significant "signing bonus" the first time you do so. With one big plasma donation company, CSL Plasma, you can get up to $1,000 in your first month as a donor.
Our in-house research team and on-site financial experts work together to create content that's accurate, impartial, and up to date. We fact-check every single statistic, quote and fact using trusted primary resources to make sure the information we provide is correct. You can learn more about GOBankingRates' processes and standards in our editorial policy.