Is Selling Plasma Worth It? Here's What To Expect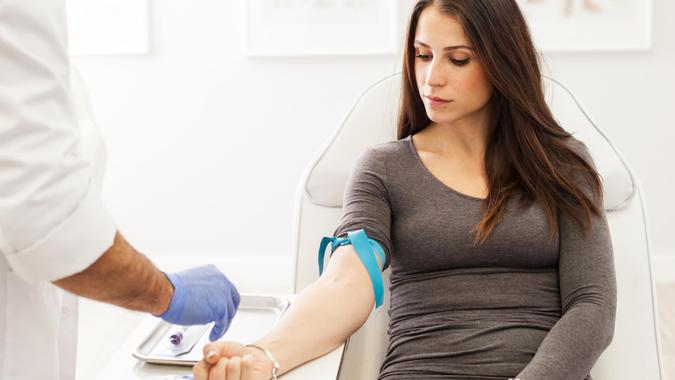 vitapix / Getty Images
There are lots of ways to make money outside of a traditional 9-to-5 job. One way you might not have considered is to donate plasma. If you are not squeamish about needles or blood, and you have a few extra hours, you could make extra money — and help others — by donating plasma. Here is what you need to know.
Why Should I Donate Plasma?
Plasma is the largest single component of human blood, making up about 55% of your blood. It is what is left after the red blood cells, white blood cells and platelets are removed, and contains antibodies, enzymes, other proteins, water and salt.
Plasma can't be produced synthetically, so donated plasma is the only source for people who need it. Donated plasma is used produce therapies that treat people who have many critical diseases and disorders, such as hemophilia and primary immunodeficiency, and to treat shock, burns and trauma. Right now, plasma from recovered patients is being used to treat people who have severe cases of COVID-19 and are hospitalized.
Make Your Money Work Better for You
How Do I Donate Plasma?
Before you go to donate plasma, you should:
Get enough sleep the night before.
Avoid alcohol for 24 hours before you donate.
Eat a meal but avoid caffeine on donation day.
Drink 4-6 glasses of water, juice, or other liquid without caffeine in the few hours before your appointment.
Here is what you can expect when you arrive at the donation center.
What To Expect

Check in. You will need to check in and provide an ID. If this is your first donation, there may be forms you need to fill out and some companies will ask you to watch a video about plasma donation.
Answer screening questions. You will be asked some health questions and some questions about recent travel and even your sexual history. All of these questions are designed to ensure that it is safe for people to receive your plasma. You will supply a small sample of your blood from a finger stick, which will be tested on-site.
A needle will be placed in a vein in your arm, and your blood will be collected through a tube. The plasma will be separated from the other parts of your blood – red cells, white cells, and platelets. These other components will be returned to your body through the same needle. This process is called plasmapheresis.
During the donation, you will be reclining in a chair with your feet up. You should not move the arm that the needle is in, but you can watch TV or read a book or magazine–as long as you can do so one-handed.
Because the blood has to be separated and returned to your body, it takes a little longer than a donation of whole blood. Expect your first donation to take about two hours, and subsequent donations to take about an hour and a half.
After you have donated, have a drink and a snack, and stay at the donation center until you are sure you are not feeling faint or dizzy. You should drink extra fluids and take it easy for the next 24 hours after your donation. Do not lift anything heavy, and avoid participating in any strenuous exercise. If you do not feel well, contact your doctor or the donation center.
Your first donation cannot be used, so plasma donation centers are looking for people who can donate regularly. You can donate again two days after your first donation, but no more than twice in a 7-day period.
How Much Money Can I Make Donating Plasma?
While the Red Cross does not pay plasma donors, there are several private companies that do compensate plasma donors. The amount you can earn varies, depending on the number of donations, your blood type, the location of the center and other factors.
Make Your Money Work Better for You
You get compensated for each donation, so the more frequently you donate, the more you can make.
Good To Know

According to their websites, CSL Plasma indicates that donors can earn up to $700 per month, and Grifols Plasma says that donors can make up to $400 per month.
Who Can Donate Plasma?
To donate plasma, you need to be at least 18 years old and weigh at least 110 pounds. You will need to pass a medical history screening to make sure your plasma is safe to give to others.
AB positive blood is the universal plasma donor, meaning that anyone can accept plasma from a donor with type AB+ blood. So, AB+ plasma donors are in particularly high demand.
If you have recovered from COVID-19 you may be eligible to donate convalescent plasma, which is being used to treat patients with severe COVID-19.
Make Your Money Work Better for You
Where Can I Donate Plasma?
Some hospitals and biomedical companies collect plasma donations. The American Red Cross also collects plasma donations. To find a plasma donation center near you that pays for donations, visit DonatingPlasma.org and search for a location near you.
You can make an appointment online. Pay attention to the requirements for what you need to bring to your first appointment — some places require different types of identification.
Is It Worth It?
Only you can decide if plasma donation is worthwhile for you. Considering that you could earn some decent money in the time that you might otherwise spend in front of the TV, and you could help a patient who desperately needs it, it is not a bad option. Oh, and most donation centers let you watch TV while you donate, so you can even catch up on that show you have been watching.
Other Ways to Make Money
Our in-house research team and on-site financial experts work together to create content that's accurate, impartial, and up to date. We fact-check every single statistic, quote and fact using trusted primary resources to make sure the information we provide is correct. You can learn more about GOBankingRates' processes and standards in our editorial policy.
Make Your Money Work Better for You