How To Sell on Etsy: A 6-Step Guide for Beginners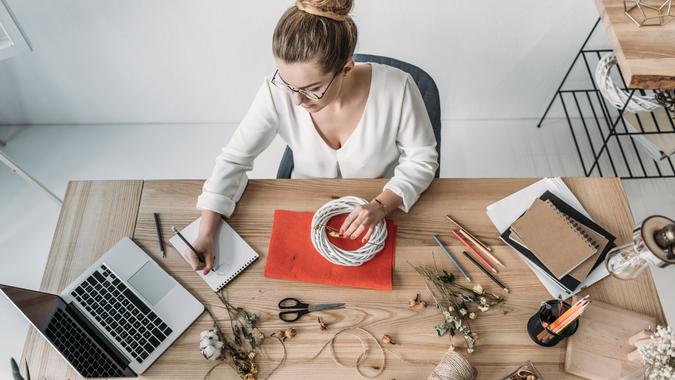 LightField Studios / Shutterstock.com
Etsy is a global e-commerce platform, a collection of shops started and stocked by creative entrepreneurs. Since it was founded in 2005, it has grown to number 81.9 million buyers and 4.4 million sellers. The website is an excellent place to sell your crafts for a profit.
Etsy crafters sell thousands of unique items, from jewelry to art to stickers. But how do you get started to ensure success? It takes market research to determine what to sell and how to price your merchandise, a marketing plan, good photos of your inventory and some perseverance. But with a reach of nearly 82 million buyers, the time and effort can be worthwhile, whether you want to build a full-time business or make money from your hobby.
How To Sell On Etsy (A Step-by-Step Guide)
Before you get started, make sure you understand how Etsy works and what kind of time commitment it requires to be successful. Here's what you need to do to start your Etsy shop:
1. Do Your Research and Start Planning
There's a lot to learn about Etsy before you start selling. That includes finding information about the top-selling items and the cost of doing business on Etsy. Remember that what you sell must be handmade, vintage or craft supplies.
Make Your Money Work Better for You
Decide What To Sell
Perhaps your special skill is making decorative throw pillows. Take a look at what the sellers in that category are creating to see what you can offer that is different. Can you introduce alternate shapes, sizes or fabrics? Do you offer personalization? (That would make a great wedding shower gift, such as a pillow with the words "Johnson Family, Established 2022.") Can you create a product that you can piggyback on the pillow, such as a matching valance?
Also figure out what your competitors are charging for their pillows. You'll need that information as you set your price structure. Now is the time to determine if you can make your pillows to sell at the going rate and turn a profit. Figure in your labor and materials cost as well as the Etsy fees. If you're not going to make money, rethink Etsy.
Make Your Money Work Better for You
Know What Etsy Charges

The company doesn't charge any user or monthly fees, but there are three expenses when selling with Etsy:

It costs 20 cents to list an item for four months.
You'll pay a 5% fee per transaction once the item sells.
There is a payment processing fee of 3% of the sale, plus 25 cents. The transaction is completed on a secure platform.
Etsy also offers Etsy Plus. For $10 a month, you'll get help standing out in the crowd through advertising credits and advanced shop customization and more. This could prove an option for you as your shop grows.
2. Set Up Your Etsy Account
When you're ready to take the plunge, it's easy to set up your Etsy account. You'll register with your Google or Facebook account, or create a new username and password, and follow the prompts. Setting up an Etsy account is much simpler than trying to create your own website. You don't need to be tech savvy to sell because Etsy guides you through each step of the process. 
Make Your Money Work Better for You
Then the hard work begins.
Name Your Shop
Choose a name for your shop, limited to 20 characters, that describes your merchandise, stirs feelings in buyers or is unique enough for prospective buyers to find again easily when they're ready to buy, the Etsy Sellers Handbook recommends. Once you've picked your name, you can create a logo. You can do that yourself for free on a website such as Canva, or find a pro to do it for you through Upwork or Fiverr.
Take Photos of Your Inventory
You probably have been sewing your throw pillows for months with an eye toward opening your Etsy shop. You have a beautiful collection that you're proud to post on Etsy.
But you'll want to make sure that prospective buyers see your pillows the way you see them. That starts with your photographs. Etsy has a comprehensive guide to photos that you'll want to review before you start snapping pictures of your items. In short, Etsy recommends photo styling, which involves using props, models or different backdrops. Your pillows will look more attractive on a coordinating sofa or chair than propped up on your kitchen counter.
If you're selling something like one of your paintings, for example, use a background with a neutral color. Etsy recommends a white or gray background kept simple and uncluttered so that the buyer can focus on your art.
One big mistake that is easily avoided when selling on Etsy? Poor photography.
3. Write Eye-Catching Listings
Your written words will help to sell your product, too. Start with a title that includes keywords a buyer might search for when looking for that type of item. It's important to put your product's key attributes at the beginning of your title, too.
"Your title should make it easy for shoppers to quickly see what you're selling and what makes it unique," according to the Etsy Sellers Handbook. "Shoppers only see the first few words of your title when they're looking at search results, so make sure you're using that space to describe what your item is. Although it's important to be descriptive and use relevant words and phrases, your titles should be short and easy to read."
The body of your description should describe your products accurately and include details such as size, what it's made from and why it is unique to your shop. Also clearly communicate important variables such as shipping rates and options.
If you're going to sell on Etsy, study other successful shops. Whether it's a competitor or a store offering something entirely different from your product, there is a lot to learn from checking out what other sellers are doing to reach buyers.
4. Don't Neglect Your Social Media
The power of Facebook, Twitter, Instagram and Pinterest shouldn't be forgotten. Every friend or follower you have on social media is a potential buyer, and Etsy makes it easy to link your listings to your accounts.
In fact, through Etsy, you can create six types of posts to share on social media. Those are:
Your five-star reviews
Your most recent listings, up to 25
Upcoming coupon or sales events
Items you've favorited
Milestones you've reached, such as the anniversary of your shop
Updates about your shop
These can post to your social media just by clicking "Shop Manager" from your Etsy account, then clicking "Social Media." Create your post, add images and your caption, and then choose the platforms where you want your posts to go.
To be successful, you should post regularly; set a schedule as a reminder. Vary the posts you share so that your followers aren't inundated with just "buy, buy, buy" messages. Photos of works in progress or your creative process can be valuable. Be sure to respond to comments your followers make to keep the conversation running.
5. Provide Top-Notch Customer Service
Communicating with customers is key if you want your Etsy business to thrive. Given that Etsy items largely are handmade, a prospective buyer might want to customize an order and will contact you directly to inquire. For example, you might have posted a listing for a throw pillow in red buffalo check and a customer really wants navy blue checks. Or, a customer might be more tempted to buy from you if you can ship it on the same day.
Responding right away, whether you can fulfill an order or not, will show customers you are a serious business person. Pleasing a buyer likely will result in a five-star rating, which is the aspiration of every seller and shows other customers you can deliver on your promises.
No matter what the circumstances, don't forget to provide fast shipping options for your customers. Etsy shipping options might include standard shipping times, but shipping your items fast is a great way to impress and secure repeat customers.
6. Commit Time To Grow Your Etsy Business
Etsy sellers recommend doing something every day toward reaching your selling goals. That could be making items one day, taking the photos the next and adding the listing on the third day. Etsy is as big of a time commitment as you make it. Like any business, however, the more time you're willing to commit to making smart decisions, increasing production output, promoting items on social media and planning for the future, the more successful you're likely to be.
Making Money Guides
Alicia Bodine contributed to the reporting for this article.