How To Cut Costs on Pet Food and Other Pet Needs Amid Inflation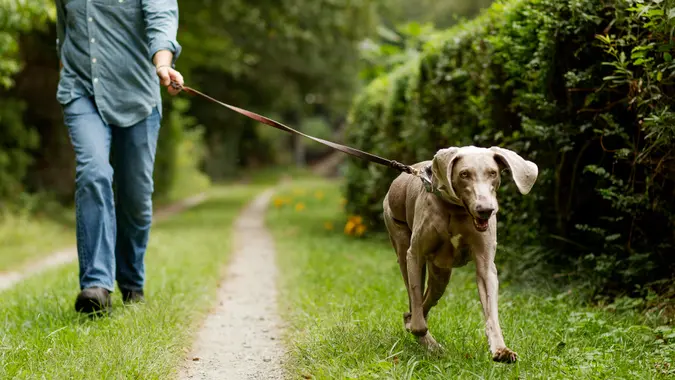 stevecoleimages / iStock.com
As inflation continues to batter our bank accounts, consumers are forced to cut costs wherever they can. Unfortunately, our dearest family members — our pets — are also feeling the pain. 
According to a new survey by LendingTree, more than 75% of pet owners say the cost of their pets' care is increasing, and 26% say they are struggling to cover these rising costs.
Just as there are ways to save money on human expenses, there are ways to save money on pet-related costs. 
Here are tips on how to cut costs on pet food and other essentials amid inflation. 
Make Your Own Pet Food 
"Firstly, you can make your own pet food," said Richard West, founder at PuppyHero. "It is one of the most cost-effective options for saving on pet food. For instance, for homemade dog food recipes, you will only need organ meats, beans, carrots, flour and rice. All these ingredients are cheap and easily available."
Bake Your Own Treats 
"Bake your own treats by combining baby food meat (free of onions/onion powder) or veggie/fruit and whole wheat flour," said Marissa Rizzuto, pet savings expert, animal rescuer and owner of I Love My Pet More Than You. "If you enjoy treats without the extra fillers but hate the price, this is a great recipe.
"All you need is two 4-ounce jars and two cups of flour. Heat [your] oven to 350, create a dough, use a cookie cutter, put in the oven for 20 to 25 minutes. This makes about 15 to 20 treats depending on how large you cut them." 
Make Your Money Work for You
Track Pet Food Prices 
"The best deal you can get on pet food is buying it in bulk and stocking up when it's on sale," said Andrea Woroch, savings and budget expert for Rover. "Use price-tracking tools like PriceBlink for instant price comparison or Droplist to monitor price drops of when your pet's favorite brand and flavor goes on sale."
Buy in Bulk
"Larger bags and batches of pet food are almost always cheaper per ounce than the smaller options," said Daniel Caughill, co-founder of The Dog Tale. "This means you'll have to lug a bigger bag home from the grocery store, and you'll have to make room for it in your pantry. But it's worth it to shave a modest amount off of your pet's monthly food cost."
Shop Supplies at Discount Retailers 
"Marshalls and TJ Maxx sell pet care goods at a significant discount, making them a great place to buy toys, dog beds, bowls and more," Woroch said. "I have found savings around 50% off brand names compared to what the same item costs at a pet care store."
Get Meds From the Pharmacy, Not the Vet 
"When a vet prescribes a med, ask for a written prescription instead of the prescription [product] itself,"  said Robert Bradley of Superb Dog. "You can get medications that are common to humans at regular pharmacies (including discount ones like Costco), or order your meds online from discount pet pharmacies like 1-800-PET-MEDS."
Invest in Pet Health Insurance 
"Pet health insurance is a great way to manage costs," said Dr. Erin O'Leary, founder and medical director of Heal House Call Veterinarian. "It won't necessarily save you money, but it can eliminate the nasty surprise of having to come up with $1,800 on the spot — that's a low average cost at a pet emergency clinic for an unexpected illness or accident. Pet insurance companies are highly competitive these days, so they all tend to offer a good way to budget for pet care."
Make Your Money Work for You
Get Pets Fixed at a Low-Cost Shelter 
"Find a low cost spay and neuter shelter in your area to have your pet fixed," said PetMeds partner Dr. Lindsay Butzer, DVM. "A regular neuter price of a large-breed dog at a private practice can be up to $1,000 now — with antibiotics, pain medication, e-collar, etc. — but a shelter may have lower prices to offer you closer to the $300 to $500 range."
Join Loyalty Programs  
"Once you find a store that you prefer to shop at, join the loyalty program or programs," said Julie Ramhold, consumer analyst with DealNews.com. "Some programs will hand out general discounts, like coupons for select purchase amounts, but they may also tailor offers to your shopping needs. That means if you're only shopping for cats, you might not see offers for dog food, which is a good thing."
Subscribe & Save
"If you know you'll be sticking with one kind of food or treats, consider using subscribe-and-save types of programs with sites like Amazon or Chewy," Ramhold said. "Often you can save a significant amount up front, and then repeat orders will save something like 5% or more just for sticking with them.
"Note that with Chewy this is known as Autoship, and you save 35% on your first order, plus 5% on orders after that. With Amazon, you can save 5% on your initial order and then up to 10% on future repeat orders. It's worth seeing if your chosen pet store offers something similar as well; for instance, PetSmart also has Autoship options with similar terms to Chewy's."
Get Support From a Non-Profit 
"If you are really struggling to afford pet food, there are a number of organizations that provide assistance to pet owners in need," said Graydon Driver, a contributing writer at Doodle Dog Club. "These organizations can provide you with free or discounted pet food. Some of these organizations include the Humane Society, the SPCA and local animal shelters."
Plus, some of these places offer free vaccines.
More From GOBankingRates