6 Best Free Grocery Delivery Promotions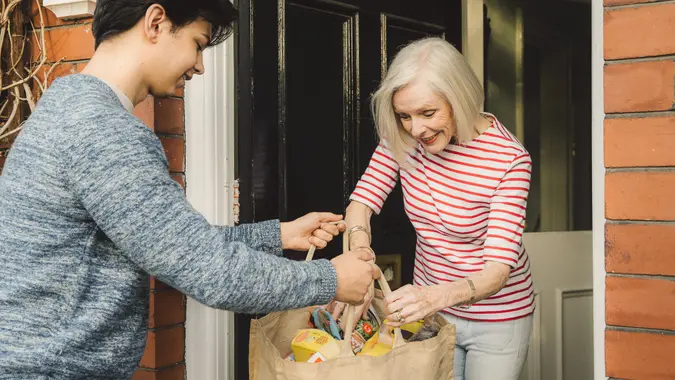 DGLimages / Shutterstock.com
Your refrigerator is empty, but you don't have the time or energy to go to the grocery store. Thankfully, plenty of supermarkets offer free grocery delivery promotions, allowing you to get food dropped off at your doorstep without paying a dime — that is, for the delivery; you'll still pay for the groceries.
See: How To Build Your Savings From Scratch
Many stores have partnerships with major delivery services like Instacart, which often offers promotions. So, how can you get free delivery through Instacart?
Here's the answer to that question, along with a look at where you can get free grocery delivery right now.
1. Walmart
Get free grocery delivery at Walmart by signing up for a 30-day trial of Walmart+. You'll receive unlimited grocery delivery from your local Walmart during this trial period, with a minimum spend of $35.
If this service becomes indispensable, you can always keep it after the free 30-day trial period. This will cost you $12.95 per month or $98 per year.
2. Albertsons Companies
One of the largest food and drug retailers in the world, Albertsons Companies includes a plethora of major grocery chains, such as Safeway, Acme, Albertsons, Vons and Pavilions.
Safeway, Acme, Albertsons, Vons and Pavilions currently offer the same free grocery delivery promotion. You'll receive $20 off, plus free delivery on your first order, when you spent $75 or more with code SAVE20.
3. Publix
Like many supermarkets, Publix offers grocery delivery through Instacart. You'll get free delivery on your first three orders made through Instacart within 14 days of purchasing the first order.
Make Your Money Work for You
Orders must total $10 or more to qualify. Do note, you can also get alcohol delivered, but you may be charged a $0.01 alcohol delivery fee, depending on your location.
4. The Kroger Co.
One of the world's largest retailers, The Kroger Co. has more than two dozen brands under its umbrella, including Ralphs, Kroger, Harris Teeter and King Soopers.
Ralphs, Kroger and King Soopers offer free grocery delivery through a trial run of Boost. The free trial lasts 30 days, and you're required to spend at least $35 per order.
If you decide to keep Boost after the free 30-day trial, it will cost you $99 per year or $12.99 per month for free delivery in as little as two hours. Next-day delivery costs $59 per year or $7.99 per month.
Similarly, Harris Teeter's HTPlus service also offers free grocery delivery on orders $35 and up when you register for a free 30-day trial. Free delivery in as little as two hours also costs $99 per year or $12.99 per month, and free next-day delivery is also $59 per year or $7.99 per month.
5. Food Lion
Get free pickup or delivery at Food Lion when you purchase two qualifying items — such as Bounty Paper Towels, Tide Liquid Laundry Detergent and Dawn Ultra Dishwashing Liquid Dish Soap — through June 27. You'll receive $4 off your total purchase that will cover standard pickup and delivery fees.
6. Wegmans
Another supermarket that works with Instacart, you can get free grocery delivery at Wegmans. Part of the Instacart+ promotion, you'll get free delivery three times within the first 14 days of signing up.
Make Your Money Work for You
If you decide Instacart+ needs to be part of your shopping routine, it will cost you $99 per year.
Does Trader Joe's Deliver?
If you're hoping for free grocery delivery at Trader Joe's, you're out of luck. This is because the beloved chain doesn't offer delivery or even curbside pickup at all.
According to its website, the reason for this is the company feels like third-party delivery services are unable to match its "outstanding in-store value and shopping experience." Therefore, if you have a craving for a TJ's-brand product, you'll have to go into the store yourself and get it.
Benefits of Grocery Delivery
As you surely noticed, all of the free grocery delivery options listed above are available on a promotional basis. Therefore, you'll be able to get free delivery no more than a few times before you have to pay.
At first glance, paying for grocery delivery might sound like an expense you don't want, but it might actually be beneficial. For example, if you're prone to impulse buys at the store or have to bring your kids shopping — and they tend to covertly slip items into the cart — this could help you save money.
Plus, if you always find yourself trying to find more hours in the day — who doesn't? — or don't have reliable transportation to get to the store, grocery delivery might be a game changer.
Regardless, it's definitely worth using on a trial basis, as free grocery delivery is a deal you don't want to pass up.
Make Your Money Work for You
Information is accurate as of June 18, 2023.