6 Ways To Make Money Off Social Media in Your 20s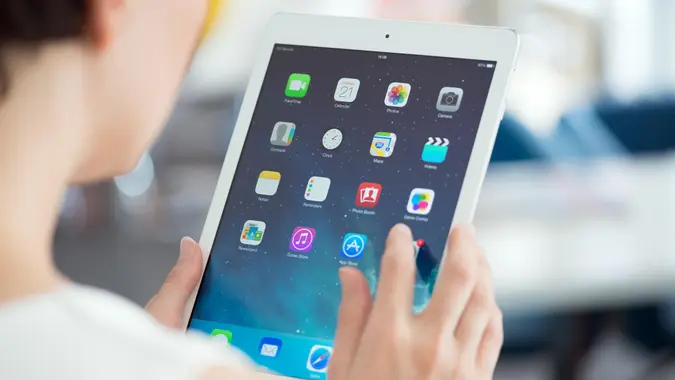 pressureUA / Getty Images
While it might seem like the influencers you follow on Instagram, TikTok and YouTube have follower numbers in the millions, making money off social media doesn't require a high follower count. With some intentional planning and insight from the experts, you can be well on your way to turning your social media into a successful side hustle.
Keep reading to discover six ways to up-level your social media habits in order to create a new stream of income in your 20s.
Have a Plan and Find a Niche
Before you get started making money on social media, it's important to have a plan for how you will turn your social media presence into a financial venture and curate a marketing plan in order to successfully advertise your offerings.
"If you decide to just post on social media and 'see how it goes,' it is going to be much harder to monetize," said Jay Zigmont, Ph.D., CFP, founder of Childfree Wealth. "There are many content creators that have a good following that are still struggling to make money off of their presence."
Make Your Money Work Better for You
When it comes to monetizing your social media, it's important to pick a niche group that you can make an impact on.
"To find a niche, think about what you enjoy and who you want to serve," Zigmont said. "You want to be THE go-to person for something."
Whether you are a barista who enjoys talking about new coffee recipes or a yoga instructor who can teach people how to hold impressive upside-down poses, there is a social media opportunity for you.
Partner With Brands
Creating an aligned partnership with brands that cater to your social media niche and your audience's interests is a strategic opportunity to market and advertise products. This is a particularly smart avenue for making money off social media, as you have a lot of freedom to create ads for companies in a way that is engaging and viewer-focused.
One successful way that YouTuber Rosanna Pansino collaborates with brands is by incorporating sponsored content within an engaging video that is related to the sponsorship. In the YouTube video "6 EASY Recipes For Mother's Day that Mom Will Love!," Pansino starts the video by introducing herself and then letting viewers know in the first 30 seconds that the video is sponsored by Walmart. In this baking video, Pansino relates the baking content to the sponsorship by including ingredients from Walmart and sharing why she loves their products.
Make Your Money Work Better for You
Pansino follows a very successful format for branded videos on YouTube, as many social media marketers aim to engage their audience within the first few seconds of the video in order for their video to be pushed to users via YouTube's algorithm.
Use Affiliate Links
Monetize your content on social media by setting up an affiliate network. Consider using platforms such as Skimlinks or LikeToKnowIt in order to make money off the links your followers click on. As there are many affiliate network sites for different brands, be sure to apply to the networks that feature brands that fit you and your audience.
For example, social media influencer Ali Fedotowski links her LikeToKnowIt account in her Instagram bio. By clicking on this link, her followers can easily shop for her outfits, makeup products, home decor and kitchen appliances. All of the products featured on Fedotowsky's LikeToKnowIt include the statement "commissionable links" so her followers know that she is being supported by their shopping.
Sell Your Own Products
Make your social media appealing by offering products and exclusives that your followers won't be able to find anywhere else. If you are a skincare reviewer, consider launching your own skincare line; or, if you are a French professor, consider selling language learning guides or creating an app to help people learn the language.
Make Your Money Work Better for You
"Where people have done well on social media is to connect their audience and niche to a product you offer," Zigmont said. "This may include things like books, coaching, services, your products and more. In that case, social media becomes a marketing tool as part of a bigger financial plan. When you are offering a product or service, you may be able to succeed with a small social media presence."
Produce Exclusive Content
You can become a sought-after creator on social media by creating an exclusive paid membership option. For followers who want the inside scoop, you can offer a monthly subscription for a small fee. Platforms that cater well to creating a subscription package with more content include YouTube, Twitch, Twitter and Patreon.
One example of a successful influencer on Patreon is Rob Swift, a world-class guitarist who offers weekly lessons on technique, classic songs and music theory. For $2 a month, members can receive general access to Swift's Patreon feeds, popular YouTube guitar lessons and direct communication with him. Swift then offers three additional levels for those looking for early access, his original recordings, additional lessons and study materials.
Create Merchandise
Similarly to opening an Etsy shop, you can turn your social media into your own shop and sell T-shirts, hoodies, stickers and other products.
Make Your Money Work Better for You
You can design custom products on websites such as Teemill or Shopify to test your ideas and create unique designs that cater to your audience's taste. These websites are ideal for newer sellers, as you can upload your ideas, and they will do the printing and shipping for you.
More From GOBankingRates
Make Your Money Work Better for You