10 Places To Sell Used Clothes Online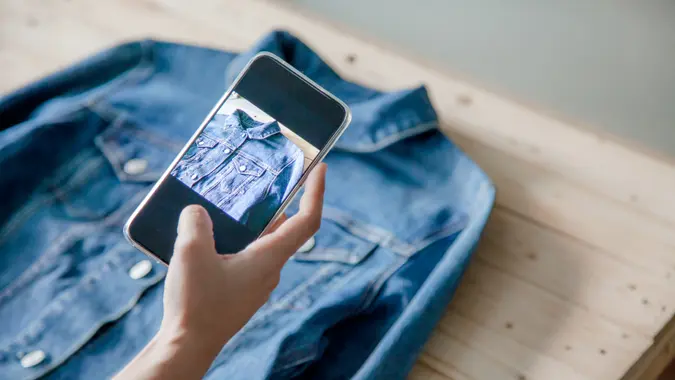 ©Shutterstock.com
When it's time to clear out the closets and push the refresh button on your style, don't overlook the option of selling used clothing online. It's easier than ever to send your old clothes, shoes and accessories to online consignment stores or resale sites and make money on the gently used items cluttering your closet.
Consigning and reselling are great ways to earn extra income online on the side. Before you start clearing out your closet, check out how and where to sell used clothes online to get the most bang for your buck. Once you declutter, you can also re-clutter by saving money on designer goods at these same shops.
Where To Sell Used Clothes Online
People who know how to sell used clothes also know how to make money online. Today, you can shop online consignment stores to find a great deal, or sell clothes online as a side hustle to make some extra cash. To get started, consider the following options, which are among the best sites and apps where you can sell clothes online:
Poshmark
ThredUp
Mercari
The RealReal
LePrix
Depop
Swap.com
Flyp
Vestiaire Collective
Rebag
1. Poshmark
Poshmark appeals to fashion lovers with new, pre-owned or vintage clothes they're ready to part with. Upload photos of your items using the free app, write a description and set a price. You can attend virtual Posh Parties to sell items to friends and people you invite. When the items sells, you'll be sent a shipping label so you can drop the item off at a USPS drop box.
Make Your Money Work Better for You
The company charges different fees depending on the amount of the sale. For sales under $15, you'll be charged a flat rate of $2.95. For sales of $15 or more, the fee is 20% of the listing price. Poshmark takes care of all the financial transaction fees and provides a prepaid shipping label, so there are no other costs involved to make the sale.
2. ThredUp
When you're ready to declutter your closet, you can order a Clean Out Kit from ThredUp. The bag included in the kit works as your shipment bag and can be filled with everything from women's and kids' apparel to shoes and accessories that are in great condition. The store won't accept items with stains, holes, pilling or signs of wear. ThredUp will pay you between 5%-80% of each item's selling price.
3. Mercari
Mercari allows you to sell new, like-new and pre-owned items, including used clothing. To list your clothing items on Mercari, take good photos, describe your item and set a listing price. Once the item sells, you package it and send it to the buyer. Once the buyer receives the package, you'll be paid after three days. To sell your clothing items more quickly, Mercari offers these tips: consider bundling several items together, take photos of you wearing the clothing and make listings for clothing that's in season or about to be in season.
4. The RealReal
Browse The RealReal's Designer Directory to see what types of items the store will accept.
Individuals with 10 or more items from luxury brands suitable for consignment can make use of The RealReal's White Glove service for at-home pickup. With less than 10 items, you will get a prepaid FedEx shipping label to ship all your items in. Full-service consignment with a free at-home pickup is available in many areas with the White Glove service, or you can get an in-person valuation at a store.
Make Your Money Work Better for You
Your items will be listed if they are authentic, and you'll receive a payment once they sell. You can earn up to 70% of the sale price of your designer clothing — and 80% to 85% on high-value watches, purses and men's sneakers.
5. LePrix
LePrix is an aggregator of designer boutiques that carry high-end pieces and trendy styles, giving you access to a larger inventory of available items. It only accepts the designer brands listed on its site.
LePrix offers a slightly different approach: You must consign with one of the consignment boutique partners, where you make an appointment and the items get listed on the site and placed in the store. If you decide to consign online, you can request free White Glove Consignment service via the Luxury Garage Sale. The company schedules at-home pickups in many major cities and drop-off options at partner boutiques. Alternatively, LePrix will send a prepaid shipping label so you can send in your items.
6. Depop
For those who prefer using their mobile device instead of a desktop computer, this app provides all the benefits of online consignment store selling and buying from your smartphone or tablet. You can download the app and list items you want to sell in person or by shipping them to the buyer. Sellers can sell everything from pre-loved clothing to vintage goods and name their own price.
7. Swap.com
Swap.com claims to be the largest online consignment and thrift store for everything from women's clothing to kids' items. This company will give you a price it will pay for accepted items you send via an Inbound Box. You request this box and get a prepaid shipping label and send in your items for review, and Swap.com will list everything for you.
Make Your Money Work Better for You
Items that sell for $8 or less receive 15% of the sales price as commission. Items selling for $8.01 or more will receive 70% of the sales price, less a $4.95 processing charge as commission. When the item sells, you can take a cash payout or get store credit to spend on Swap.com. Before you begin, it's a good idea to review the acceptance criteria so you have an understanding of what items are accepted and in what condition.
8. Flyp
San Francisco-based Flyp's mission is "powering the reseller revolution." The concept was meant for your closet, but the Flyp marketplace is definitely clean, simple and empowering to use.
The process is easy — take a single photo of each item you'd like to sell for professional sellers to view and bid on working with you. Review the proposals and choose a seller to handle the sale, from photographing to marketing to selling it and getting you paid. Depending on the pro you chose, you'll make anywhere between 40% and 60% of the sales price.
9. Vestiaire Collective
If you have a collection of designer duds you're ready to part with but want to make sure they're appreciated by other fashionistas, Vestiaire Collective should be on your shortlist. Vestiaire Collective started in France in 2009 and has 7 million high-fashion lovers in 50 countries ready to buy your pieces.
All you need to do is download the app, fill out a listing form and upload images. Once the item sells, ship it to VC for free so its experts can handle the authentication of the item and send it to the buyer. Items priced between $18 and $79.99 have a selling fee of $12. Items between $80 and $13,000 have a selling fee of 15%, and items priced above $13,000 have a fixed selling fee of $2,000. Additionally, a 3% payment processing fee will be charged for items over $80, and a $3 fee will apply for items less than $80. Vestiaire Collective is a great option when you have items that don't typically lose their value and could use international exposure to sell them for top dollar.
Make Your Money Work Better for You
10. Rebag
Rebag specializes in luxury handbags, accessories, watches and jewelry. What makes Rebag unique is Clair, the artificial intelligence software that will appraise your handbag or accessories based on the photo scan you provide through the app. If you accept Clair's quote, you can send your item using a prepaid shipping label or by dropping it off at a Rebag location. The team will authenticate your accessory and you'll receive payment after three to four days, based on your choice of an ACH transfer, a check in the mail or store credit.
Final Take
There are many options where you can sell your clothes online. Refreshing and repurposing your wardrobe is great both economically and environmentally when you buy and sell used clothes.
FAQ
How can I sell my clothes fast?

When selling your used clothes online, there are time factors such as item evaluation, shipping and payment. If you are looking to get a quick cash payment, you may be better off selling your clothes at a consignment store in person.

Where is the best place to sell clothing?

 If your used clothes are in good condition, here are 10 sites or apps where you can sell your unwanted clothes:

— Poshmark
— ThredUp
— Mercari
— The RealReal
— LePrix
— Depop
— Swap.com
— Flyp
— Vestiaire Collective
— Rebag
Cynthia Measom, Caitlyn Moorhead and Cynthia Bowman contributed to the reporting for this article.
Information is accurate as of March 25, 2023.