$113 Million Silver American Eagle Investment Scam: Are Your Coins Safe?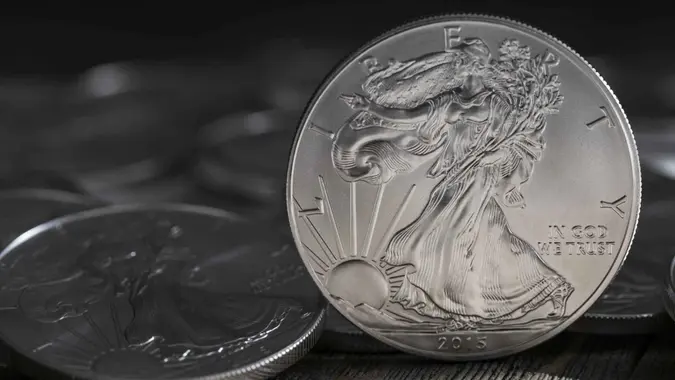 LPETTET / Getty Images/iStockphoto
In a case brought forward by the U.S. Commodity Futures Trading Commission (CFTC) against Robert Higgins and his companies Argent Asset Group (Argent) and First State Depository Company (FSD), a Delaware District Court has found the defendants liable for misappropriating tens of millions of dollars and for the misrepresentation of customers buying and selling precious metals.
The court's Consent Order requires Higgins' companies to pay restitution of $147.7 million — $112.7 to the victims and a $33 million civil monetary penalty. Additionally, Higgins has been slapped with permanent trading and registration bans. Keep reading or more info on the financial scam and what you can do to avoid something similar.
The 'Maximus Program' Scam
It was discovered that between 2014 and 2022, Higgins solicited and misappropriated the funds from approximately 200 customers in relation to a crooked silver leasing scheme known as the "Maximus Program," which offered customers guaranteed monthly lease payments in exchange for the use of silver supposedly bought by Argent or silver owned by customers.
Customers were promised that Argent would acquire silver on their behalf and FSD would hold their silver securely in its private depository. The CFTC investigation revealed that not only were precious metals not secured at FSD, but "stored" funds already owned by customers and those intended to purchase metals were misappropriated by the defendants.
Victims were told their investments were guaranteed and insured and received fake monthly investment reports claiming their assets were being securely stored by FSD. When customers attempted to withdraw or move assets, they were given excuses and misled, per FinanceFeeds.
The Investigation
Most of the funds misappropriated by Higgins were in the form of American Eagle silver dollars, which are preferred by some investors because of their 99.9% fine silver composition and their authentic, minting rarity, per Fortune. Uncirculated 1-oz. silver American Eagle coins can currently be purchased for $76 each from a bullion coin dealer (the U.S. Mint doesn't sell bullion directly to the public).
When accountants from Baker Tilly attended the FSD vaults for an inventory check, they discovered 380,000 silver American Eagle coins instead of the 1.2 million they expected and found only 1,936 of the 11,125 gold American Eagle coins that they anticipated to find securely stored.
As Fortune reported, a document published on June 20 detailed the Baker Tilly storage visit and claimed, "In some instances, they found empty boxes at FSD with a customer's or client's name on it, or boxes that did not contain metal but instead held an 'IOU' of sorts — a piece of paper stating the quantity of metal that should have been stored there."
On the FSD receivership website, court appointed receiver Kelly Crawford has released details of the investigation and has posted an announcement to claimants, revealing the further extent of Higgins' deceit.
"On Friday, June 9, 2023 I engaged a team of private investigators and metal detectors to search Higgins' home. We discovered approximately 36 ounces of gold hidden in the ceiling of his basement. We also discovered some foreign currency and rare coins hidden under the cushion of a love seat in his bedroom.
"In addition, we obtained evidence that Higgins has been selling precious metals. Our findings were reported to law enforcement and on the morning of June 10, 2023, Higgins was arrested and taken into custody by federal agents. I am committed to doing my best to search for the missing assets."
All information pertaining to the complaint and claims reports can be found on the receivership site.
Are Your Coins Safe?
According to a July 3 statement by CFTC Director of Enforcement Ian McGinley, "The Commission is resolute in rooting out fraud in the precious metals markets. As today's restitution amount demonstrates, the CFTC is committed to vindicating victims' interests."
However, as Fortune points out, the Commission warns that some victims of Higgins' fraudulent "Maximus Program" swindle may have a difficult time getting their lost funds back if Higgins and his holdings don't have the assets to pay. Crawford has stated that the process of returning holdings to the depositors is "taking much longer than anticipated."
Anyone scammed out of investment assets by Higgins is due restitution from their loss. But when it comes to American Eagle silver dollars, the average American should be more worried about buying fakes than falling victim to grand schemes like Higgins'.
Silver American Eagle coins are incredibly popular, in demand and profitable investments. Fakes can be spotted by comparing Mint marks and reeded edges, design characteristics and dimensions, weight and diameter specifications and magnetism (silver and gold are non-magnetic). Always look to an expert, do your research and buy from an authorized bullion dealer.
Finally, beware of anyone offering to hold your assets for you in secure storage facilities. These are called precious metals for a reason. If you can't keep them secured in a safety deposit box at a bank, insure them and keep them close to you at home, in original cases, capsules, lenses or folders in a cool and dry lock box or safe spot.
More From GOBankingRates