Is Silver a Good Investment?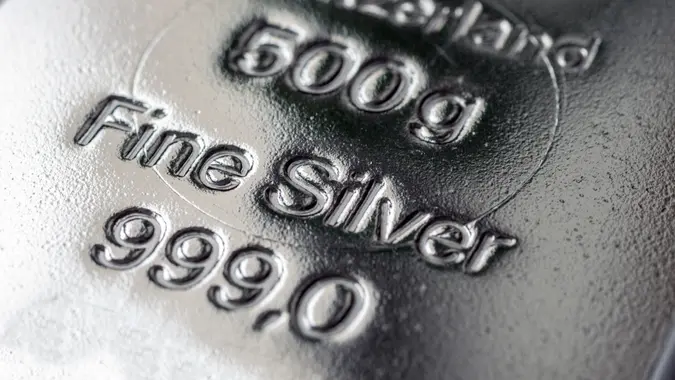 VladKK / Shutterstock.com
When it comes to precious metals, gold usually hogs most of the attention. But silver is no slouch, either. People have used it as a form of currency for more than 4,000 years, and it's made a name for itself as one of the most popular safe-haven assets.
Investing in silver does come with some turbulence however, as the market is notoriously more volatile than it is for gold. There are a few reasons for this. Silver has a smaller market than gold and has lower market liquidity. Industrial demand for silver also tends to fluctuate wildly, which can send its value bouncing in different directions.
Like any investment, silver can be a good one – if you know when and how to buy it. Keep reading to learn more.
About Investing in Silver: Why Should You Invest?
Most investors buy silver from dealers in two forms: bullion coins or bars. Bullion bars have the least amount of dealer premium because they are simply silver poured into a mold, so they have no value beyond current silver prices.
Coins Command a Higher Premium
Coins have a higher premium, partly because more labor goes into producing them, and partly because they might have intrinsic value based on design and age. Popular bullion coins with consistent premiums include the 1-ounce Silver American Eagle from the U.S. Mint and the 1-ounce Canadian Maple Leaf from the Royal Canadian Mint.
Collectors Coins Hang Onto Their Value
Numismatic coins are another option. These are favored by collectors because they hold a value that goes well beyond current silver prices, usually based on how rare they are. An example is the commemorative 2019 proof silver dollar offered by the U.S. Mint to celebrate the 50th anniversary of Apollo 11's moon landing. This coin sold at a high premium over the silver bullion price.
Is Silver a Good Investment?
Silver, like most natural resources, is classified as a commodity, which means its price typically moves in the opposite direction of stocks and bonds. Many investors turn to silver and other commodities when the stock market is down or the economy is struggling. As an investment, silver can be a good way to diversify your portfolio.
Another advantage of silver is that it serves as a hedge against inflation. Because it is a physical asset, it has intrinsic worth that dollars and other currencies lack. Silver also offers long-term value and does well when interest rates are low.
The main risk is that silver is also used as an industrial metal used in the production of everything from microcircuits to medical equipment. This means part of its value is influenced by manufacturing cycles, making it much more volatile than gold.
How Has the Price of Silver Changed?
One way to gauge whether silver is a good investment is to track its performance over time and figure out when the best buying and selling points were. Here is a quick rundown of how silver has performed over the last decade, in two-year increments:
2011: Silver at Its Peak
Ten years ago, silver peaked at $48.58 per ounce, making 2011 the high point of the last decade. The metal got a boost from the U.S. debt-ceiling crisis, which resulted in lower consumer confidence – something that usually sends investors in search of safe havens like silver.
2013: A Colossal Decline
This year marked the beginning of a steady four-year decline in the price of silver. In 2013, the price of silver fell by more than $10, moving from $30 per ounce to below $20. This drop paralleled that of gold.
2015: A Steady Fall
Although investment forecasters such as Commerzbank, HSBC, Citi Research and TD Securities predicted silver would rebound in 2015, that didn't happen. Instead, the price continued to decline, albeit at a slower rate.
2017: Demand Rises
A year after silver hit its lowest point of the decade so far, demand for silver rebounded in 2017 due to the role it played in the ongoing shift from fossil fuels to green technologies.
2019: Steady Gains
Although silver prices stabilized in the range of $14 to $16 per ounce during the first half of 2019, they later moved to $20.
2021: Some Volatility, But Mostly Good News
Silver prices traded in a range of $26 to $28 an ounce for most of the year before settling back closer to $24 in late August. Even with some volatility, silver prices in 2021 have neared their highest point in nine years.
How To Get Started Invest In Silver
The easiest way to buy silver coins or bars is online through reputable dealers. Make sure the dealer is a member of a metals industry group such as the Industry Council for Tangible Assets or Professional Numismatists Guild. When researching prices, check around with a few dealers to learn about current prices. Most dealers should be competitive with their buy or sell offers. Stay away from those that don't.
Some silver dealers also sell bags of so-called "junk silver," which are pre-1965 U.S. currency that contains 90% silver. Investors can buy bags of junk silver in quantities of $100 or $1,000 in face value. According to Asset Strategies International, a $1,000 bag of silver dimes or quarters nets about 715 ounces of pure silver when melted.
Another way to get exposure to silver is through financial instruments that deal in the metal, including the following:
Silver stocks: As an investor, you can buy shares of companies that mine or process silver ("miners") or resell it ("streaming companies"). However, there aren't a lot of pure-play silver companies because it is often mined together with copper and other metals.
Mutual funds or exchange-traded funds, or ETFs: These are funds that invest in silver, either in its physical form or in silver companies.
Exchange-traded commodities, or ETCs: These are publicly traded securities that invest in silver bullion, much like funds. The difference is, ETCs are debt instruments and the underlying commodity they track serves as collateral.
Claire Mainprize contributed to the reporting for this article.
Data is accurate as of Aug. 31, 2021, and is subject to change.
Our in-house research team and on-site financial experts work together to create content that's accurate, impartial, and up to date. We fact-check every single statistic, quote and fact using trusted primary resources to make sure the information we provide is correct. You can learn more about GOBankingRates' processes and standards in our editorial policy.