How To Invest In Oil Stocks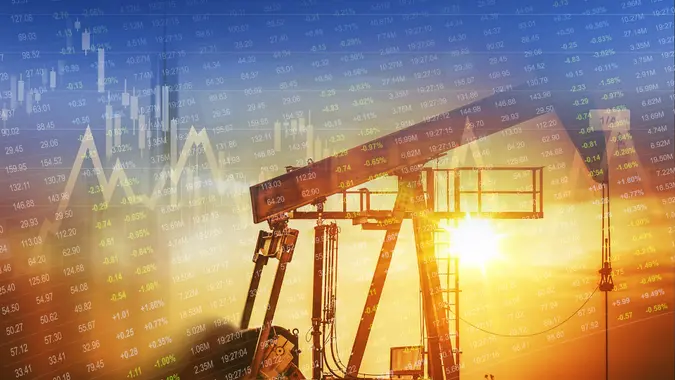 welcomia / Shutterstock.com
With prices at the gas pump continuing to climb, you may be thinking it's a good time to invest in oil stocks. Before you call your broker or fire up your E-Trade account, here's what you need to know.
Understanding Oil Companies
There's a lot more to oil production than you might think. There are many different kinds of companies involved in the journey from crude oil in the ground to what comes out of the gas pump. These types of companies all have a role to play in the journey from crude oil in the ground to the gas pump where you fill up your car.
Exploration and Production Companies
Exploration and production companies, sometimes called upstream companies, find oil and natural gas and get it out of the ground. They identify locations where reservoirs of oil exist below ground or under the sea floor and then drill wells to extract it. This is the riskiest part of the process; therefore E&P stocks are the most volatile in the sector. ConocoPhillips (COP) and BP (BP) are E&P companies.
Midstream Companies
Once the oil is out of the ground, it needs to be transported to the refinery. Midstream companies store the extracted crude oil and, often, natural gas, and move it through pipelines until it gets to the refineries for processing. Kinder Morgan (KMI) and Enbridge, Inc. (ENB) are midstream companies.
Downstream Companies
Downstream companies take the crude oil and natural gas and refine it into gasoline, jet fuel and natural gas that can be used to power vehicles and heat homes. The stocks of downstream companies are less volatile since rising prices from E&P companies are just offset by raising the retail price. Marathon Petroleum (MPC) and Phillips 66 (PSX) are downstream companies.
Some companies operate in two or all three of these sectors. ExxonMobil (XOM), for example, is an integrated oil and gas company that operates as an E&P company, owns pipelines and refines crude oil. It also operates a distribution network and retail gas stations.
Understanding Oil Stocks
As with most sectors, there are different ways to invest in oil companies. You can buy the common stock of an individual company, you can buy an oil or energy mutual fund, or you can invest in an exchange-traded fund (ETF) that tracks the whole sector or some part of it.
Common Stock
You can invest in the common stock of an oil and gas company of any type — E&P, midstream, downstream or integrated. Just as the price at the gas pump can fluctuate, these stocks can be volatile, particularly E&P companies. The volatility is somewhat mitigated, however, by the saving grace of energy stocks — dividends.
Many of the large oil and gas stocks pay dividends and some are significant. Chevron (CVX) and ExxonMobil (XOM) are considered "dividend aristocrats," which are dividend stocks that have increased their dividends for at least 25 years in a row.
Energy Mutual Funds
Mutual funds are a good way to manage volatility in any sector and this is particularly true with energy stocks, which can be very volatile indeed. Mutual funds purchase a variety of stocks with an eye toward diversification, which lowers risk.
Vanguard Energy Fund Investor Shares (VGENX), Fidelity Select Energy Portfolio (FSENX) and Oil & Gas ULtraSector ProFund (ENPIX) are examples of energy mutual funds.
ETFs
Exchange-traded funds are like mutual funds that stick to a prescribed group of investments and are traded on an exchange like stocks. You have a position in each of the companies whose stock makes up the fund, which gives you less volatility than if you own individual stocks. The Energy Select Sector SPDR Fund (XLE) is the largest energy sector ETF and invests in all 21 of the energy stocks in the S&P 500. If you want more diversification than that, the Vanguard Energy ETF (VDE) includes more energy positions, with a total of over 100 components.
Oil as a Commodity
You can also buy oil as a commodity. In this case, you are buying futures or options, effectively betting on whether you think the price of oil will go up or down in the future. To do this, you can purchase an oil futures contract, which gives you the right to purchase oil by the barrel at a specific price on a specific date. You and the seller of the contract are both obligated to make the transaction on the date and at the price specified in the contract.
With a futures contract, there are two possible scenarios: either the buyer makes money or the seller makes money. Here's how it works:
You buy an oil futures contract today. The contract specifies that you will buy one barrel of oil for $100 on July 1, 2022. On that date, oil is selling at $120 per barrel. The seller is obligated to sell you that barrel of oil for $100, so you purchase it and then turn around and sell it for $120. You make $20. The seller loses money — at least on paper — since they have to sell you a barrel of oil that's worth $120 for $100.
You buy the same oil contract today — one barrel at $100 on July 1, 2022. But on that date, oil is selling for $80 a barrel. You still have to pay $100 for your barrel but you can only sell it for $80. So, you either lose $20 or you hold onto your barrel of oil until the price goes up.
With the volatility of oil prices, commodities trading in oil is a risky endeavor. The average individual investor would be wise to leave it to the experts.
FAQ
How do I start investing in oil?

You can invest in oil-related mutual funds or ETFs. These investments contain a diversified mix of oil company stocks, in the case of mutual funds, or will track an oil or energy index, in the case of ETFs. Since there are many different companies in the basket of securities in these investments, they are less volatile than investing in oil futures or a single oil company stock. This makes them good choices for beginning investors.

Are oil stocks a good investment?

Like all stocks, oil stocks will go up and down but are typically a good investment over time. Some oil stocks pay dividends, which will give the investor some income even if the stock price isn't rising.

What is the best way to buy oil stock?

Particularly for the beginning investor, the best way to buy oil stock is by buying an energy mutual fund or ETF.
Information is accurate as of June 5, 2022.
Our in-house research team and on-site financial experts work together to create content that's accurate, impartial, and up to date. We fact-check every single statistic, quote and fact using trusted primary resources to make sure the information we provide is correct. You can learn more about GOBankingRates' processes and standards in our editorial policy.