Truist Near Me: Find Branch Locations and ATMs Nearby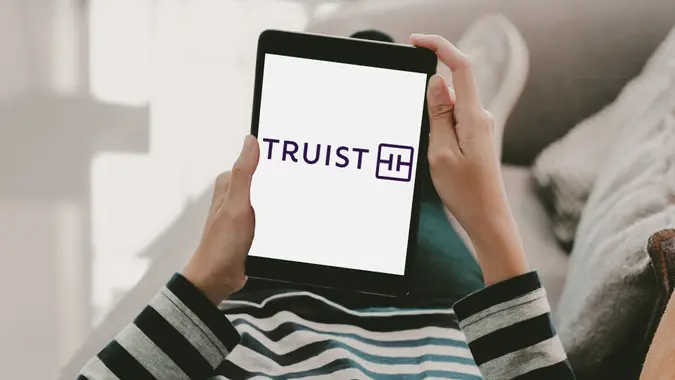 Truist Bank is the result of the merger between SunTrust and BB&T in 2019. Current BB&T and SunTrust clients are able to access services at any Truist branch, which began on Feb. 22, 2022.
Truist has more than 2,000 branches as of the third quarter of 2023. Here's how to find a location near you.
Truist Locations Near Me
To locate the Truist branch or ATM that's closest to you, use the map below to get started.
Truist Branch Near Me
Truist has branches in these states, in addition to Washington, D.C.:
Alabama
Florida
Georgia
Indiana
Kentucky
Maryland
North Carolina
New Jersey
Ohio
Pennsylvania
South Carolina
Tennessee
Texas
Virginia
West Virginia
If you aren't in one of these states, it's safe to assume that there won't be a Truist Bank location near you. You will have to rely on Truist's online banking and mobile app options.
If you are in one of the states on the list, you can use Truist's branch locator. Once you enter some details, such as your city, state or ZIP code, the branch locator will let you know what's near you.
Truist ATM Near Me
Most Truist ATMs are available 24 hours a day. If you don't need a full branch or you know that nearby branches are closed, you can use the locator on Truist's website to find the Truist ATMs closest to you. Once you run your search, you can use the filter to look only at ATMs.
Truist ATMs have some accessibility features if you need them:
Headphone features with audio guidance in English and Spanish
Keys have tactile markings and Braille
Designed within height and reach requirements for people with mobility impairments
For info on the maximum amount of ATM deposits and withdrawals allowed in a day, you will either need to refer to your account education materials or contact customer service.
About Truist Bank
Here are the details on Truist's operating hours and customer service options.
Hours of Operation
Below are the hours of operation for most Truist branch locations. Some locations have a little bit more time for the drive-thru and some branches are closed on Saturdays.
| Day | Lobby Hours | Drive-Thru Hours |
| --- | --- | --- |
| Monday-Thursday | 9 a.m. to 5 p.m. | 9 a.m. to 5 p.m. |
| Friday | 9 a.m. to 6 p.m. | 9 a.m. to 6 p.m. |
| Saturday | 9 a.m. to 12 p.m. | 9 a.m. to 12 p.m. |
| Sunday | Closed | Closed |
If it's a holiday or even a Saturday, you may want to call the particular branch that you intend to visit before you head over to avoid wasting your time. The individual branch phone numbers are located to the right of the hours of operation on the Truist branch locator page.
Customer Service
If you need assistance, there are several ways you can contact Truist customer service.
Phone
The automated system is available 24 hours a day. You can also talk to someone Monday through Friday, 8 a.m. to 8 p.m. EST. On Saturdays, you can talk to someone from 8 a.m. to 5 p.m. EST. Here are the phone numbers you can call:
844-487-8478 if you are in the U.S. and have a Truist account
1-910-914-8250 if you are outside the U.S. and have a Truist account
Advisor
If your question is related to investments, retirement planning, wealth management, or other specialized financial situations or services, you can use Truist's online tool for finding a professional so that you can make an appointment with someone who can help. You can use the filter on the left side of the window to narrow down your options and find an expert who fits your needs.
Social Media
You can reach Truist through X — formerly known as Twitter — by following @TruistNews. If you choose to reach out via X, keep in mind that you should not share any of your account information or personal information there.
Other Banks, ATMs and Services Nearby

Bank Branches

ATMs

Other Services
Editorial Note: This content is not provided by Truist. Any opinions, analyses, reviews or recommendations expressed in this article are those of the author alone and have not been reviewed, approved or otherwise endorsed by Truist.