MoneyPass ATM Near Me: Find Locations and ATMs Nearby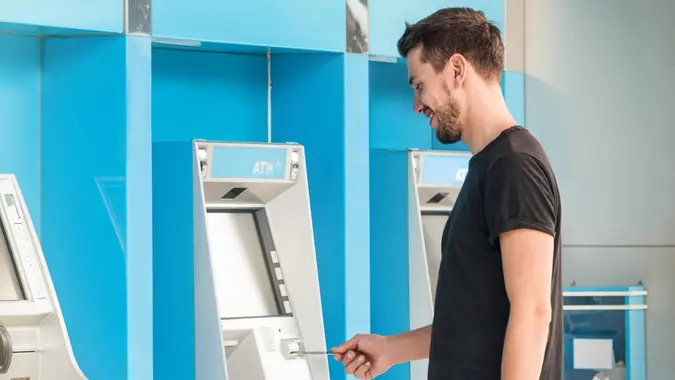 ©Shutterstock.com
An Automated Teller Machine, or ATM, is nothing short of a blessing, especially when you're in urgent need of cash. While some machines only let you withdraw money, others allow you to deposit cash as well. Bank of America, for example, makes cash deposits available immediately. However, what to do when you can't find an ATM nearby?
ATM Cash Withdrawals Are Increasing
According to the Federal Reserve's most recent study, ATM cash withdrawal values are on the rise. The study found the average withdrawal was $156 in 2018, compared to $146 in 2015. The total value of cash withdrawals in 2018 was $0.80 trillion.
However, even though the average value rose, the total number of withdrawals declined slightly, dropping 0.1 billion to 5.1 billion in 2018.
MoneyPass ATM Near Me
MoneyPass has 32,000 ATMs all over the US, providing free access to millions of people. You might find a MoneyPass ATM at one of 7,900 7-Eleven locations. If you have a MoneyPass ATM card, the MoneyPass "ATM near me" feature will help you find the closest MoneyPass ATMs where you can make your transactions for free. Moreover, it will also show you all the available ATMs from other banks.
How To Use MoneyPass ATM Locator
Since all ATMs do not have the same features, the MoneyPass ATM locator will provide you with the essential details about each ATM base by your location. MoneyPass uses services from Google Maps to find a location. So, type in the bank name or ZIP code, and it will find you the nearest ATM options.
The locator gives details about the ATM like whether it's accessible 24/7, whether you can deposit cash and whether it's handicap accessible or has surcharge-free options. You can also filter results by your desired ATM service.
You can also use this Google Maps locator to find a MoneyPass ATM near you.
Moreover, you can set your ATM preferences by filtering from the same options.
If you're not great at reading maps, the MoneyPass ATM near me tool also gives you a street view for easier access to ATMs.
Conclusion
The MoneyPass ATM near me is a simple tool to find the nearest ATM locations. With filtering options and Street View maps, it's quite an appealing service for those who may need an ATM in a pinch.
Information is accurate as of Oct. 20, 2022.
Our in-house research team and on-site financial experts work together to create content that's accurate, impartial, and up to date. We fact-check every single statistic, quote and fact using trusted primary resources to make sure the information we provide is correct. You can learn more about GOBankingRates' processes and standards in our editorial policy.