5 Best Nickel Stocks for 2022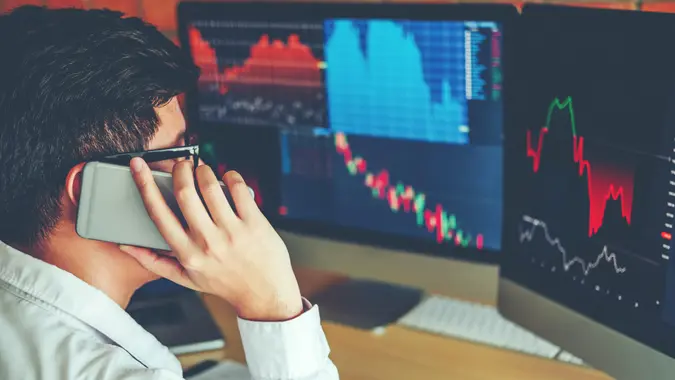 SARINYAPINNGAM / Getty Images/iStockphoto
Nickel might not seem like the most exciting investment opportunity, but it's an important commodity that can fill a niche in many portfolios. While nickel is much less flashy than well-known precious metals like gold and silver, it's vitally important for various manufacturing industries, from semiconductors to electric vehicle batteries. It's also an important component of stainless steel.
See: 5 Things You Must Do When Your Savings Reach $50,000
However, like many industrial components, the price of nickel is cyclical in nature. During boom times, when manufacturing hubs across the world are rapidly expanding, the price of nickel tends to jump. On the other hand, during recessions, when global demand for nearly all products drops, the price of nickel can be expected to fall. With these caveats in hand, here's a look at some of the best nickel stocks you can buy.
Top Nickel Stocks
| Stock | Price | Market Cap |
| --- | --- | --- |
| Vale S.A. (VALE) | $16.52 | $79 billion |
| Glencore (GLCNF) | $6.64 | $85 billion |
| Canada Nickel Company (CNIKF) | $1.16 | $131 million |
| Nornickel (NILSY) | $3.02 | $4 billion |
| BHP Group (BHP) | $61.56 | $221 billion |
Vale SA (VALE)
It's an exciting time to look at Vale S.A. — the mining conglomerate, which is headquartered in Brazil, is looking to split apart its base metals operation from its iron ore division.
Vale has long been one of the top producers, refiners and transporters of nickel, but this new move by the company could increase its price for investors. By spinning off the company's nickel- and copper-producing divisions, the company hopes to garner higher valuations for them. Thanks to sanctions diminishing the size of Russia-based Nornickel, Vale S.A. now claims to be the world's largest producer of nickel, making it worthy of a review for nickel investors even without the latest news.
Glencore (GLCNF)
Glencore is another global mining giant based overseas, in this case in Switzerland. Its diverse portfolio includes everything from energy production and agricultural products to recycling and mining. In addition to cobalt and copper, it has extensive nickel-mining operations.
The company also plans to be a net-zero emissions company by 2050. Glencore is a bit harder for U.S.-based investors to own, since it trades on the London Stock Exchange. Although you can't buy shares on the New York Stock Exchange or other U.S.-listed markets, you can pick up shares in the over-the-counter market.
This makes shares of Glencore a bit more speculative. Analyst coverage of the stock is limited, but those that offer an opinion have a 12-month price target on the company's shares of $8.74.
Canada Nickel Company (CNIKF)
Canada Nickel Company is looking to take part in the electric vehicle/zero-emissions market through its subsidiary Net-Zero Metals. As America's largest neighbor, Canada is uniquely positioned to tap the American EV market, and Canada Nickel Company is looking to make a splash.
Beyond this exciting new venture, Canada Nickel Company, as its name suggests, is also an important producer of the base metal itself. In fact, the company may be on to something big, thanks to its 100% ownership of the Crawford nickel-cobalt discovery in Timmins, Ontario, which could be a potentially huge boon to the company. As with some other names on this list, however, the stock can be hard to trade — it is only available for U.S. investors via the over-the-counter market.
Nornickel (NILSY)
Russia-based Nornickel was, until recently, the largest producer of nickel in the world. However, the war in Ukraine has disrupted operations and the company has — at least temporarily — lost that title. The producer of palladium, platinum, copper and, of course, nickel was on a roll before the war, however, and it is seen as likely to surge once again, particularly if hostilities cease.
The company trades on the U.S. over-the-counter market, making it relatively illiquid for U.S.-based investors, and U.S. analyst coverage of the stock is spotty, with no consensus rating or price target.
BHP Group (BHP)
BHP Group is a diversified metal miner, and a large part of its operation is nickel production and refining. The company is based out of Australia, and it has the highest market cap of any of the stocks on this list.
In addition to its core metal divisions, BHP Group also has a venture capital division that partners with companies in industries ranging from geothermal technology to water electrolysis to green steel production. Analysts have a consensus "buy" rating on the stock, with a 12-month price target of $62.
The Bottom Line
Investing in any nickel company is inherently a more speculative choice than picking blue chip stocks like Johnson & Johnson or Procter & Gamble. However, bigger risk can often lead to bigger reward.
The price of metals is by nature cyclical, meaning nickel stocks tend to rise and fall with general economic trends. However, as described above, many of the biggest nickel companies in the world are expanding into broader fields, and their supply of materials for the burgeoning EV market could catch fire at any time. Talk with your financial advisor to see if your investment objectives and risk tolerance match up with an investment in a nickel company.
FAQ
Nickel stocks tend to be more speculative, so here are the answers to some common questions about nickel stocks to help you decide if they're the investment opportunity for you.
What's a good nickel stock?

Having recently dethroned Nornickel as the biggest producer of nickel in the world, Vale S.A. is making moves that might increase its value. While all investing comes with risk, Vale's position in the market makes it a relatively safe buy.
However, there is no such thing as one "best nickel stock." Each company has their own particular niche. While they may generally trade as a group based on the price of the base metal and other macroeconomic factors, the nickel stocks listed above have enough variation to attract different types of investors.

Is nickel a good investment right now?

Nickel stocks tend to run on the more speculative side, so you'll have to have some tolerance for risk to invest in them. But if you believe in rising metal prices

–

and for some companies, a rapidly growing electric vehicle market

–

these types of stocks may have some interest.

Who is the largest nickel producer?

Currently, Vale S.A. holds the claim to being the biggest nickel producer in the world.

What is the best nickel ETF?

There is no ETF specifically dedicated to nickel mining, but one with exposure to the industry includes the SPDR S&P Metals and Mining ETF.
Information is accurate as of Dec. 20, 2022, and is subject to change.
Our in-house research team and on-site financial experts work together to create content that's accurate, impartial, and up to date. We fact-check every single statistic, quote and fact using trusted primary resources to make sure the information we provide is correct. You can learn more about GOBankingRates' processes and standards in our editorial policy.