14 Most Valuable Vintage Apple Products — Could Yours Be Worth Thousands?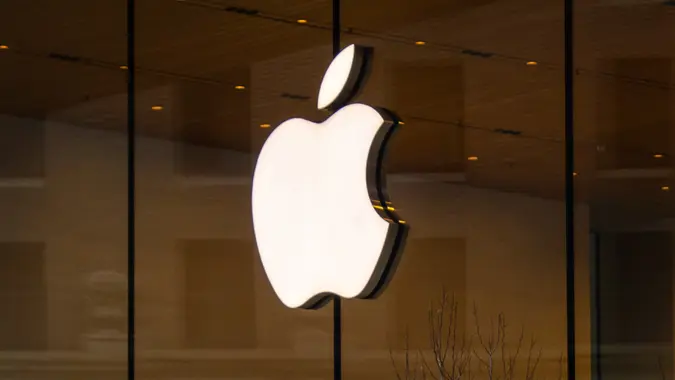 Koshiro Kiyota / iStock.com
Now that Apple sells upward of 200 million iPhones a year, it's easy to forget that it all began with two college dropouts in a garage. Since 1976, Apple has seen its share of ups and downs, but the company's 45-plus-year resume is packed with tech milestones.
From the very first Macintosh to the iPhone 14 Pro, Apple is known just as much for high price tags as it is for innovation.
How Much Are Vintage Apple Products Worth?
Here's a look at the most significant products Apple has introduced over the years — what they cost then and what they would cost now, adjusted for inflation.
1. Apple II (1977)
Cost Then: $1,298
Cost Now: $6,638
Compared to 1976's Apple I, the Apple II was a revelation. While the first Apple lacked a monitor, separate keyboard or casing, the Apple II included the whole package, complete with the introduction of five-color on-screen graphics.
Adjusted for inflation, you could buy a used car for what the Apple II costs, but its price tag had brought the budding company $7.8 million in sales by 1978 — about $39.90 million in today's money.
2. Macintosh (1984)
Cost Then: $2,495
Cost Now: $7,325
Make Your Money Work Better for You
This is when the world started calling Apples "Macs."
While dropping more than six grand on a computer today is cringe-worthy, the original Macintosh was considered the first relatively affordable computer with a graphical interface at the time. Its specs included a whopping 128 KB of RAM, 400 KB of storage, a floppy disk drive and a nine-inch monochrome display.
3. LaserWriter (1985)
Cost Then: $6,995
Cost Now: $19,836
Apple no longer makes printers, but the LaserWriter was a huge initiative at the time. Its professional print quality aimed for the business market, and it was the first network-capable printer.
It also introduced the world to Adobe Systems, which provided the PostScript programming language that powered the machine. If the original price looks scary to you, it was — Apple dropped it to $5,000 by fall 1986.
4. Newton (1993)
Cost Then: $700
Cost Now: $1,469
Developed while legendary Apple co-founder and former CEO Steve Jobs was away from the company — and famously derided by him — the tablet-like touchscreen Newton paved the way for the success of the PDA and, later, the iPad.
This small, hand-held product didn't catch on at the time, but it played a role in inspiring today's "all-in-one" device design and even featured ahead-of-its-time handwriting recognition capabilities.
Make Your Money Work Better for You
5. Power Macintosh (1994)
Cost Then: $2,600
Cost Now: $5,320
The closest modern equivalent of the Power Mac, the Mac Pro, starts at $6,999. Of course, its specs are just a little different.
The original Power Macintosh — which was sold as the Macintosh Performa 6110CD for home use — had 8 MB of RAM, which is dwarfed by the Mac Pro's 64 GB of RAM.
6. iMac G3 (1998)
Cost Then: $1,299
Cost Now: $2,405
The introduction of the iMac in 1998 marked the first time Apple used its much-imitated "i" branding. At the time, the "i" in "iMac" stood for "internet," as the all-in-one desktop computer featured a built-in modem, which was uncommon when it launched. The first model came in a blue-green hue, called "bondi blue and ice" by Apple, but it later was available in a rainbow of colors. It marked the first major Apple work by iconic designer Jony Ive.
The iMac line looks a lot different — and less colorful — today, but it's still kicking.
7. Final Cut Pro (1999)
Cost Then: Starting at $300
Cost Now: $546
With so much focus on slick hardware, it's easy to overlook the fact that Apple is a software company, too — unless you're a filmmaker who just dropped $300 on Final Cut Pro, that is.
The pitch remains the same today as it was in 1999: For one price, you get editing, compositing and effects in one professional software package. Apple positioned Final Cut as a "post-production studio in a box," though the philosophy changed a bit as numerous software expansions continued to add features.
Make Your Money Work Better for You
8. AirPort (1999)
Cost Then: $299
Cost Now: $544
AirPort started with multiple offerings, and the tradition continues. Introduced as a wireless networking solution for 802.11b connections, the AirPort Base Station looked like a tiny UFO — but you always could opt for an AirPort card to add wireless functionality to your Mac.
9. Power Mac G4 Cube (2000)
Cost Then: $1,799
Cost Now: $3,188
The Power Mac G4 Cube's beautiful design couldn't offset the high price tag, which, consequently, led to its marketplace struggles.
By 2001, its entry-level price had been slashed to $1,299. The cube-shaped brains of the box live today in the form of the Mac Mini series, however. Though the Mini doesn't include a monitor, keyboard or speakers like the G4 Cube, it starts at a much more reasonable $599.
10. iPod (2001)
Cost Then: Starting at $399
Cost Now: Starting at $682
From 2001 to 2011, Apple sold 300 million original iPods. Though the idea of a dedicated MP3 player seems outdated today, the at-the-time appeal of carrying 1,000 songs on the original, scroll-wheel-equipped model's 5 GB hard drive cannot be overstated.
The iPod line eventually included a wide variety of models — from the Nano to the Shuffle — but Apple discontinued it in 2022.
11. MacBook (2006)
Cost Then: $1,099
Cost Now: $1,658
Remember the early 2000s, when all the coolest tech products — from the iPod to the Wii — were glossy white? Yep, the MacBook was, too.
Make Your Money Work Better for You
Starting a legacy that still thrives, the original 13-inch MacBook laptop was powered by a 1.83 GHz Intel "Core Duo" processor and featured a 13-inch widescreen display, complete with modern perks, such as a built-in iSight camera, USB ports and Bluetooth compatibility.
12. iPhone (2007)
Cost Then: Starting at $499
Cost Now: $738
Before you can sell a billion, you've got to start with one. The iPhone might not have been the first all-in-one hand-held device, but its mainstream appeal and standard feature set established the baseline for the modern smartphone.
If your current device has Wi-Fi support, Bluetooth, a camera, a glass screen, an accelerometer and multi-touch, you probably can thank the iPhone.
13. MacBook Air (2008)
Cost Then: $1,799
Cost Now: $2,550
Originally touted for its crazy-thin dimensions, the MacBook Air eventually caught up in terms of power and completely replaced the MacBook line from 2012 to 2015. Because Apple has had a full decade to get a better handle on squeezing more power into less space, modern MacBook Air laptops come at a much lower cost — in 2023, a 13-inch MacBook Air can be had for $1099.
Make Your Money Work Better for You
14. iPad (2010)
Cost Then: Starting at $499
Cost Now: $689
Microsoft introduced the tablet format in 2000, but it was Apple that finally got the tablet to catch on in 2010. Even Microsoft co-founder Bill Gates acknowledges that Apple "did some things better than I did," noting that Apple nailed it in terms of "timing," "engineering work" and "just the package that was put together."
That slick package ended up being the biggest product launch of 2010 and went on to sell more than 350 million units, across various iPad models.
The Cost of Apple Products Since 1977
Over the years, Apple's products have gone through a slew of changes, but one thing has always remained the same: high prices. But when compared to some of the tech giant's earlier and more expensive innovations, the iPhone X's heavily criticized $999 price tag comes off looking like a bargain.
FAQ
Are old Apple Macs valuable?

They can be, if they're in good condition. Some vintage Apple products sell for thousands of dollars.

Do people buy old Apple products?

Yes, you can find buyers for old Apple products on sites like eBay.

What do you do with old Apple computers?

If it's in good condition, you can sell your old Apple computer on sites like eBay. If they're not in good shape or you're not finding a buyer, though, you can always bring it to an electronics recycler.
Make Your Money Work Better for You
Andrew Lisa, Ruth Sarreal and Jennifer Taylor contributed to the reporting for this article.
Methodology: GOBankingRates determined the "Cost Now" prices by using the US Inflation Calculator, calculating the cost of the product from its original release date to the equivalent USD value according to the most current data available at the time of writing.
Editorial Note: This content is not provided by any entity covered in this article. Any opinions, analyses, reviews, ratings or recommendations expressed in this article are those of the author alone and have not been reviewed, approved or otherwise endorsed by any entity named in this article.
Our in-house research team and on-site financial experts work together to create content that's accurate, impartial, and up to date. We fact-check every single statistic, quote and fact using trusted primary resources to make sure the information we provide is correct. You can learn more about GOBankingRates' processes and standards in our editorial policy.